Woodworkers rejoice! Powermatic has just come out with 6 new bandsaws featuring a powerful TEFC 5 HP motor (single or three phase). They come in 18″, 20″ and 24″ models. More info directly from the manufacturer below.
"POWERMATIC INVITES WOODWORKERS TO EXPAND SHOP WITH NEW 18, 20, AND 24 INCH BANDSAWS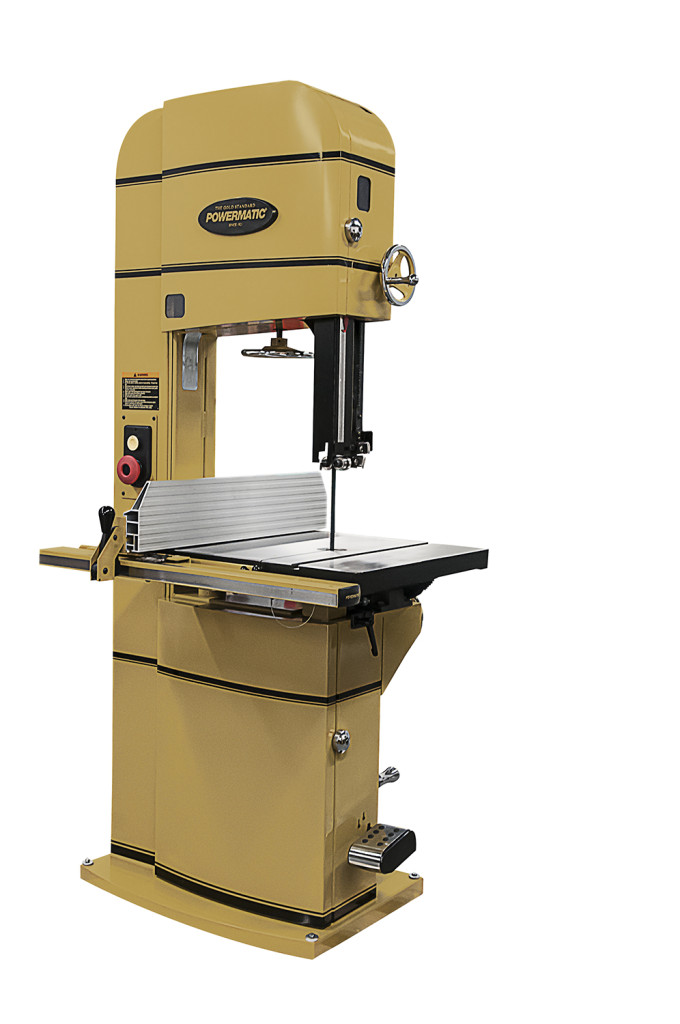 LaVergne, TN – Powermatic® is once again setting the Gold Standard with the introduction of six new bandsaws. The new 18", 20" and 24" models feature a powerful 5 hp (single or three phase) TEFC motor, exclusive Accu Fence® and impressive resaw capacities of 18" (on 18" and 20" models) and 15" (on 24" model) all backed by a 5 year warranty.
"We've produced a line of superior bandsaws with outstanding features." said Katie Davidson, Powermatic's Assistant Product Manager. "The only thing missing are the woodworkers behind them to bring their functionality and creative capabilities to life."
The bandsaws' tables are solid cast iron, machined for rigidity and durability with vibration dampening qualities. The bandsaws' table insert is machined aluminum with leveling screws. Table tilt adjustments (45° right, 10° left) are smooth and easy using the large chrome hand wheel with rack and-pinion. The included miter gauge has positive stops at 15° and 45°.
Powermatic's Accu-Fence is extremely accurate and easy to set up. The 30"L x 6-1/2"H fence is adjustable for alignment to the blade and it squares to the table. It incorporates a cam-locking system to keep the fence firmly in place. The bandsaws' side plate can be used horizontally or vertically and provides 6-1/2" of support. A solid steel resaw post is included with the fence.
Improved door design makes blade changes easier. The blade is accessible when the door is opened to a 90° angle. The new magnetic close on the front of the blade guard pops open and the blade comes out the front of the bandsaw table. Once the new blade is on, it is easy to track using the built-in window. The fine-tuning on the blade tension is a snap thanks to the Acme thread.
The bandsaws' cast iron upper and lower drive wheels are balanced and equipped with polyurethane tires. These computer balanced cast iron wheels minimize vibration. Micro-adjustable tool-less bearing guide system provides exceptional blade control while reducing friction. Special grooves in the thrust bearing stabilize the use of smaller blades.
New Powermatic Bandsaws
Another bandsaw safety feature is the electrical interlock (patent pending) that prevents accidental startups when the blade is de-tensioned. Other features include a four-sided blade guard, an integrated foot brake, a magnetic switch, and dual dust ports for effective collection.
The 2-speed bandsaws are prewired for 230V operation. The three phase bandsaws can be wired to run on 460V with an additional 460V magnetic switch – part PM1800B- 043C (not included).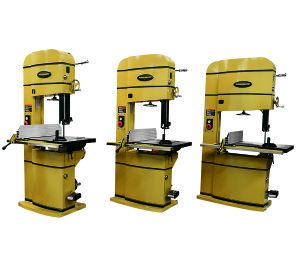 For more information on these Powermatic bandsaws – 18" (1791800B and 1791801B, $4,999.99), 20" (1791257B and 1791258B, $5,499.) and 24" (1791259B and 1791260B, $5,999.99) – visit www.powermatic.com to see the full specifications and locate the nearest dealer.
About JPW Industries, Inc. Headquartered in LaVergne, Tennessee, JPW Industries, Inc.® manufactures and markets a wide range of machinery and equipment under the JET, Powermatic and Wilton brands. In addition to its LaVergne headquarters, the company has operations in Switzerland, Germany, Russia, France, Taiwan and China. JPW Industries sells through a vast network of distributor partners worldwide. Visit JET Tools at www.jettools.com; Powermatic at www.powermatic.com or Wilton at www.wiltontools.com "