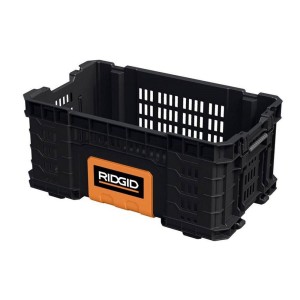 Back in late 2014 when I reviewed Ridgid's latest modular stackable tool storage – their 22″ Pro tool storage boxes I was very impressed with what they offered and at such a low price point compared to the competition (Bosch L-boxx, DeWalt T-Stak & Tough boxes). They had 3 tool boxes, a small (organizer), medium (tool box), and a large (Pro gear cart) tool box which were great for most situations but the system was small at only 3 different models compared to the much larger selection of competing Bosch and DeWalt systems. I am pleased to say that Ridgid has now added a fourth tool box to the 22″ Pro Tool storage system with a new 22″ Pro box. Well atleast that's what it's labeled in the Home Depot website. It's actually what I would consider a crate or basket as it has an open top without a lid, and the side walls are not completely solid as it has a sort of mesh pattern.
It features the same sturdy design using high impact resin as the previous boxes and it's about the size of the medium sized tool box. Also, the good news is that it's very affordable at around $15. What's strange is that when I first seen this, it was priced at $20 but immediately fell to the lower $15 price point. The cheaper the better I say. However I will say that it's not available for sale either in store or online at the time of writing this article.
Users of the Ridgid 22″ Pro Tool storage system will appreciate this crate's ability to merge with the other 22″ pro tool boxes by stacking on top of and interlocking. It's open top design will make it easy to load and unload items without the hassle of opening and closing the top lid. Because of the open top design it naturally wont be weather sealed like the other pro tool boxes.
At first I assumed that because of the open top design, users wouldn't be able to stack and lock other boxes on top of this one but taking a closer look I can see that you can stack and lock other boxes on top because it also has the locking side handles. The side handles serve a dual purpose- to help carry the box and are the component used to lock with the upper box.
I am glad to see another addition to the Ridgid 22″ pro tool system and appreciate this crate's affordable price point. I hope to see more additions in the future such as a tool box with pull out drawers.
Dimensions: Assembled Depth (in.) 12.2″ Assembled Width (in.) 22.2″ Assembled Height (in.) 9.84″
Weight capacity 50 lbs
High impact resin and heavy duty construction
Strong metal side handles
Stackable with multiple pro boxes
Customize your system with the RIDGID professional tool storage cart, tool box and organizer (sold separately)