February 3, 2016
Comments Off

on New Ryobi 18V 3 mode SDS+ Rotary Hammer P222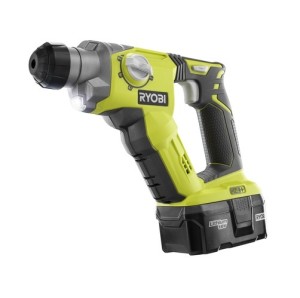 Last year here at Tool Craze, we spotted a new Ryobi 18V One+ SDS+ rotary hammer over in France. That model was the R18SDS-O and it featured 4 modes – hammer + rotary, rotary only, hammer only, and a fourth mode to rotate and set the bit for when hammering. Now it seems that this model that was released over in Europe has finally made its way overseas to the USA. Great news for us isn't it?
It certainly looks identical and goes by the model name P222 making it the improved model compared to the already existing 18V 1/2″ rotary hammer the P221. Ryobi markets this new rotary hammer as a 3 mode rotary hammer as it has the rotayr + hammer mode, rotary only mode, and the hammer only mode. But just like the European model R18SDS-O it also has the fourth mode for rotating and setting bits – so it technically is a 4 mode rotary hammer.
Although all the stats such as the 1,300 RPM and 1,500 BPM are exactly the same between USA and European models, the only difference between the two (that I could find) is that the USA model is rated at 1.2 joules impact energy while the Euro model is rated at 1.3 joules. Technically it is less but should it matter, I doubt it as there should be virtually no noticeable difference in theory. But I found it odd that the USA model wasn't classified as a 5/8″ rotary hammer when the Euro model is rated for 16mm in concrete which translates to 5/8″. Could it be because of one tenth lower impact force rated in joules? Also interesting to note is that there is no max rated drilling capacity on the specifications list for the USA P222 model.
At the time of writing I couldn't find any info on the Home Depot website so I can't provide any pricing info and I don't have info on when this will be available but we do know that it is coming soon.
For more info check out the Ryobi tools page https://www.ryobitools.com/power-tools/products/details/796