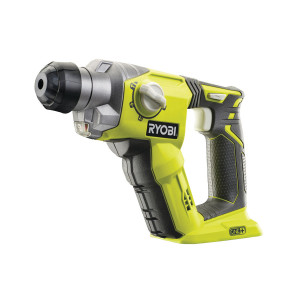 A new Ryobi cordless 18 volt SDS plus rotary hammer has been spotted in Ryobi France. Usually the Aussies and Europeans get new Ryobi tools first. Ryobi currently has an 18 volt 1/2″ rotary hammer part of the One + line of power tools, the P221 which gets great reviews from users.
The new rotary hammer known as the R18SDS-O in France has a 5/8″ capacity in concrete with 1.3 joules of impact force, 0-1,300 no load RPM, and 0-5,000 BPM. New features to this model include a LED light below the chuck and 4 modes of operation. The current model only includes 2 modes which are drilling only and hammer drilling, the new model includes those along with hammer only (chipping) and a separate mode for rotating and setting a bit such as chisel bits for use with the hammer only mode.
It looks to be very compact with its drop motor design. I can also see that it includes an anti-vibration handle to help out with vibration and looks to be the same setup seen on their current 18 volt reciprocating saw.
I've tried out a couple of newer 18 volt One+ tools including the 16 gauge finish nailer and have been impressed so far. The nailer far exceeded my expectations about what I thought of Ryobi as a whole and lets me know they are stepping up their game. This trend continues with the addition of this new rotary hammer. The specs look great and similar with other top brands compact rotary hammer offerings. I'm actually surprised of the added chipping feature as this is usually only seen on pro brands. I hope to see this here in the USA but for now there is no guarantee when or if we will see it here at all.