Skilsaw is teasing us with a video of a new secret tool featuring what they call as BUZZKILL technology. They don't actually show us their latest tool (full view) but it's pretty obvious it's a new reciprocating saw because the video starts off by showing 3 corded recip saws from Makita, Dewalt, and Milwaukee.
The video starts off by showing 3 competing brands recip saws suspended in air and running no load while a glass container with liquid shows how much vibration each one has. Then at the end of the video they show us the top of a red recip saw which is the new Skilsaw recip saw and it's also on and kicking but the liquid in the glass container is hardly moving. This is to show us their BUZZKILL anti vibration technology in action.
If that weren't enough clues that they have a new reciprocating saw coming out soon, the final proof that it's a recip saw comes from the name of the website hosting their material as it's recip.skilsaw.com – it doesn't get any more obvious than that!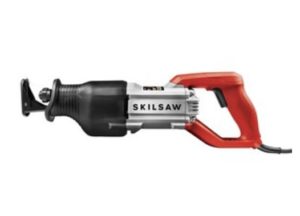 I searched around on the net to see if I could find anything on the saw and sure enough it's already for sale on several retailers including AcmeTools and even a review from Tools In Action. I'm not sure why Skilsaw would tease us with a teaser video when plenty of info is already on the net?
Basically the new Skilsaw recriprocating saw is a 13 amp model SPT44A-00 and it claims to have the least vibration which is a good thing as these tools are known to rattle arms! Priced at $99.99 we don't find many features like orbital settings or a rafter hook are not included but it's killer feature is the anti vibration tech which is said to be up to 50% less than the competition. Stroke length is 1-1/8″ with 2800 strokes per minute. The saw is not out yet as of writing but retailers are taking preorders.
New Features:
Single-wobble drive train – Reduces friction to slow down heat buildup for a longer tool life
Linear system – Maintains superior vibration control with fewer wear points
Clock spring brush system – Constant spring designed for durability and optimal motor performance
DISCLOSURE:
Tool Craze does not sell this product or any product on the Tool Craze website. Tool Craze does not handle the sale of any item in any way. If you purchase something through a post on the Tool Craze site, Tool Craze may get a small share of the sale. Please refer to the About section for more info.