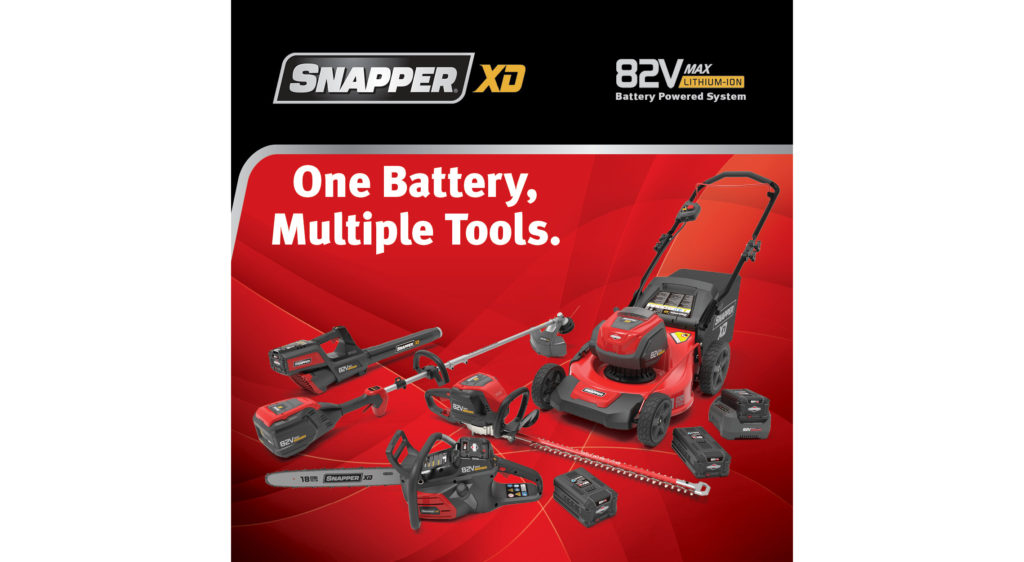 Earlier this year I mentioned that a then new company named Snapper had came out with a new at the time 60V cordless outdoor power equipment line. Now it's almost the end of the year and Snapper busts out a new Snapper XD 82V cordless outdoor power equipment line that uses larger 82V lithium ion batteries.
The new Snapper XD 82Vline features 5 cordless power tools all of them brushless which include a cordless 21″ mower, 26″ hedge trimmer, 16″ string trimmer, blower, and a 18″ chainsaw. Also just like Snapper's 60V line, they will also feature the Briggs and Stratton name.

From the start Snapper will offer two 82V batteries, a 2ah and 4ah batteries and both batteries are interchangeable with all Snapper XD 82V power tools. The batteries charge quickly also with a short 30 minute charge time for the 2ah batteries and 60 minutes for the 4ah batteries. The batteries also include a nice 4 bar fuel gauge to easily check remaining battery juice.
A quick look at all the specs from each model shows me that the new Snapper XD 82V equipment lives up to it's higher voltage as most tools in the range offer better specs than what's available with current 56-58V equipment although prices are a bit higher. I do appreciate that the mower has a good capacity of 21 inch. It's capacity is not class leading even for 56-58V tools but I do appreciate it uses a brushless motor since Ego's mower doesn't feature a brushless motor and the Snapper mower also features a steel deck, something you don't see everyday with cordless mowers.
All are nicely spec'd although the 82V string trimmer has good stats, I expected better for an 82V string trimmer as it has a 16″ cutting swath but using basic 0.80″ dual line. I would expect atleast 0.95″ line. But the good thing is that all models will take advantage of the larger size batteries and should theoretically offer better runtime than 56-58V equipment. Many of Snapper's claims are very good such as a 45 minute runtime on their mower and that's with only the smaller 2ah battery!
Snapper XD 82V Brushless 21″ Mower

 
SXDWM82K
Up to 45-minutes run time with the Briggs & Stratton 82V lithium ion 2.0Ah battery

21″ Steel mowing deck with 3-in-1 design – mulch, bag or side discharge grass clippings easily

Smart, efficient load sensing technology – power adjusts to meet the demands of the cutting blades

Push button start and a single-lever, 7-position height-of-cut adjustment

Large 1.6-bushel bagger
Snapper XD 82V Brushless 26″ Hedge Trimmer 
SXDHT82
Up to 90-minutes run time with the Briggs & Stratton 82V Lithium ion 2.0Ah Battery

Innovative 180 Degree rotating handle; rotates in increments of 45 Degree for easy angled operation

Blade reverse button helps remove jams

Cast metal tip for bump protection and push button controls with indicator light
Snapper XD 82V Brushless 16″ String Trimmer 
SXDST82K
Up to 25-minutes run time with the Briggs & Stratton 82V lithium ion 2.0Ah battery

Dual line bump feed head allows for easy string release when bumped on the ground

Brushless motor provides ultimate gas-like power and performance that is quiet and efficient

Variable speed trigger provides on-demand power to get through the toughest weeds
Snapper XD 82V Brushless Blower 
SXDBL82K
Up to 40-minutes run time with the Briggs & Stratton 82V lithium ion 2.0Ah battery

Powerful 550 CFM / 130mph blowing speed to blow through leaves and debris

Infinite speed control maintains desired airflow along with a stable, anti-tip base design

Metal tube bumps/scrape-protecting end ring and push button start

Quiet operation with no maintenance
Snapper XD 82V Brushless 18″ Chainsaw 
SXDCS82
Up to 160+ cuts with full Battery charge (based on 2.0Ah Battery)

18-Inch Oregon Bar and chain

Auto-oiling system for chain Lubrication and blade safety lock-out handle

Onboard tension adjustment tool and easy push button start
Snapper XD 82V 4.0Ah Lithium Ion Battery BSB4AH82
Takes 60-minutes to charge to full capacity

Lithium ion battery technology for consistent power and performance

Compatible with the Snapper XD 82V lawn and garden cordless tools: lawn mower, string trimmer, leaf blower and hedge trimmer

Four charging indicator lights display the level of charge