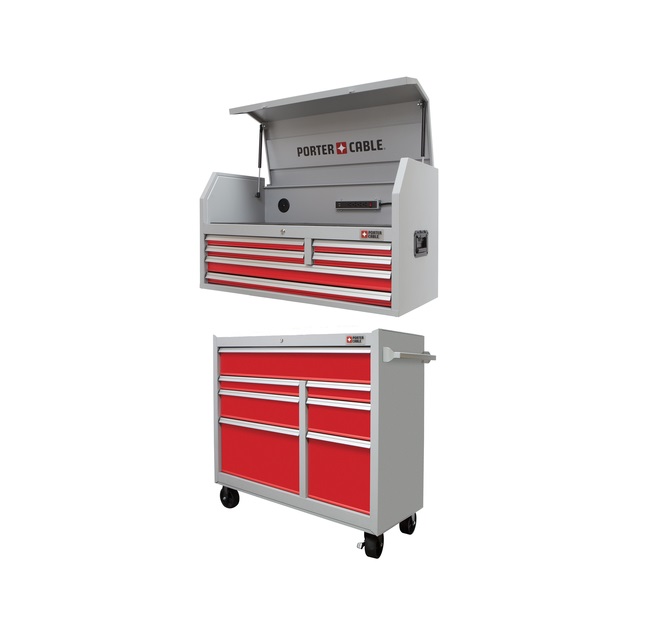 Over at Lowe's, they are selling Porter Cable branded Steel tool chests and cabinet's. Sister company Dewalt has their own Dewalt branded Steel tool boxes and usually gets the spotlight when it comes to new tools and it's nice to see Porter Cable share some of that attention with their own set of steel tool boxes.
These Porter Cable steel tool boxes measure in at a 41″ width by 39.6″ height for the steel tool chest, and 40″ width by 23.1″ height for the matching steel tool chest. They come in Porter Cable team colors gray with red accents for all you Porter Cable fans.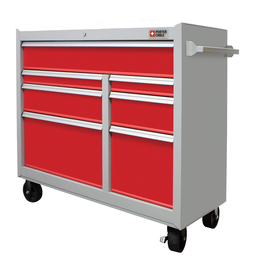 PORTER-CABLE 39.6-in x 41-in 7-Drawer Ball-Bearing Steel Tool Cabinet (Gray) Model #: PCMT74815
Power tool storage – conveniently and securely stores your Porter Cable power tools
Heavy-duty drawer slides, with 100-lb capacity
12-in high bottom drawer for increased storage, and can fit larger tools
Auto return drawers – keeps drawers securely closed while unit is maneuvered around the work site
5-in x 2-in casters support 1,500-lbs with reinforced mounting channels (2 fixed and 2 swivel with full breaking capabilities)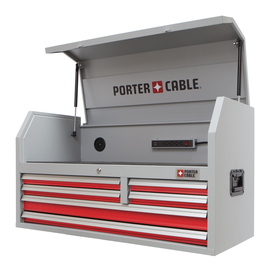 PORTER-CABLE 23.1-in x 40-in 6-Drawer Ball-Bearing Steel Tool Chest (Gray)  Model #: PCMT74813
Power and USB capabilities to charge batteries and accessories
Pull-out work surface provides support and ease to work at the tool box
Heavy-duty drawer slides with 100-lb capacity
Auto return drawers keep drawers securely closed while unit is maneuvered around the work site
Dual top lid handle allows ease in opening and closing top lid
Pricing is very good at the moment and hold a good value at $249 for each for a total of $498 if you buy both together, which brings them at the same pricing as Milwaukee's latest 30″ steel tool box cabinet and chest set for the same price of $499. Although Porter Cable's set doesn't offer a peg board, it does offer a power strip for the chest only it seems and you get an additional 10-11 inches of width for added tool storage volume.
Although current prices are $249 each, according to the Lowe's website they are currently on sale and it seems the regular everyday price is $379 for the tool cabinet and $280 for the tool chest making them $659 if bought together at regular price. Also according to Lowe's, their current pricing at $249 each is good until 7/29/2016.