About 2 years ago, Bosch introduced brushless 18V 1/2″ compact drills with their DDS182 1/2″ EC Brushless compact drill/driver and the HDS182 1/2″ EC Brushless compact hammer drill. Both drills were very compact and light for their day and still are among the most compact drills out there today. I've received info that Bosch has come out with new updated models that pick up where those previous two models left of with the DDS183 18V EC Brushless compact 1/2″ Drill/Driver and the HDS183 18V EC Brushless compact 1/2″ hammer drill.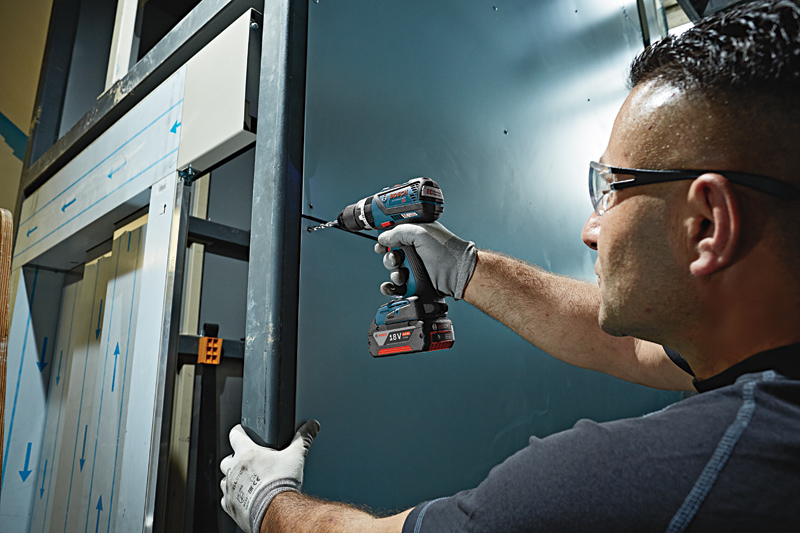 These new brushless models share the similarities of the previous models in which they are brushless 18V compact drills and hammer drills, they share the same overall design although with a few visual tweaks that make the new models stand out as their own. As for the updates, first off they're a tad bit more compact at 6.8″ (DDS183) and 7.25″ (HDS183) length front to back and lighter at 3.3 lbs (DDS183) and 3.4 lbs (HDS183). One thing I wasn't crazy about was the bland handle on the DDS182 drill driver I tested out 2 years ago. It wasn't uncomfortable but it was very bland and not as ergonomic as other drills of that time – in other words it got the job done but was "blah". These new compact models get updated handles that appear to be much more ergonomic and slimmed down a bit.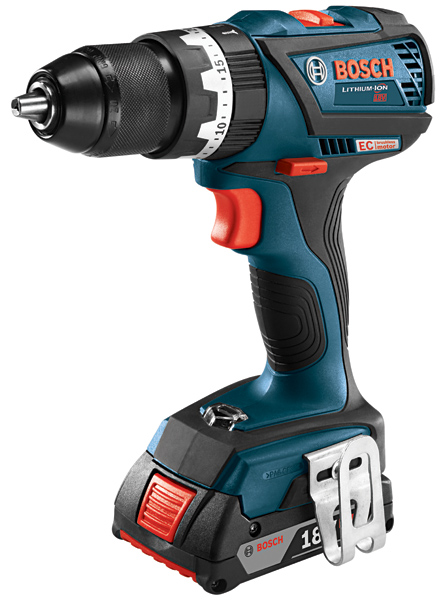 They also get a bump in performance with more torque (531 in-lbs) on both models and an improved 2 speed drivetrain with more RPM's (0-600 / 0-1,900 RPM). They also get 2 huge updates with a new heavy-duty all metal chucks with auto-lock, and Bosch's famous KickBack Control that senses drill rotation and shuts the tool down when it senses quick jerks from bit bind up situations. In other words, this drill will stop on it's own when the user loses control of the drill so that the user's wrist's or shoulders don't get snapped from sudden surge of torque when the bit binds in the material.
New updates
Lighter – 3.3 lbs (DDS183) 3.4 lbs (HDS183)
More compact length – 6.8″ (DDS183) 7.25″ (HDS183)
More ergonomic handles
Increased RPM's – 0-600 / 0-1,900 RPM
More power – (531 in-lbs)
New safety feature – Bosch KickBack Control
Both tools feature an ergonomic grip zone and Bosch-exclusive Electronic Motor Protection and Electronic Cell Protection to protect the tool and batteries from overload and overheating. They will come packaged as kits that include two 2.0ah slimpack batteries featuring  CoolPack technology (which offers a heat conductive housing to keep batteries cooler for superior runtime and up to 2X longer life), charger, magnetic bit holder, 4x bit tip holder, 4 bit tips, belt clip, and tool bag.
Bosch 18V EC Brushless Compact 1/2″ Drill DDS183 Specifications:
18V EC brushless motor
Torque 531 in-lbs
20+1 clutch settings
weight 3.3 lbs ( DDS183-02 with Slimpack 2.0 battery)
weight 3.9 lbs ( DDS183-01 with Fatpack 4.0 battery)
length – 6.8″
0-600 / 0-1,900 RPM
Bosch KickBack Control
DDS183-02 Price US: $199 / Canada: $279
Warranty: 3 year tool / 2 year battery

Bosch 18V EC Brushless Compact 1/2″ Hammer Drill HDS183 Specifications: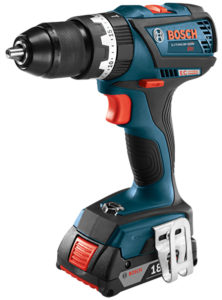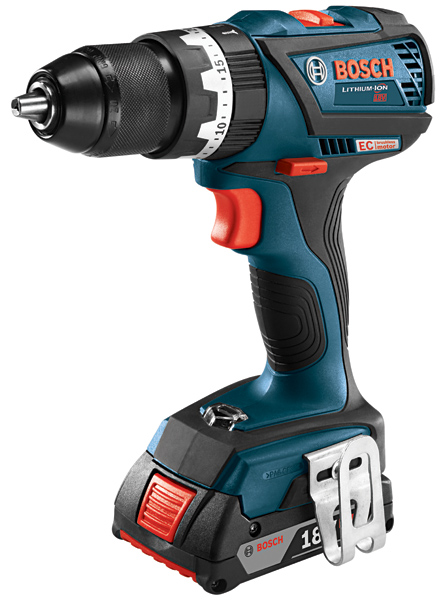 18V EC brushless motor
Torque 531 in-lbs
20+1 clutch settings
weight 3.4 lbs ( HDS183-02 with Slimpack 2.0 battery)
weight 4.0 lbs ( HDS183-01 with Fatpack 4.0 battery)
length – 7.25″
0-600 / 0-1,900 RPM
0-28,500 BPM
Bosch KickBack Control
HDS183-02 Price US: $219 / Canada: $299
Warranty: 3 year tool / 2 year battery