POWERFUL NEW WORX AIR 20V TURBINE BLOWER GENERATES FOUR TIMES MORE AIR VOLUME THAN PREVIOUS WORX MODELS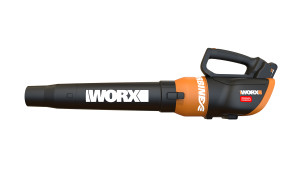 Charlotte, N.C. – The new WORX® AIR 20V MaxLithiumTM TURBINE Blower features a powerful axial fan motor design that pulls air directly into the fan and immediately forces it out through the blower tube, creating a uninterrupted streamline of air flow. Its combined cfm and mph ratings make it more than four times more powerful than previous WORX blowers. The new blower is a member of the next generation of WORX AIR TURBINE blowers, which also includes a new 56V model.
No need to wait until fall to use the WORX AIR 20V MaxLithium TURBINE Blower. It blasts grass clippings, dust, dirt and other debris off surfaces including driveways, lawns, sidewalks, walkways, patios and decks. It's also a time-saver when it comes to cleaning out the garage or keeping entryways into the house clear of dust and dirt.
Compact and lightweight, this (5.7 lbs.) cordless blower is designed to move air freely across its axial fan to a maximum velocity of 340 cubic feet-per-minute (cfm). Its two- speed control provides a light-duty option when working in sensitive plant areas and a high speed option to blast debris out of the way. Removing stubborn wet leaves stuck to the driveway or those clumped on the lawn is now easy work with the TURBINE Blower.
The blower's air speed reaches up to 90 Mph, and the large-diameter tube and nozzle create greater air flow than previous WORX models. It's powered by a 20V 2.0 Ah MaxLithium battery.
The turbine blower is constructed of high-impact nylon composite and is ergonomically designed for single-handed operation. It features a soft-grip comfort handle to reduce fatigue, especially during extended use periods. The blower requires no tools for assembly. A 5-hour charger is included.
The eco-friendly blower is virtually maintenance free. No gas cans to fill, oil to dispense or hard starts. No tune-ups or power cords in tow.
The turbine blower is covered by the WORX 3-year warranty. WORX AIR 20V MaxLithium TURBINE Blower (WG546, $99) is available at Walmart, Amazon, at www.worx.com A 56V MaxLithium TURBINE Blower (WG591, $199.99) also is available at www.worx.com

Specifications
Rated Voltage: 20V MAX*
Battery Capacity: 2.0 Ah
2 speeds
Air Speed: 60 mph / 90 mph
Air Volume: 225 cfm / 340 cfm
Battery Type: 1 x 20V/Li-Ion
Charging Time: 5 Hours (approx.)
Machine Weight: 5.7 lbs
Warranty: 3 Years
About WORX
Established in 1994, WORX Yard Tools USA, based in Charlotte NC, is one of the fastest growing companies serving the global power equipment market today. A diversified manufacturer and marketer of a complete range of electric powered lawn and garden equipment, and related products, WORX has over 3500 employees worldwide. More information is available on the company's website: www.worx.com.