A brand called NTC which stands for Non Conductive Tool Company contacted me about their products and was kind enough to send me over a Voltclaw-12 and a Voltclaw Multi-gauge for review.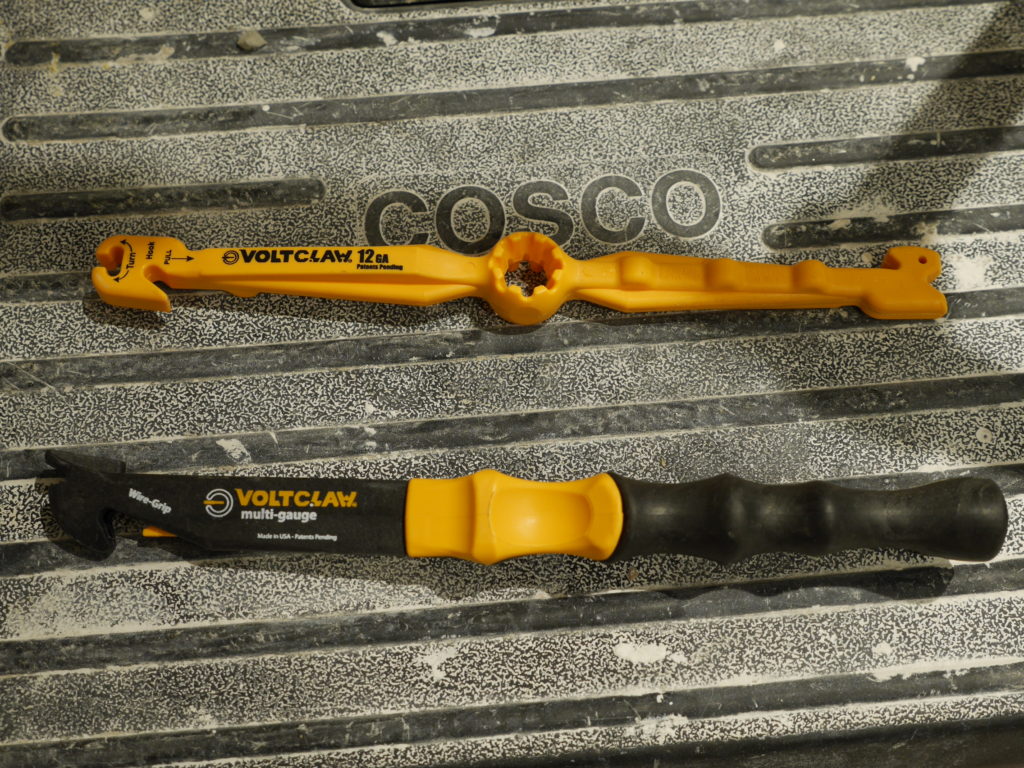 As with all my reviews, I am not paid and am not asked to leave a positive review. Simply put I am offered a product and asked to write my thoughts, positive and negative.
What is VoltClaw?
Voltclaw products are designed to work with electrical wire and are designed to push/pull wires making it easier to work inside electrical boxes. They are also non conductive tools from 0-1000 volts as the company name suggests which should make working on live wiring safer for the user. Although NTC leaves several warnings on the tool and packaging to turn off power, which is there to protect NTC from lawsuits.
Out of the two products, the Voltclaw-12 offers the most features. Besides it being non conductive and having the wire push/pull ability, it can also turn and bend wire wire (where it says turn on one end), it can loop wire, and it even has interesting wire nut holder designed to turn wire nuts.
The Voltclaw Multi-Gauge is less featured but has a unique wire grip mechanism. The tool has a slider that can grab hold of wire. The benefits of this feature is that it is said not damage wire sleeves, unlike pliers that are known for the possibility of pinching and damaging wire sleeves. It also has a very ergonomic grip that's molded perfectly for your hands. Just like the Voltclaw-12, the Multi-gauge is also non conductive and has the wire push/pull ability.
When used together, both Voltclaws make a very nice wire grabbing, pulling and pushing solution.
Hands On Experience
If you guys read my Klein Heavy Duty Wire Stripper Review, you guys know that I've been doing lots of electrical work and that most of it is done. Luckily for NTC, I still had a little bit of electrical work in the garage as I was installing several electrical boxes with outlets for additional shop lights. This was the perfect setting for testing out both Voltclaw products.
The first product I tried was the multipurpose Voltclaw-12 model and looped all three wires so they can connect to the electrical outlet.
Next I used the Multi-Gauge model to grab onto the wires to connect them to the outlet screws. It would have been easier (much easier) for me to use my hands in this case but I did this all in the name of testing. Obviously the power was off but lets say had I left the power on while I did the installation, this would have saved my butt. Again, it is much easier to use my hands to do this but with some getting used to, I'd say anyone could become a pro at using the multi-gauge in no time.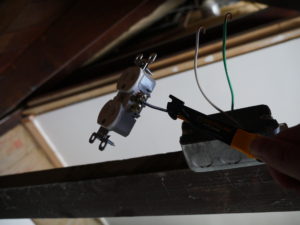 After the connections were done and I tightened the screws it was time to stuff the wiring in the box and set the outlet in place. For this I went back to the Voltclaw-12 and used the ends to push the wires into submission. This part went pretty well in my opinion and made it less of a hassle than using my hands for this.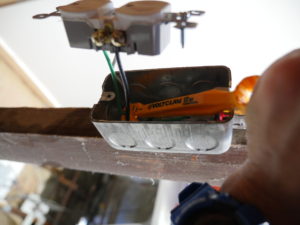 After that outlet was installed I proceeded to a junction box where all the electrical box wiring connected to. Everything here is connected by push-in wire connectors and I again reached for the multi-gauge to grip the wires and push them in. I managed to push the wires in but only about halfway into the connectors, that's as far as I could push them in since the Volclaw Multi-gauge doesn't grip very firmly to the wire. So to finish the connection I had to reach for a different tool (pliers) so as to grip and seat the wire all the way in. This was a bit disappointing as the Voltclaw Multi-gauge failed to do this part of the job correctly as it doesn't have a strong grip on wire and leaves you no choice but to reach for another tool to finish the job. But the pliers did leave marks on the sleeve part of the wires, not enough to damage them but I could see some marks. That's where the multi-gauge shines as it doesn't damage wires but what good is that if they don't have enough grip?
After all the push in connections were done I used both tools together to pull, bend, and push all the many wires into place and boy was this easy when you use both together.
Notice that it was hard to use both at the same time and try to get a picture of this all while up on a ladder by myself and that's why I only have one handed tool pics up to this point, but with the help of my wife I was able to get a picture of me using both hands on a switch install that was ground level. Notice the pic on the left below, here I used the wire turning end to bend the wiring into place. Very nice feature. I also want to mention that the power was on when I pushed the wires in the box for the switch below. The switch connections had electrical tape on to make it safe to work with while the power was on but the non conductive nature of both Voltclaw's made it even safer to work with.
Because I only use push in wire connectors at this point, I didn't have any connections where I used wire nuts to test out the wire nut twister part of the Voltclaw-12 but I did take some pictures of it grabbing some wire nuts below of various shapes and sizes. All I can add is that it does a good job of gripping wire nuts, but remember I say this without actually having tried to install or remove any wire nuts.
Up to this point, I've been using wire strippers along with linesmen pliers to do the bulk of my electrical work and switching over to the new Voltclaw products does take a bit to get used to at first. The whole time I naturally felt inclined to reach for my wire strippers as those can do everything I needed to do. However the Voltclaws do offer a feature my wire strippers don't have like their non conductive nature. I'm not an electrician but electricians at times need to work while the power is on. That's not a feature I need since I always turn the power off, but for those that do, it's a worthwhile feature that can save your life. The Voltclaw's do some things better than my wire strippers like wire pushing and pulling which was a treat to use with the Voltclaw's. I like the idea of the wire gripping feature of the Multi-gauge model but since it lacks sufficient grip strength, left it unusable for my specific needs. But for light gripping of wires while the power is on, they may prove extremely valuable.
These are not tools I would reach first as I will continue to stick to my wire strippers to do the bulk of electrical work but I feel I will reach for these when it comes to stuffing wires into the electrical boxes as that's where I believe these tools shine and make work much easier than using my hands or pliers. However if you and your crew work with electrical connections while the power is live, non conductive tools such as these can be true lifesavers.


Free 2 day shipping – Try Amazon Prime 30-Day Free Trial


DISCLOSURE:
Tool Craze does not sell this product or any product on the Tool Craze website. Tool Craze does not handle the sale of any item in any way. If you purchase something through a post on the Tool Craze site, Tool Craze may get a small share of the sale. Please refer to the About section for more info.