In this article we'll be taking a look at the OLFA 45-C Rolled Materials Cutter with 45mm Rotary Blade and this will be my honest review of this handy hand tool for cutting a variety of materials such as paper, cardboard, linoleum, leather, carpet and artificial lawn.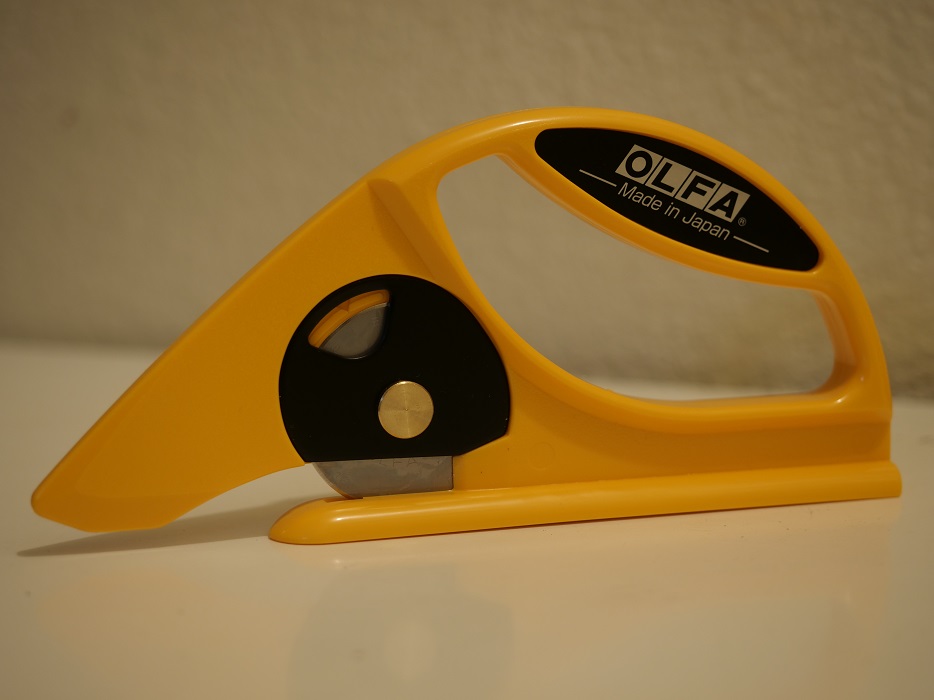 Ethic's Disclosure:
OLFA was kind enough to provide the OLFA 45-C Rolled Materials Cutter with 45mm Rotary Blade at no cost for review. However as with all my reviews, I am not paid, sponsored, or obligated to give a positive review. This review is my opinion of the product based on my usage and knowledge and my review will reflect what I like and dislike about the product. I will do my best to provide you with an unbiased review.


My Thoughts:
What makes the OLFA 45-C Rolled Materials Cutter interesting is that this tool makes straight cuts into materials such as paper, cardboard, linoleum, leather, carpet and artificial lawn as easy as pushing the tool to make each cut. Yes thats it, you grip the tool and push it across the material you want to cut and it takes care of the rest.
I don't have the majority of materials to test this on such as carpet or linoleum but I did have a large roll of paper used to protect the floor when remodeling a room and I have plenty of cardboard boxes so I used these to test the rotary cutter with.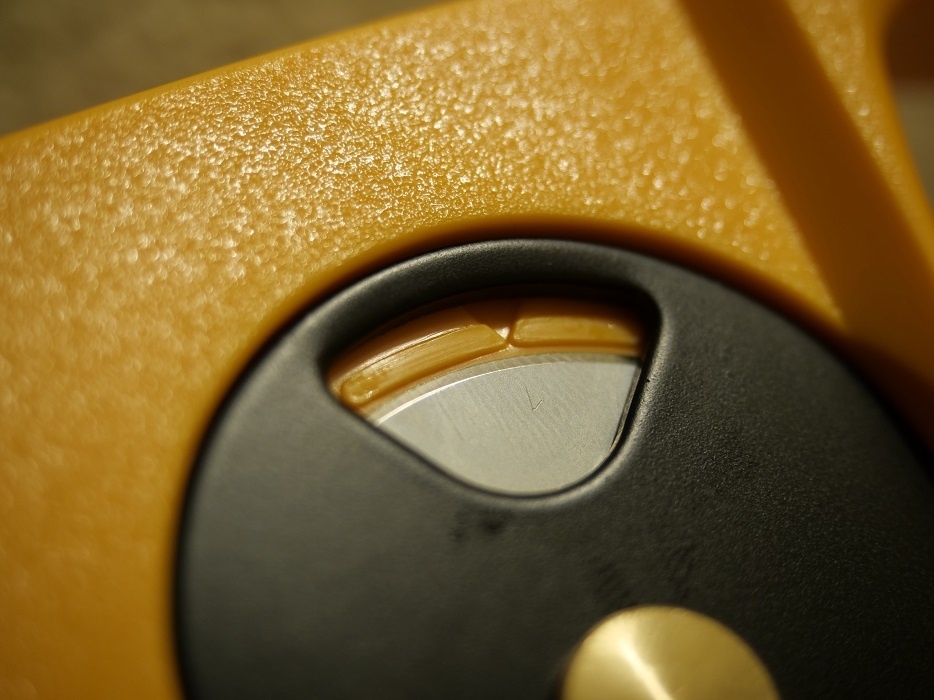 One thing to note is that although it may be called a rotary cutter, the circular blade doesn't rotate when cutting. The blade itself is in a fixed locked position at all times. OLFA could have used a straight blade to accomplish the same task although the reason they went with a circular blade was so that the user could simply rotate the blade slightly when the exposed cutting area was dull as you'd still have the rest of the blade sharp to use. You can rotate the blade to use the entire blade so one blade is like having several blades on hand.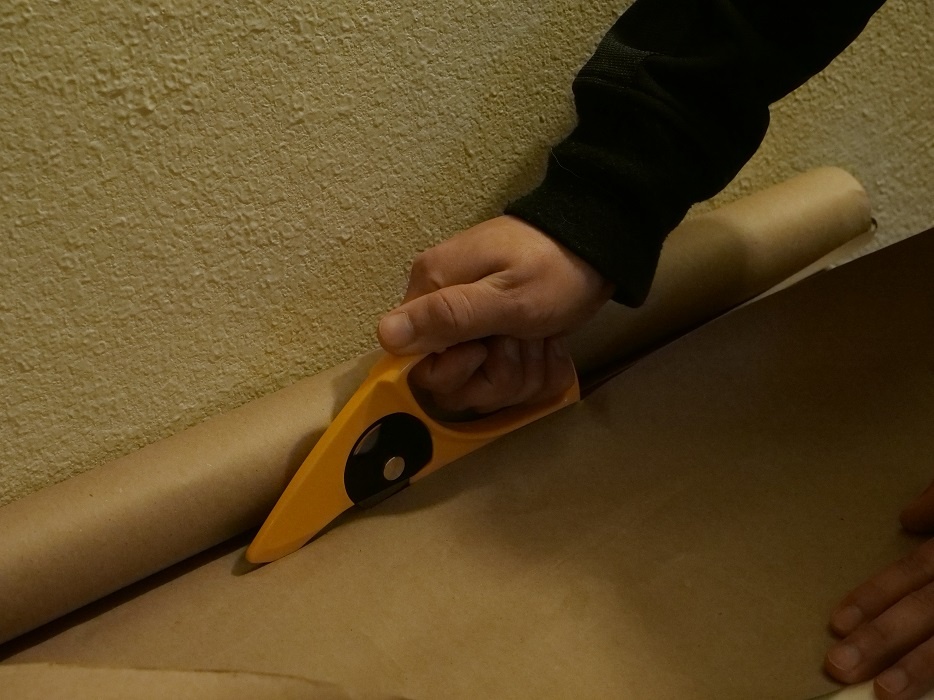 Using the cutter for paper rolls was extremely easy and completely beats using scissors. The tool is designed well and fits well in the hand and the grip makes it ergonomic and easy to use and push to cut.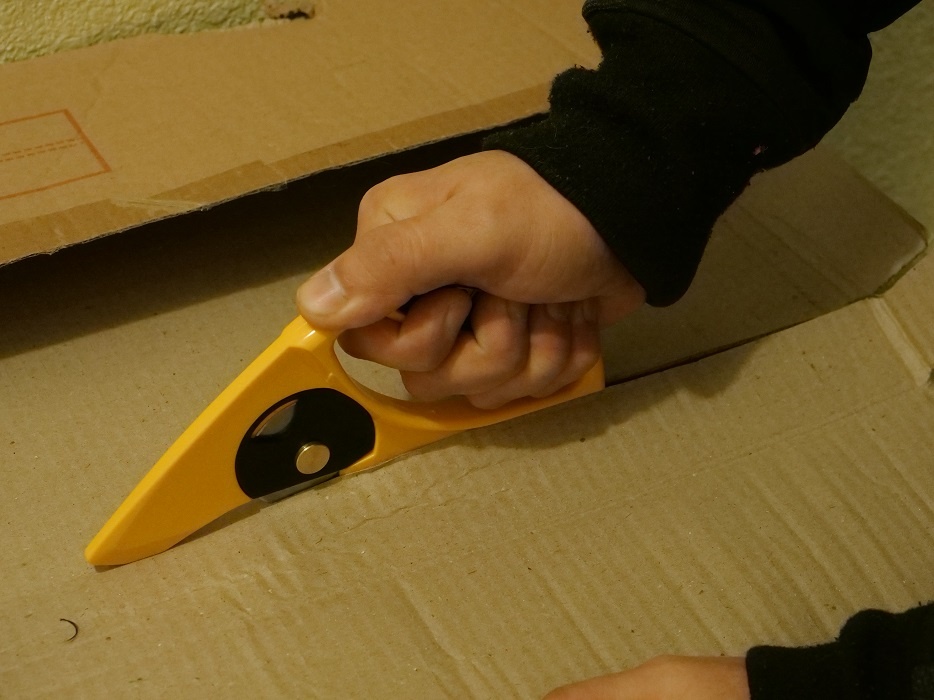 Using the cutter for thin cardboard was also a sinch and was very easy to slide as it cut with a bit more pressure needed to push and cut since cardboard is thicker than paper. Although it cuts cardboard easily, it will not cut thick doublewall cardboard and the reason being because the area behind the blade where the material passes through is too thick to be used with tough cardboard. I suspect that if the cutter used thinner plastic behind the blade, it would handle thick cardboard better, but for thin cardboard with a single wall it does the job just fine.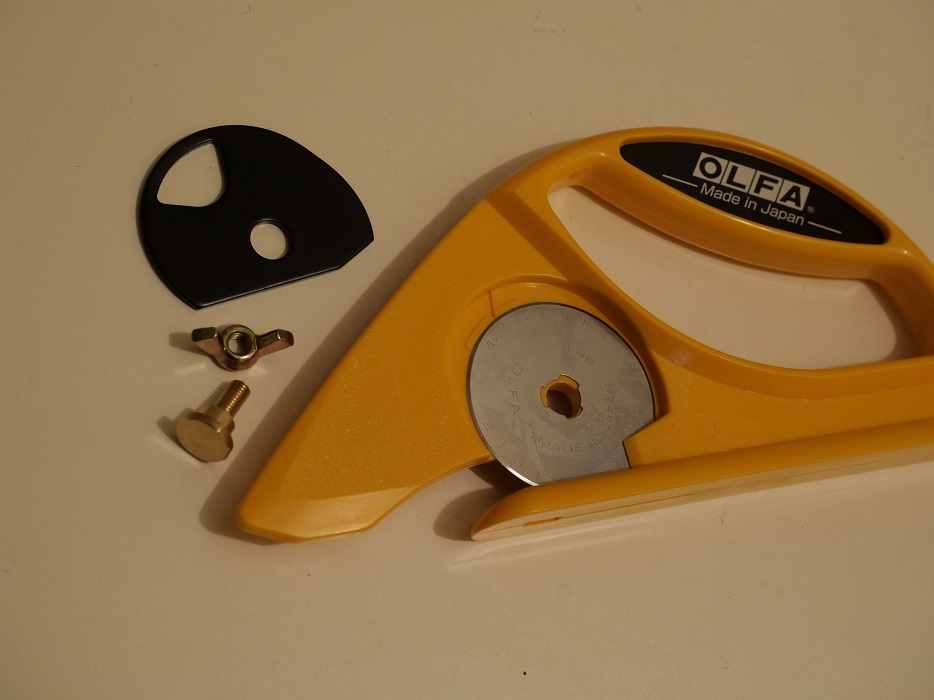 The construction of the tool is very well done using thick plastic throughout. The plastic body is of a single piece and is incredibly simple in design. The only four other removable pieces are the blade itself, a screw and nut, and a metal blade holder that clamps the blade in place.
All in all, it's a well built tool and very handy if you need to make straight cuts into materials like rolls of paper and cardboard often. It sure beats having to use scissors and not only is it easier and less straining on your hands than using scissors but it's extremely quick at cutting. It will run laps past any scissors. I'd recommend it.


Free 2 day shipping – Try Amazon Prime 30-Day Free Trial

DISCLOSURE:
Tool Craze does not sell this product or any product on the Tool Craze website. Tool Craze does not handle the sale of any item in any way. If you purchase something through a post on the Tool Craze site, Tool Craze may get a small share of the sale. Please refer to the About section for more info.