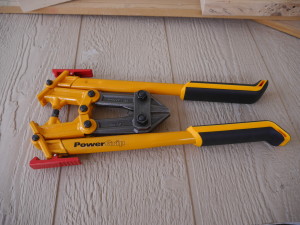 Its hard to get excited over bolt cutters as they all share a common design but what really caught my attention about the Power Grip bolt cutters from Olympia tools is that they have a very neat feature. This feature is the ability to transform or should I say fold into a compact shape. The problem I've found with traditional bolt cutters is that they are long and take up too much space in storage and it's nice to see Olympia Tools came up with a solution.
The Powergrip bolt cutters fold up to about 2/3 their original length making them compact enough to fit in my tool box. The way they fold is they have joints in the handles with locking tabs to hold them in place. It takes a lot of force to cut into thick metal and my concern before trying these out were the joints, wondering if they would flex and affect performance but after trying them out it feels just as solid as a pair of regular bolt cutters. There is a bit of play in the joints due to the way the tabs grip both pieces of the handle but are designed so when you use them and squeeze the handles together to cut they are solid and feel as if it were on piece.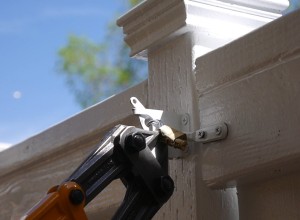 I also appreciate the extra large rubber handles as they made it more comfortable to handle during use. They come in a variety of sizes to fit your needs with the smallest being a 14 inch model, an 18 inch model, 24 inch model which was the one I tried out, a 36 inch size, and 42 inch model which is their largest size. I really appreciate the space saving folding design as the 24 inch model even though medium was a bit long. 36 and 42 inch users will really benefit the most from this design as those models are huge. All in all, I enjoyed using these and I like the space saving design that under testing didn't compromise cutting strength and I believe these are worth checking out.
Specifications:
Folding handles
Cro-Moly steel cutting head
Extra wide rubber grip