It was August 2017 when I wrote about Harbor Freight claiming they had more new Hercules 20V tools to come out after the initial release of the original 3 Herculess cordless tools which were a drill, hammer drill and impact driver. Harbor Freight teased us by saying that 8 new Hercules 20V cordless tools were "Coming Soon". The new tools that were supposed to have come out already were a 6-1/2″ circular saw, reciprocating saw, angle grinder, multitool, radio, area light, jobsite blower, and a jigsaw. However 2018 is almost over, only a few days left before 2019 starts and yet we're still waiting for these new Hercules 20V tools that Harbor Freight promised us over a year ago.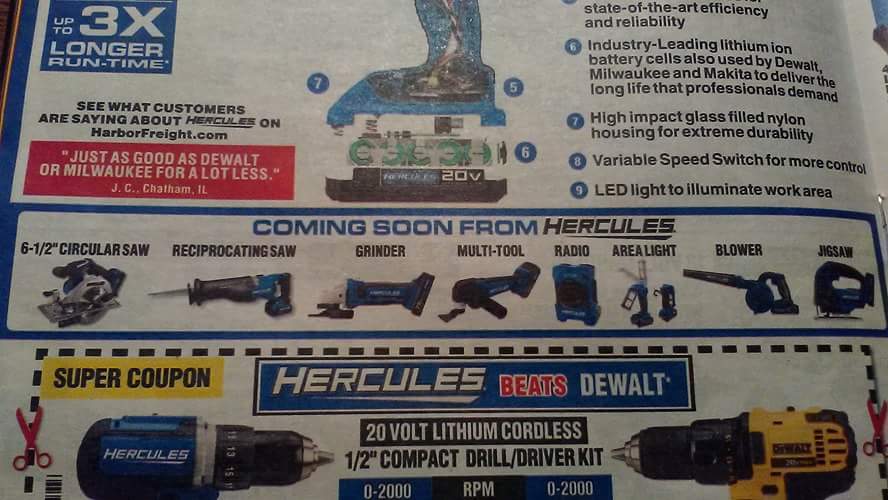 What's interesting is that when we first learned about the then new Hercules 20V tools, Harbor Freight also announced a new cordless line of 20V Bauer power tools along with a new line of Earthquake XT 2oV power tools as well. What does the Bauer and Earthquake cordless power tools have to do with Hercules new tools? Well the truth is that Bauer also promised us new cordless tools however they did deliver on their promise by trickling new tools slowly. The Earthquake XT brand didn't promise any new tools but they did come out with some as of lately with new impact wrench models. So this info leads me to believe that something from the corporate boardroom at Harbor Freight is delaying the release of the new Hercules 20V tools.
My guess is that the Hercules 20V tools probably arent' selling well enough for Harbor Fright. Most likely because of the price point of $99.99-114.99 in kit form is too high for a cordless tool from Harbor Freight and the fact that they are priced too similarly to actual Dewalt tools. Remember that Hercules tools are designed to look like as if they are Dewalt clones but in blue. Also you only get one battery with their kits while there are similarly priced Dewalt 20V kits that offer two pack in batteries even as low as $99 for a brushless drill with two pack in batterise! I believe the Bauer 20V line is doing well because their cordless tool kits are very affordable at $69.99-74.99 and even lower with coupons. Earthquake XT 20V cordless tools while being more expensive than Bauer and even Hercules kits, still offer a very good value since they sell cordless high torque and compact impact wrench's at considerably lower price points than the competition making them good values unlike the Hercules 20V tools.
If Hercules 20V tools don't sell well, there's probably little incentive for Harbor Freight to release more of them.
It seems Harbor Freight hasn't given up on cordless Hercules tools as they've recently just released 3 new Hercules 12V Max cordless tools with a new drill, impact driver and screwdriver. We'll have an article discussing these new tools soon so stay tuned. But as of right now, it doesn't look good for the Hercules 20v tools.


Free 2 day shipping – Try Amazon Prime 30-Day Free Trial

DISCLOSURE:
Tool Craze does not sell this product or any product on the Tool Craze website. Tool Craze does not handle the sale of any item in any way. If you purchase something through a post on the Tool Craze site, Tool Craze may get a small share of the sale. Please refer to the About section for more info.