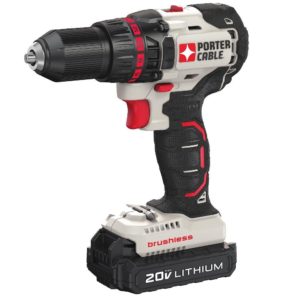 Porter Cable already has a brushless 20V drill but what's great about today's news is that they offer another kit model that's more affordable in the $99 range with the PCC608LB kit.
The Porter Cable PCC608LB 20V Brushless Drill is a slightly stripped down model to their first brushless drill. It still offers good specs though for the price with 360 MWO which is their method of measuring torque. Sister company uses UWO although I don't know if MWO and UWO are similar methods of measuring torque but according to Amazon's listing page for the Porter Cable 20V PCC608LB Brushless Drill they say it has 293 in-lbs torque which isn't too shabby.
The main feature of this drill besides the price point is that it features a brushless motor for the price and comes with two batteries and charger. I always thought the Dewalt DCD771C2 kit was a good deal for what it offered for $99 and that's a brushed motor drill. This Porter Cable model pushes the value with a better drill model vs the Dewalt DCD771C2 kit. Brushless motor are more efficient and thus usually get better runtime than equally spec'd brushed motors.
Of course for $99 there had to be some cut backs which was definitely the case with the Dewalt DCD771C2 kit, which are smaller capacity batteries of 1.3 ah. The good news is that the included charger PCC699L is the same one as the slightly more expensive Porter Cable brushless drill kit. Also the drill itself is a downgraded model vs the PCCK607LB which is 10 less MWO torque, 100 less RPM's, the PCC608LB loses the separate mode select collar and the fuel gauge along with a few cosmetic differences.
Still a good model for $99 since you get a capable entry level drill with a brushless motor, two batteries and a charger. Personally I'd rather go for this model vs the Dewalt DCD771C2 if I was given the choice.

Try Amazon Prime 30-Day Free Trial
Brushless motor provides more runtime

Powerful motor provides 360 MWO for heavy applications with reduced stall

Transmission provides 1,700 max RPM for speed of drilling & fastening applications compact 8" length for work in tight areas lightweight 3.2 lbs for reduced user fatigue

Compact and lightweight for less user fatigue

3 year limited warranty