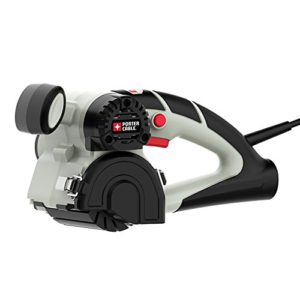 Here's a neat multi purpose tool that Porter Cable's come out with to sand, buff, grind, polish, scrub or clean any surface – the Porter Cable Restorer.
It reminds me of a shortened belt sander and it works similarly too except it doesn't use belts. It uses a rotating drum in which you can  install sanding sleeves similar to oscillating sanders. This way you can use the tool just as you would to sand down a surface. You can also remove the included drum and place abrasive wheels and grind surfaces to clean, peel, scrape, and polish them with different sleeves or wheels.
Like many sanding tools nowadays it features a vac port to hook up your vac and have dust free sanding, scraping, grinding etc.
Diameter 2 13/16-in Length 4-in
Built-in dust port attaches to vac for easy clean up
Quick release latch for tooless roller accessory change
Speed lock for operational comfort
Soft grip handle for added comfort
Rubber front bumpers to protect work surface
Soft rubber roller for gouge-free surface preparation
Gear Drive for maximum performance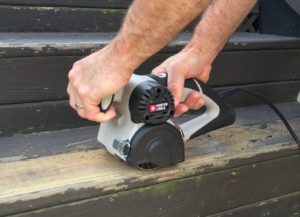 This concept is not first of it's kind, besides many similarities to a belt sander, there are other tools out there prior to this one that share the same idea such as Makita's 9741 Wheel Sander which shares an almost identical design minus the huge cosmetic differences. Metabo also offers a similar contraption the Metabo SE12-115 burnishing machine. Bosch even has a similar concept with their green branded rolling sander overseas. I will say that Makita's and Metabo's designs are only single minded in the sense that they are a one trick pony in which they serve mainly one purpose. The Porter Cable covers more ground with it's many drum sleeves, and wheel options for a larger variety of uses.
The Porter Cable Restorer has been out this year and it retails for about $130 for the tool and they also offer a multi piece kit that offers 9 wheels and sleeves for $150.