La Vergne, TN – Powermatic ® has introduced the PM2014 wood lathe – the most accessible lathe it has ever brought to market. This innovative lathe brings professional- grade woodworking capabilities within reach of more woodworkers by featuring 115V single phase power input, easy disassembly for transport and an adjustable stand (optional). Other premium features include a movable control box, digital speed and indexing readout, anti-rotation tailstock key, and more.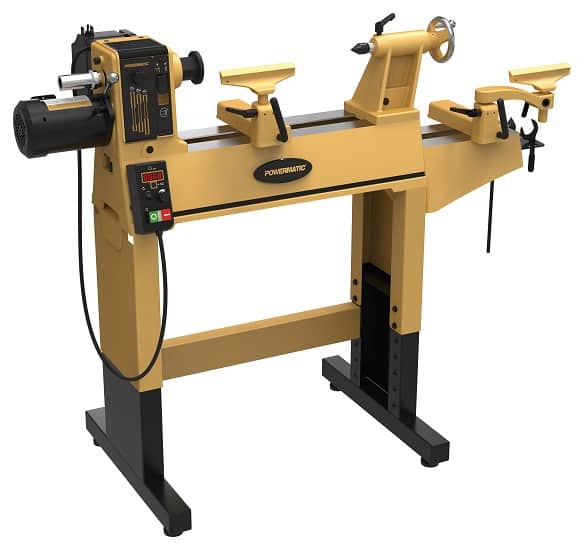 The PM2014 lathe is equipped with an inverter that converts 115V, single phase power input to 230V, three phase output, making industrial performance accessible wherever a standard 115V outlet is available. Consistent torque is provided so that wood turning does not slow down, even at low speed settings.
The operator-friendly PM2014 lathe is an ideal choice for many professional woodworkers, woodturning enthusiasts, furniture makers, bowl and plate turners, students and instructors. It handles a wide variety of woodworking projects with ease and precision, from turning custom spindles and table legs to crafting bowls, vases and pens.
The PM2014 lathe is driven by a robust 1 HP, 230V, three phase motor, capable of managing large or off-balance work pieces. Electronic variable speed ranges include 15-900 RPM, 30-1800 RPM and 60-3600 RPM. Spindle speeds as low as 15 RPM with ample torque are ideal for creating intricate, ornamental turnings.
Transporting the compact lathe is no problem. The headstock, tailstock and banjo quickly slide off the bed and fit in most mid-size vehicles.
For enhanced operator comfort, the lathe has an optional, ergonomic stand that is height-adjustable up to 12" (from 34" to 46", from floor to centerline). Glides also can be fine-tuned for leveling. If desired, the lathe also can be used without the stand and mounted on a flat, level surface.
A magnetic moveable control box allows convenient operation at a variety of different positions on the lathe. The digital spindle speed and indexing readout are clearly visible on the control box, which also contains on/off and forward/reverse switches. A main power disconnect switch is located on top of the inverter box.
The PM2014 lathe provides 20" working distance between centers and 14" swing over the bed. This allows complex, multi-axis turns and provides ample capacity for spindle and bowl turning. An optional 13" Bed Extension is available, increasing the lathe's capacity to 43" between centers and allowing outboard turning of larger pieces.
The PM 2014 lathe weighs 185 lbs. (tool only) and 238 lbs. when mounted to its height-adjustable stand. A robust, cast iron bed reduces vibration and is precision-ground to ensure smooth sliding of the tailstock and tool rest. The premium, sliding headstock allows greater clearance when positioned at the end of the bed for outboard turning. An anti-rotation tailstock key and Acme threads also are featured for smooth operation and longevity.
The Powermatic PM2014 Lathe is CSA Certified and is backed by Powermatic's five-year warranty, with service centers available throughout the United States.
For more information on the Powermatic PM2014 Lathe, tool only (1792014, $1,999.99), Powermatic PM2014 Lathe with Optional Stand (1792014AK, $2.399.99), Powermatic PM2014 13" Bed Extension with Turning Attachment (6294755, $249.99), or to find a local dealer, visit powermatic.com.


Free 2 day shipping – Try Amazon Prime 30-Day Free Trial



DISCLOSURE:
Tool Craze does not sell this product or any product on the Tool Craze website. Tool Craze does not handle the sale of any item in any way. If you purchase something through a post on the Tool Craze site, Tool Craze may get a small share of the sale. Please refer to the About section for more info.