Pro For Sho released another safety product – their Pro For Sho anti fog anti scratch safety glasses with paper thin temples and in this article I get them reviewed to see how they fare.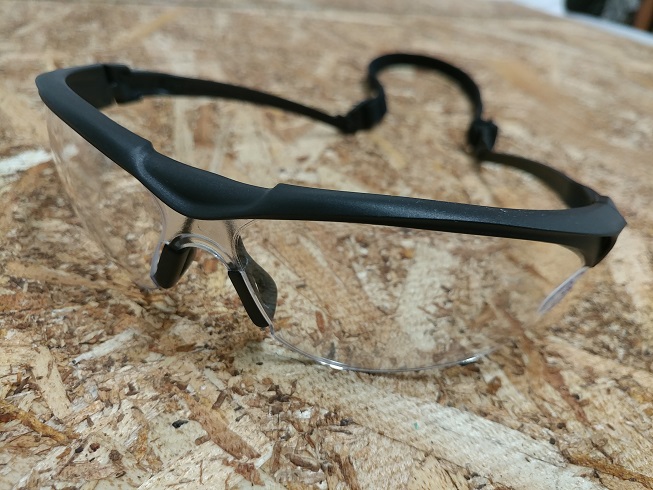 Ethic's Disclosure:
Pro For Sho was kind enough to provide their Anti Fog Anti Scratch Safety Glasses With Paper Thin Temples at no cost for review. However as with all my reviews, I am not paid, sponsored, or obligated to give a positive review. This review is my opinion of the product based on my usage and knowledge and my review will reflect what I like and dislike about the product. My goal with this review is not to push/sell the product but instead to explain the good along with the bad so that you can make an informed buying decision and determine if this product is worth buying. Buy it now links are provided for this product as a courtesy and convenience for you the readers and are also provided to help support the Tool Craze website so I can offer more free content. I will do my best to provide you with an unbiased review.
Manufacturers Specs and Features list:
INNOVATIVE THIN TEMPLE DESIGN TO ENSURE LONG LASTING COMFORT – With the glass temple thinner than a credit card, in the event when wearing hearing protection is needed, the ultra-thin temples help eliminate the pressure and discomfort, making the constant adjustment and removing the hearing protection a thing of the past. HEAD STRAP included for versatile wearing.

EXTRA DURABLE CONSTRUCTION – The ProForSho Safety Glasses is a very inexpensive way to protect your eyes. It maintains you the best visual clarity yet highly impact-resistant, provides a secure shield around the eyes and protects against hazards coming from any direction. Meets ANSI Z87.1 Standard and blocks 99.9% of UV Radiation

ANTI FOG, GLARE & SCRATCH RESISTANT LENSES, RETAIN YOU THE UNDISTORTED VIEW – Our safety glasses are made scratch proof and fog proof to maintain a clean and clear vision at all times. Won't wear off even after repeated cleanings

VERSATILE OPTION FOR WORK AND PLAY – HEAD STRAP included. Ideal for Shooting, Woodworking, Metal & Construction Works, Chemical & Lab Works, Carpentry, Dental Work, Racquetball, Cycling and other Sports

THE PROFORSHO GUARANTEE – We at Pro For Sho stand behind every item we make. If there's an issue with your eye protection, we'll make it right by replacing them or giving your money back.

price: $12

My Thoughts:
The title of these new Pro For Sho safety glasses pretty much sums up what they do and are good for. According to Pro For Sho, they feature a scratch resistant and fog resistant polycarbonate lenses and the temples are said to be credit card thin which is good for making it more comfortable to wear for extended periods with hearing protection earmuffs.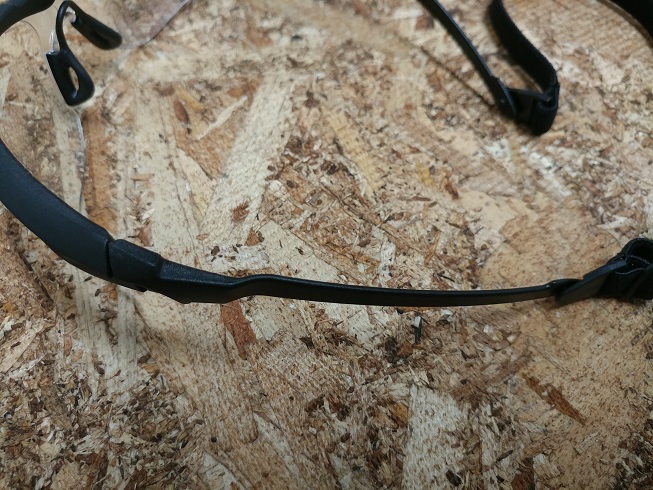 The temples are pretty thin. Just a bit thicker than a credit card and when worn with hearing protection do a good job of not getting pressed onto your head which could cause discomfort because of how flat they are. I tried them out with some hearing protection and they worked as described since they are pretty thin. Although I will say that even when I pair hearing protection and eyewear, the combo doesn't cause discomfort so for me the added benefit of these safety glasses does nothing for me but for those that find that a regular pair of eyewear and hearing protection cause them discomfort are those that will benefit from these safety glasses.
The part of eyewear that causes me discomfort the most is where the temples touch the upper part of the ear where they rest. These Pro For Sho didn't cause any painful discomfort from short term use so that's good. I'll have to wear them for extended periods of time and report back if they pass the long term over the ear discomfort test.
The polycarbonate lenses do hold up extremely well against fog. I did a fog test where I wear a dust mask along with these glasses which is a surefire way to cause fog in eyewear and these Pro For Sho safety glasses did extremely well in this regard, which surprised me. When I breath on these glasses, I can see fog starting to appear on the glasses but they resist the fog from building further and you see it dissipate away quickly. It happens so quickly that it doesn't affect your vision with any visual cloudy fog hindering your eyesight. The only time you can see some foggy haze when used with a dust mask, was when looking at bright lights which causes blooming to be present. But even then the blooming is not that bad and you can still work through it and see well enough. I give the anti fog feature two thumbs up.
The only downside is that the anti-fog works so good that it's hard to clean these when they get oil smudges. Usually I breath on my glasses to build up fog which is used to clean glasses however since these resist fog so well that you are basically rubbing them dry when you use a cloth to wipe after breathing on them which only smears oils around. This makes them harder to clean in my opinion.
Another downside to the lenses is that there is noticeable distortion at the edges. It's not noticeable if you look straight but when I look left or right, one eye is facing toward the nose and here is where the distortion is very noticeable. I found this to be very distracting and makes me not want to use these glasses. I am not sure if this will bother others but it bothers me enough not to want to use them. Hopefully Pro For Sho updates these glasses with no distortion edges in the future.
I've only had these for a few days so I can't comment on the anti scratch aspect. In my experience with other so called anti-scratch materials is that they still get scratches but the amount is less and they are much finer and less noticeable which probably is the case for these safety glasses. I'll report later after I get to try these out for longer periods of time to see how they hold up in this regard.
The nose piece is pretty basic with adequate cushioning and when wearing these glasses for a short period, they didn't irritate my nose so that's a good thing. When I wear these for longer periods of time I'll report back and see how comfortable these are.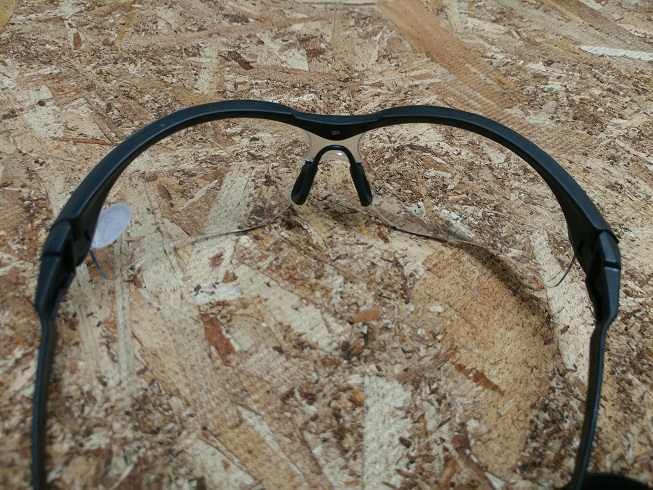 The glasses also include a head strap which is good if you want to keep these tight on your head. The strap is length adjustable and when set right can hold you glasses snug without them slipping around. The strap also aids so that you can hang the glasses on your neck when not in use, however the short strap makes it difficult for taking off and hanging on your neck.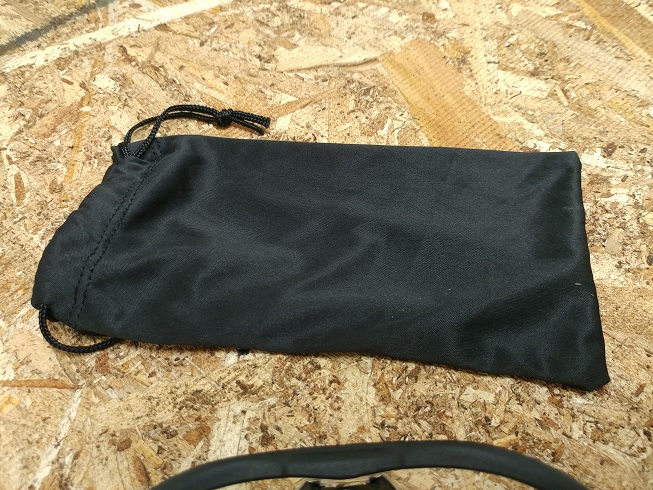 As far as overall styling goes, these glasses are very bland. They don't offer a stand out style or standout materials used, just a plain boring plastic black frame and temples and a wrap around lens design with no frame underneath the lenses. They are priced at $12 which isn't bad but there are a lot of nicer looking safety glasses on Amazon in this price range. But with that said, these don't look bad and are not ugly, they just don't have good stylish looks and are more for function than for looks.

Free 2 day shipping – Try Amazon Prime 30-Day Free Trial

DISCLOSURE:
Tool Craze does not sell this product or any product on the Tool Craze website. Tool Craze does not handle the sale of any item in any way. If you purchase something through a post on the Tool Craze site, Tool Craze may get a small share of the sale. Please refer to the About section for more info.