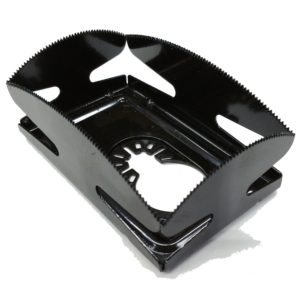 The QBit single gang box oscillating multitool blade is a nifty solution for making quick rectangle holes for single gang electrical boxes.
It's unique rectangle shape with 4 blades, one blade for each side, make quick work of making the correct size hole each time.
I've tried several methods including a drywall saw, and a regular multitool blade to make holes for outlets and this tool would surely speed things up while taking out all the guess work.
The QBit single gang box oscillating multitool blade uses a universal multitool mount so that it should fit most multitools and because it has a large opening on the mount, it will be able to be used on quick release multitool mounts as well. Although it's not a StarLock mount so it won't fit on Starlock multitools as of yet as there are no adapters for non starlock accessories to work on starlock mounts.
This is definitely the tool to have if your work involves installing electrical boxes (single gang) and also low voltage single gang boxes and brackets.
Pricing is between $45-50 and it's available now.