Harbor Freight has two new Quinn branded digital torque wrenches in 3/8″ and 1/2″ drive flavors.
These are a nice step up from mechanical torque wrenches as you have a digital display and buttons that allow you to dial in your desired torque limit with simple button presses. They feature a built in speaker that audibly alerts you when you've reached your desired torque which is clear and loud rather than having to concentrate on a slight click. These wrenches provide two auditory and visual signals to indicate that torque value has been reached – repeated beeps and a green light indicate 90% of desire torque value has been reached and one long beep with a red light indicates that 100% of the desired torque value has been reached.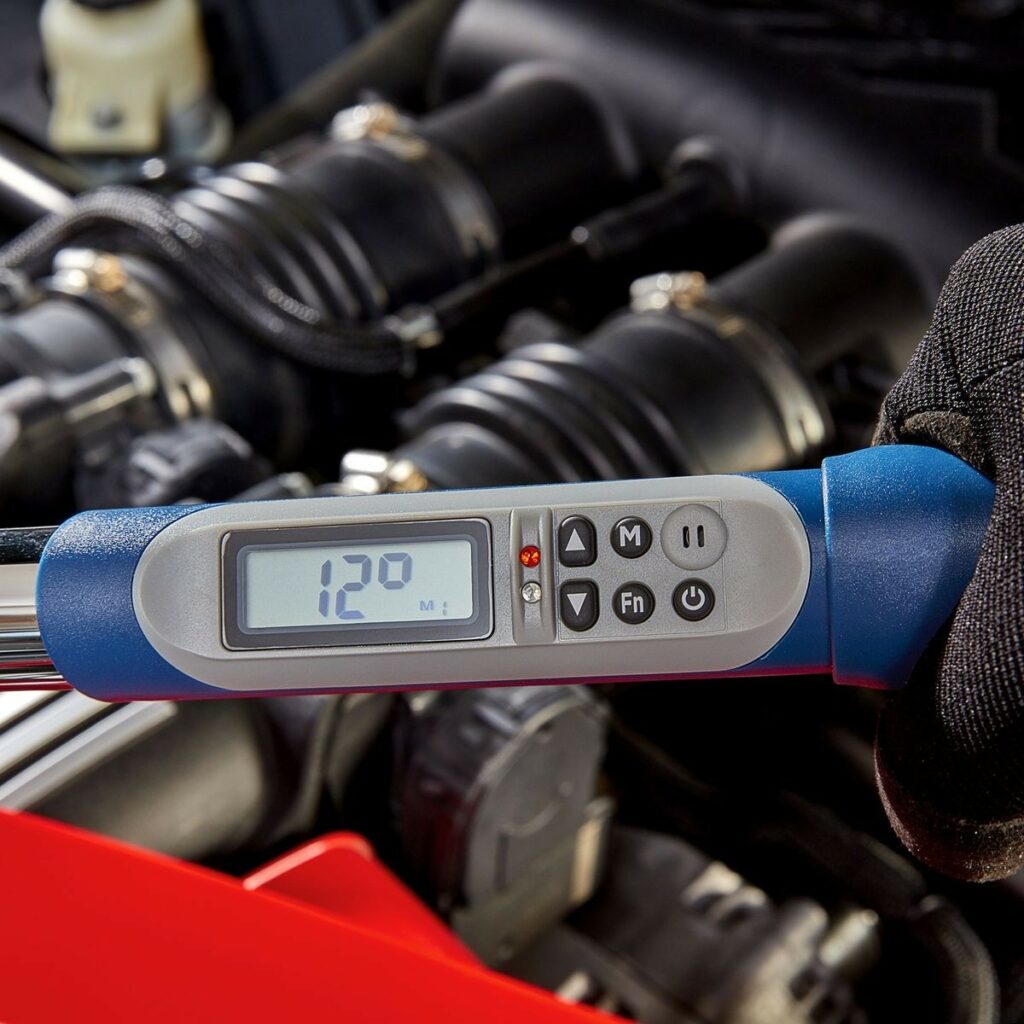 Both have a 72 tooth ratchet mechanism with a 5° arc swing that makes it easy to work in tight spaces. They also provide measurements in N-m, in-lb, ft-lb, kg-cm, and degrees with an accuracy within +/- 3% (clockwise), have a hardened steel construction with a chrome polished finish and can program and store up to 9 pre-set torque ratings.
The 3/8″ model has a torque range of 5 -100 ft-lbs while the 1/2″ model has a torque range of 12.5 to 250 ft-lbs. The 3/8″ model is priced at $159.99 and the 1/2″ model is priced at $169.99.
Harbor Freight wouldn't be Harbor Freight if they didn't do some sort of direct comparison between their new digital torque wrenches and some other brand's offerings. So it's only natural they compare theirs to another brands and that's exactly what they did as they compare their new digital torque wrenches directly against Kobalt's models. According to their comparison, their Quinn models offer a very similar product at a lower price point. In fact their side by side comparison has all the same specs compared to Kobalt's except for one feature, tooth count which according to HF, their Quinn model beats the Kobalt's by offering more teeth count of 72 versus 36 on the Kobalt's. This figure is only mentioned on the 1/2″ model comparison.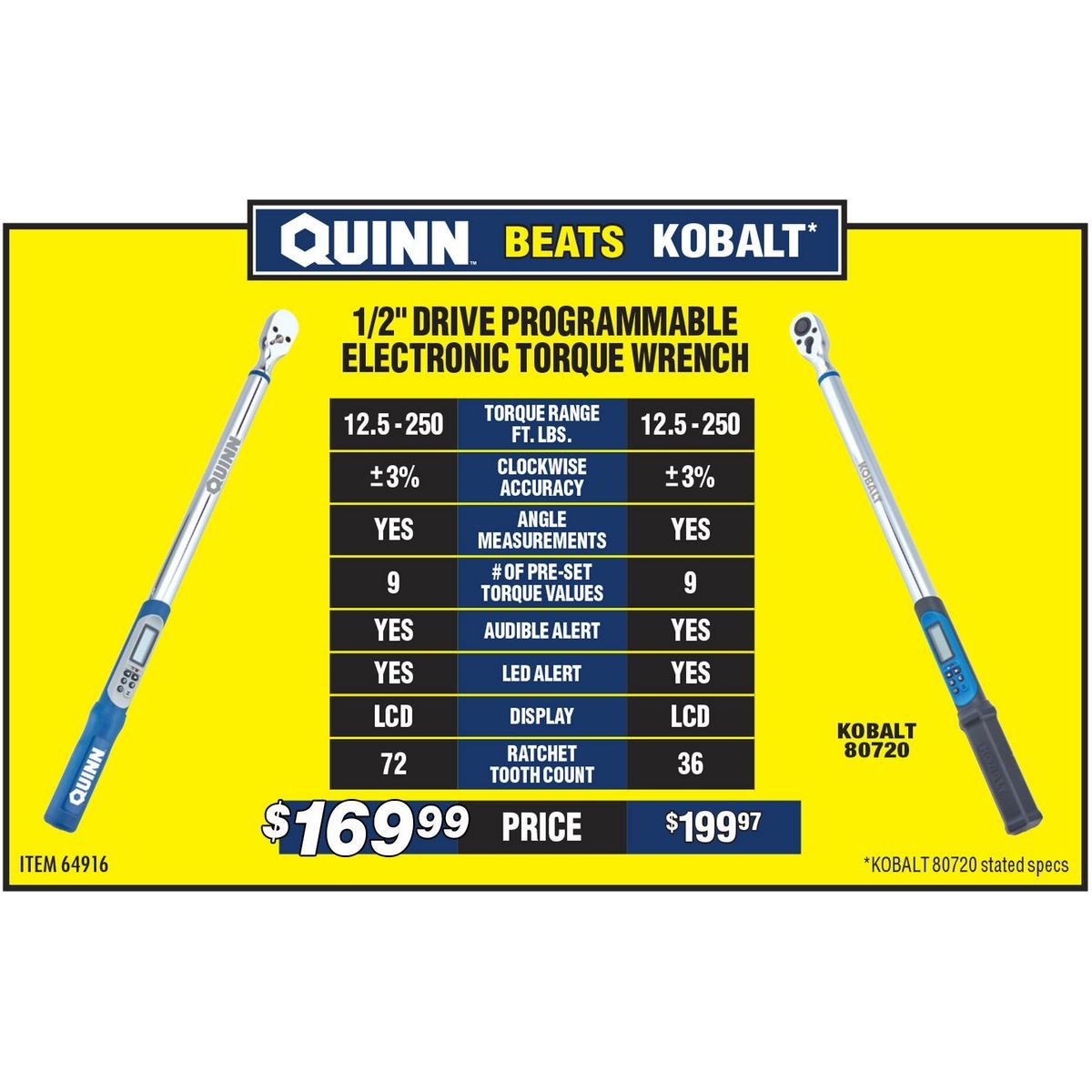 I also want to mention that Quinn's offerings are nearly identical to Kobalt's offering and I'm not only talking about specs, they are almost identical in appearance as well. The head shape and LCD display and buttons are the same with only slight differences in color scheme, button labels and handles. Otherwise they appear to come from the same factory that supplies both brands. They also operate in the same way as well with the same exact repeated beeps and blinking green light for 90% torque and solid long beeps and solid red light to signify full torque has been reached. At the time of writing, the Kobalt versions are only a bit more than Quinn's with $199 for the 1/2″ and $179 for the 3/8″ model however Lowe's had a sale for the 1/2″ bringing it down to $169.97 (a whopping 3 cents cheaper!!!) and matching Quinn's pricepoint. However you could always use a 20% off HF coupon to bring Quinn's prices down even further for a better deal.


Free 2 day shipping – Try Amazon Prime 30-Day Free Trial

DISCLOSURE:
Tool Craze does not sell this product or any product on the Tool Craze website. Tool Craze does not handle the sale of any item in any way. If you purchase something through a post on the Tool Craze site, Tool Craze may get a small share of the sale. Please refer to the About section for more info.