A brand called Reekon Tools has announced their new M1 Caliber product that's set out to revolutionize the way we measure and cut when using miter saws.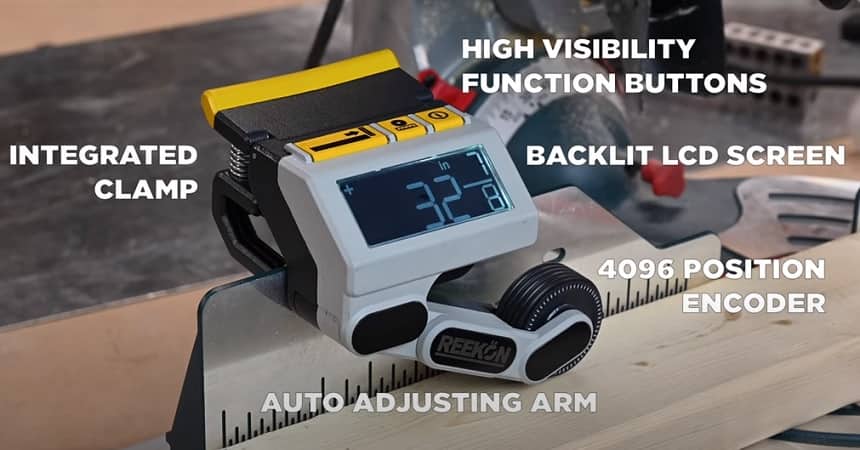 The Reekon Tools M1 Caliber is a miter saw accessory that mounts onto your saws fence and uses a built in wheel to measure whatever you're about to cut without the need for the use of a traditional tape measure and there's no need to mark a cut line onto your material either. That's because the M1 caliber measures the material as it's feed through the device via it's built in wheel.
The M1 caliber appears to be able to fit over any miter saw fence and calibration is easy. Just clamp onto your saws fence, then slide material under the device until it touches the side of the blade and then press the zero button. The device is now properly calibrated for your saw and the next time you pass material through it, it will measure how wide the cut will be. The large backlit LCD displays the length of cut and you can use the display to measure the exact length of cut and according to their youtube video, it is accurate.
At the time of writing, this product is not yet available for public sale. It's currently a kickstarter project with a goal date set to July 31st 2020.


Free 2 day shipping – Try Amazon Prime 30-Day Free Trial

DISCLOSURE:
Tool Craze does not sell this product or any product on the Tool Craze website. Tool Craze does not handle the sale of any item in any way. If you purchase something through a link on the Tool Craze site, Tool Craze may get a small share of the sale. Please refer to the About section for more info.