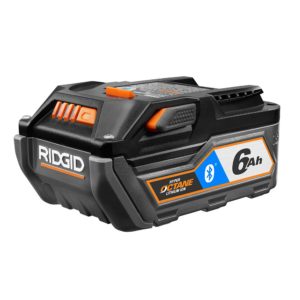 We already knew new Ridgid 18V higher capacities were coming as we already knew about the new hyper octane bluetooth 6.0 and 9.0 ah batteries when they were spotted a while back. Along the way we also learned that the new batteries would be expected in February 2018 in other parts of the world and thanks to Cody Robertson and Joshua B, they spotted them on the Home Depot website for the very first time and with a retail price of $129.
The new 6.0 ah represents a step up from all other Ridgid 18V batteries. The new 6.0 ah also get a new name on them called "Hyper Octane" probably to distinguish them from the rest. The Hyper Octane batteries also have Bluetooth built in with abilities to set Push Notifications, Security Features, and Battery Status Updates to your smartphone app.
Over 65% more performance when paired with RIDGID octane tool
Over 4x runtime compared to standard lithium-ion batteries
Bluetooth technology enabled
Over 15 different push notifications such as battery is fully charged, low battery and maintenance is needed
Security features such as locate your battery, lock your battery, and disable your battery when out of range
Battery status features such as estimated charge time and total hours used
3-year limited warranty
These batteries already appear on the HD website although they are not for sale yet. HD has a habit of placing new items on their website and are temporarily unavailable for a short period of time but become available soon after. No word on when the actual availability date will be, but at least we know they will retail for $129. I'd also expect the new 9.0 ah Hyper Octane bluetooth batteries to show up soon as well.
DISCLOSURE:
Tool Craze does not sell this product or any product on the Tool Craze website. Tool Craze does not handle the sale of any item in any way. If you purchase something through a post on the Tool Craze site, Tool Craze may get a small share of the sale. Please refer to the About section for more info.