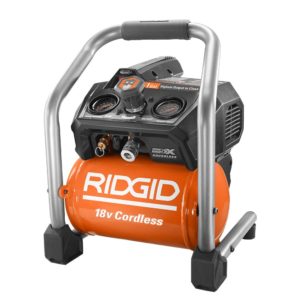 Ridgid just came out with a new cordless 18V compressor! Seriously, no joking, this is a real product you can go out and buy today.
The Ridgid 18V brushless 1 gallon compressor takes one or two Ridgid 18V batteries and helps make you more portable as it does not require any existing power on site for you to use your air powered tools.
Ridgid recommends using only 4.0ah or larger capacity batteries for the best results. I like that it can take 2 batteries for additional runtime but at a minimum only requires one battery to operate.
As far as specs go, it uses a 1 gallon tank which gives it great portability at the cost of air capacity and it has 120 max PSI.
My thoughts:
Personally I'm in between feelings for this battery powered compressor. I like the idea and I don't like the idea. I like the fact that a compressor has finally been made into a "cordless" battery powered tool and I'm sure that plenty of air powered tool users can finally rejoice. This means you can take a compressor anywhere and not have to worry about hunting an outlet or work where there is no power such as new construction or away from the grid. Or even if there is power, you don't have to worry about plugging in.
I'm not crazy about it because even though they made a compressor that is battery powered, it's still not cordless as you still need to run a hose around to your air tools. Also a I feel it might be a bit too late with a battery powered compressor as just about all or most air powered tools have a battery powered option. Ridgid themselves offers a couple of cordless 18V finish nailers, and other brands fill in the gaps they leave. Staplers, impact wrenches, die grinders, sprayers and many more air powered tools have a battery powered option so really I don't see the need for a battery powered compressor if you can get just about any air tool as a cordless battery powered standalone tool. With the tool such as a nailer being battery powered, you don't need a hose and compressor as the tool has everything onboard to operate.
I feel this Ridgid 18V brushless 1 gallon compressor is a good fit for users that already have several air powered tools and would want a bit more portability to their setup and or users that want to build their air tool collection for less since air powered tools are cheaper than their battery powered counterparts.
The good news is that this new Ridgid 18V brushless 1 gallon compressor is available now on the Home Depot website with a retail price of $199.
A big thanks to Tool Craze Facebook follower Joshua B. for bringing the new Ridgid 18V Brushless 1 Gallon Compressor to our attention!
Ridgid Product info:
RIDGID continues to bring innovation to the job site with the industry's first Brushless 18-Volt Compressor. This unit has the ability to run off either 1 or 2 RIDGID 18-Volt batteries for extended runtime. The Brushless Motor Technology delivers on all demands of the job site with superior power, extended runtime, and a longer life for your tool. This unit is packed with additional job site features including a locking regulator knob, a 1/4 turn ball valve drain, 2 universal push-to-connect couplers, and a lightweight design. This unit is backed by a 3-year warranty.
Dual-power draw allows the compressor to run on both 1 or 2 batteries
Brushless motor technology for superior power and runtime
1 Gal. tank portable size for job site mobility
Locking regulator holds knob in place to prevent unwanted pressure changes
Universal push-to-connect quick couplers accepts both 1/4 in. automotive and industrial plugs with easy single-hand connection
1/4 in. turn ball valve tank drain – drain tanks quickly with one easy turn
120 maximum PSI provides ideal pressure for an extended range of work (for finish and trim applications)
Hose wrap for efficient hose storage management