Most cordless vacs so far have topped out at about 2 to 3 gallons of rated capacity with most smaller than that. Recently Ryobi pushed the envelope with a larger cordless model at 6 gallons and now Ridgid pushes even further towards the goal of a "full" sized vacuum with their Ridgid 18V Cordless NXT 9 Gallon Wet Dry Vac HD0918 .
Full disclosure: This is not a review, this is tool news. Tool Craze cannot guarantee the accuracy of the information/specifications/features of any tool listed in this article. Manufacturer marketing claims may not always meet expectations. Tool Craze is not responsible if products do not live up to claimed expectations. Please do your full research before buying any products. Tool Craze is an Amazon Associate and places paid links including those from other retailers that Tool Craze is an affiliate partner with. If you purchase something through a link on the Tool Craze site, Tool Craze may get a small share of the sale.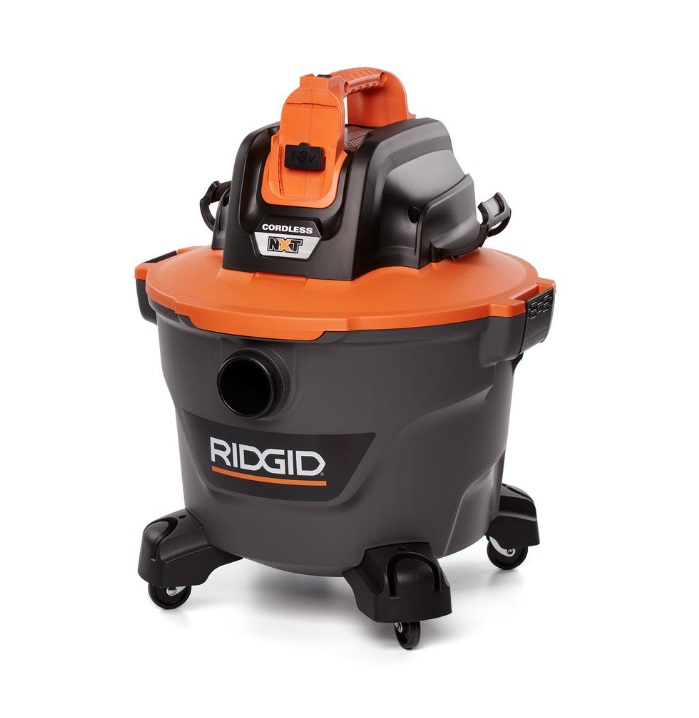 What's interesting about the new Ridgid vacuum is that it's part of their revamped "NXT" line up with line-wide updates and refreshes to their corded models. So far the only source of info about this new vac was from the HD site with limited info. It doesn't state how powerful the vac is in CFM's but it does state that it's "Powerful 18-Volt motor provides pickup and capacity of a corded wet/dry vac" and also goes on to say "Its performance rivals its 9 Gal. corded counterpart" so I think it's safe to say it has performance similar to corded 9 gallon vacs or close to it. The current Ridgid 9 gallon vac is rated at 4.25 HP so I'm guessing somewhere below or close to that. This might actually be the first cordless vac that might be good enough for use in auto upholstery.
Power comes from a single Ridgid 18V battery and what's interesting is that this vac can accept two batteries. Two batteries doesn't increase performance, it simply extends the runtime so it's still a true 18V tool, not a 36V tool. The HD listing supplies only one picture and I can see a battery holder in the front of the unit motor housing near the handle. I'm guessing the second battery slot is on the same position in the back of the unit. The front battery slot is where the power switch would be on the corded model so they moved it to the top of the handle where your thumb naturally has access to.
It features all the same amenities as the NXT 9 gallon corded vac such as the same 1-7/8″ 7 foot hose with  extension wands, standard filter, utility nozzle, and wet nozzle and adds a third nozzle, a car nozzle. You won't find any cord wraps on the top of the unit since it's a cordless vac but I noticed they added two holders that are probably for it's included wands and nozzles. Just like the corded model, you'll find four 360 degree castors on the bottom with all of them having the ability to accept accessories for additional on board storage. I like that the cordless vac takes all of the same accessories that it's corded brethren does including the same included pleated filter and takes the same bags as well. This means there's a full line of accessories for this corded vac.
I like what I see so far. HD immediately pulled the listing after it was spotted but I can assure you it will be out soon. It's priced at $109 as a baretool which is almost double what the corded 9 gallon model costs but is still very reasonable for a cordless vacuum and actually on the lower end. Keep in mind Milwaukee's 2 gallon vac is priced at $99 so Ridgid's cordless 9 gallon vac is actually a good deal for a cordless unit in my opinion.
A big thanks to Joshua B. for spotting!
Powerful 18-Volt motor provides pickup and capacity of a corded wet/dry vac
Traditional 9 Gal. drum size holds more mess and is more durable than other cordless units
Can run using 1 battery but accepts 2 for longer runtimes
Large carry handle adds cordless freedom
On-board hose and accessory storage makes the vacuum easy to carry, transport and stow
Compatible with RIDGID 18-Volt battery models R840083, R840085, R840086, R840087, R840088, R840089, R8400806, R8400809 (sold separately)
Includes 1-7/8 in. x 7 ft. tug-a-long locking hose with Dual-Flex, 3 extension wands, utility nozzle, a car nozzle, wet nozzle and standard filter
Accepts RIDGID filter VF4000 and size B VF3503 dust collection bags
Full lifetime warranty against material defects and workmanship
Gallons indicated reflect drum volume, not necessarily collection capacity, actual capacity dependent upon type of debris collected, condition of filter and other factors


Free 2 day shipping – Try Amazon Prime 30-Day Free Trial

DISCLOSURE:
Tool Craze does not sell this product or any product on the Tool Craze website. Tool Craze does not handle the sale of any item in any way. If you purchase something through a post on the Tool Craze site, Tool Craze may get a small share of the sale. Please refer to the About section for more info.