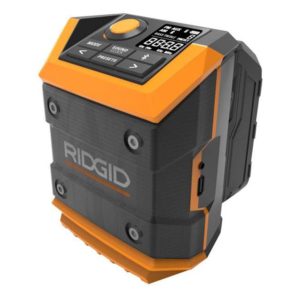 A new Ridgid Ridgid 18V Gen5X Mini Bluetooth Radio with Bluetooth App has been spotted at HD.
It's a very compact little radio that's powered by any of Ridgid's lithium 18V batteries and is barely bigger than the battery itself. It's so small, it could technically be called a bluetooth speaker with built in radio function.
It has an LCD panel on top with controls just below it. It has the usual aux port on the side but it also features a handy USB port to charge your phone on the go. It's also weather resistant which should make it withstand a rain shower or two. Although it says the radio is weatherproof, I noticed the USB and AUX ports don't have a weather seal flap cover. Maybe they don't need it to be rain resistant?
It's also compatible with the Ridgid Radio app which will let you not only change tracks, adjust the volume, but will also let you check the battery charge, change radio stations, set radio presets, and even adjust treble and bass.
This new Ridgid 18V Gen5X Mini Bluetooth Radio with Bluetooth App will be available soon and will retail for $99.
A big thanks to Joshua B. for spotting this and sharing.
DISCLOSURE:
Tool Craze does not sell this product or any product on the Tool Craze website. Tool Craze does not handle the sale of any item in any way. If you purchase something through a post on the Tool Craze site, Tool Craze may get a small share of the sale. Please refer to the About section for more info.