Ridgid announces a new 23 Gauge 1-3/8 in. pneumatic Pin Nailer R138HPF And 50 ft. x 1/4 in. Lay Flat Air Hose R5025LF both of which are said to launch in the second quarter of 2019. I took a quick look at HD and it appears the new lay flat 50 ft hose is available now for $44.98.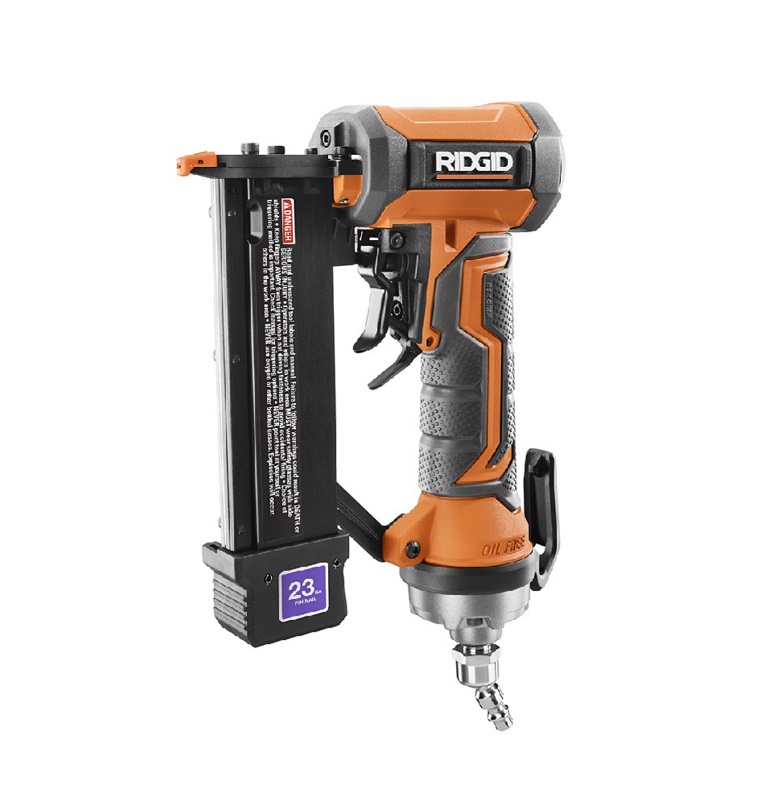 The new Ridgid 23 gauge pin nailer R138HPF gets a fancy new redesign that not only modernizes the look of the tool to match the style of Ridgid's latest tools, it gets an oil free motor that liminates daily oiling and oil splattering on the work surface and also gets what Ridgid calls CLEAN DRIVE Technology. CLEAN DRIVE engineering provides this new pin nailer with a smaller nose for visibility, allows it to drive flush at angles, gives you no driver blade slips, and protects your work surface from aggressive marring. Other features include a rotating 360 degree belt hook, pivoting coupler, dry fire lockout, depth of drive adjustment and jam clearing door.
Powerful Motor – Able to drive 1/2 in. to 1-3/8 in. fasteners sub flush into solid oak
Low Profile Design – Engineered to fire nails in the tightest spaces
Oil-less Motor – Eliminates daily oiling and oil splattering on the work surface
Dry-Fire Lockout Feature – Extends the motor life and prevents misfires
Depth-of-Drive Adjustment – Depth control protects work surface from overdriving
Jam clearing door with Attached No-Mar Pad – Single piece allows for quicker assembling
Adjustable Belt Hook – With 180º adjustability
Rear Exhaust – Keeps exhaust away from work area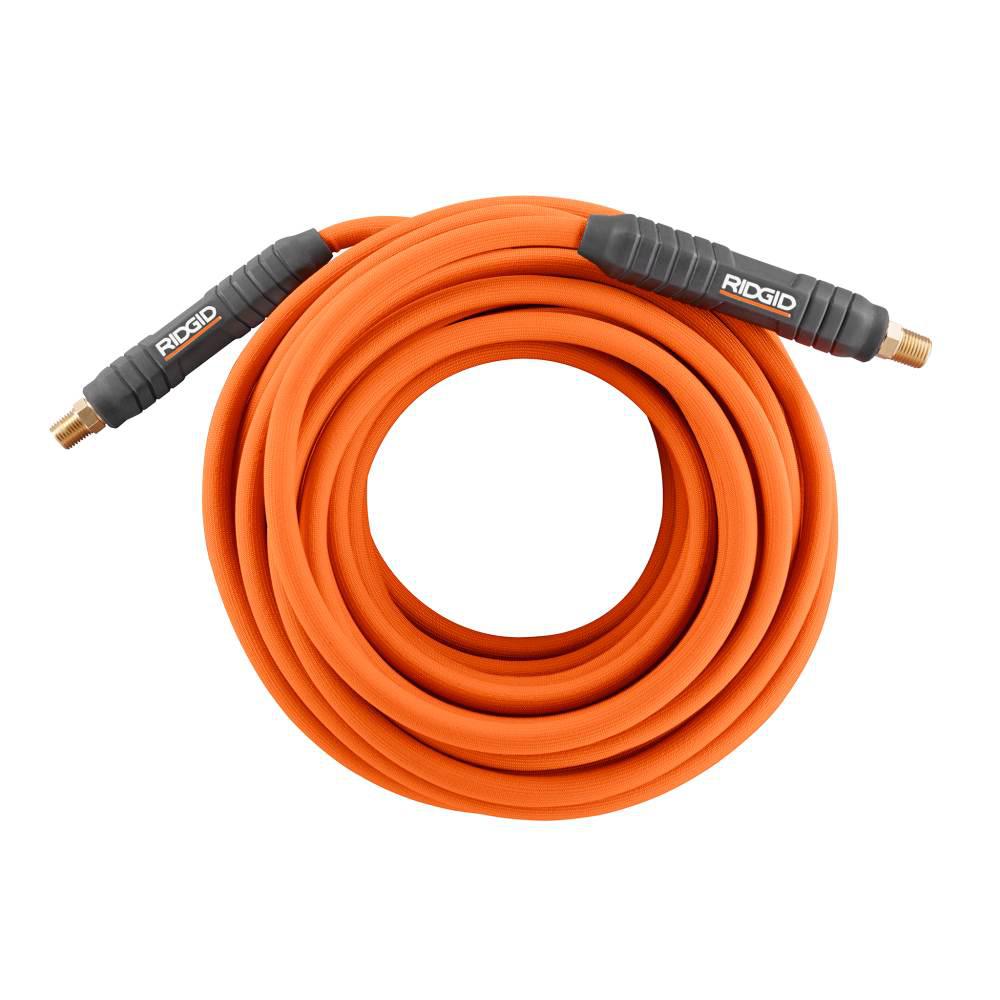 The new Ridgid 50 ft. x 1/4 in. Lay Flat Air Hose R5025LF has a unique lay flat design that allows it to keep its shape, is kink resistant, is non-tangling, is flexible in in cold weather and has heavy duty 360° swivel fittings with bend restrictors make the usual weakest point, one of this hoses strengths. The durability of the bend restrictors provides extra support to increase the life of the hose. The hose can handle up to 300 PSI.
Lay Flat Design: Allows for less hose tangle keeps its shape, is non-marring, and has virtually no hose memory
360° Swivel Fittings with Bend Restrictors: Allow you to easily maneuver across your work area and increases the life of the hose
Quick Storage: Hose material allows you to quickly wind and unwind hose for increased productivity
Compact and Lightweight: Fabric hose design is easier to store and weighs less than traditional rubber hoses
Field Repairable: Saves you time and money
Flexes in Cold Weather: Keeps working, regardless of the climate
300 Max PSI: Able to handle heavy-duty jobs
Warranted against defective parts and labor
Includes: (1) R5025LF 1/4 in. 50 ft. Lay Flat Air Hose with 360° Swivel Fittings
RIDGID: Powerful. Durable. Professional.


Free 2 day shipping – Try Amazon Prime 30-Day Free Trial

DISCLOSURE:
Tool Craze does not sell this product or any product on the Tool Craze website. Tool Craze does not handle the sale of any item in any way. If you purchase something through a post on the Tool Craze site, Tool Craze may get a small share of the sale. Please refer to the About section for more info.