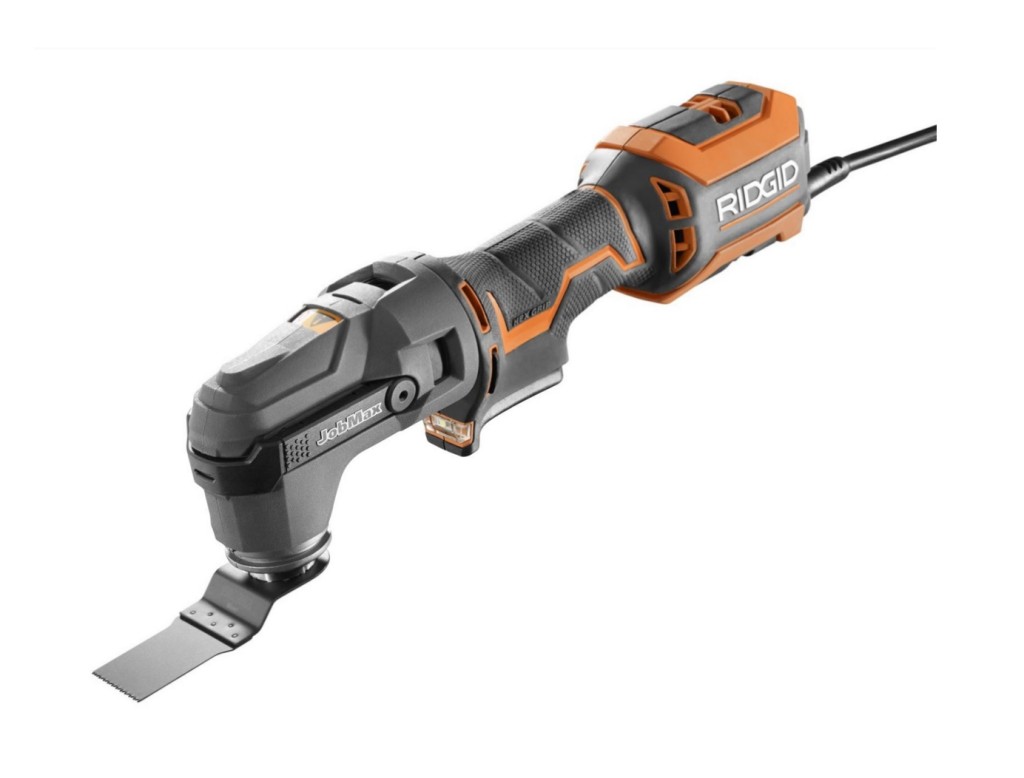 Ridgid updates their corded Jobmax base tool now offering 4 amps of power. It also features what they call Thrucool technology which is a fancy term for increased airflow through the tool to more effectively cool the motor as it runs. According to this new tech paired with more power in the form of 4 amps, we can expect about 33% more power vs the previous 3 amp Jobmax corded base tool according to Ridgid.
The new Jobmax tool can be had paired with the Multitool attachment essentially making this a multitool right out of the box. And because it's a Jobmax base tool, it can accept any of the Jobmax tool heads to make the Jobmax base into another power tool depending on the Jobmax head being used. When paired with the included multitool head we're looking at 0-20,000 oscillations per minute and the variable speed can be controlled with the Jobmax variable speed trigger.
Notable features of the new Jobmax corded base besides the Thrucool design and added power, is the new slimmed down handle grip design and appears to be more comfortable to grip than before based on the pictures. Also this new model doesn't require additional tools to change out the Jobmax tool heads meaning less downtime when swapping out Jobmax tool heads.
SPECIFICATIONS:
Amps: 4
Weight: 2.4lbs.
No Load Speeds: 0-20,000 OPM
FEATURES:
 Thru Cool 4 Amp Motor – Provides 0 – 20,000 OPMs, for varying applications
Tool-Free Multi-Tool Head – Easily swap out accessories without using a tool
Two Finger Trigger – Offers maximum comfort for extended use
Variable Speed Trigger – Provides more speed control to match the
Hex Grip – Innovative micro texture for secure grip and maximum user comfort
LED Light – Illuminates the work area for improved visibility
Compact Head Profile – For reaching into tight spaces
Universal Adapter – Compatible with all popular multi-tool accessories
WARRANTY: RIDGID Lifetime Service Agreement. The industry's only FREE Lifetime coverage. Free parts. Free service.
Package Includes: R2851 Power Base, R8223406 Tool-Free Multi-Tool Head, 1-1/8" Wood Cutting Blade, 2 Drive Gear Covers, Sanding Pad, 5 pcs Sandpaper, Universal Multi-Tool Adaptor, Allen Wrench, Bag, Operator's Manuals.
SUGGESTED RETAIL: $99.00