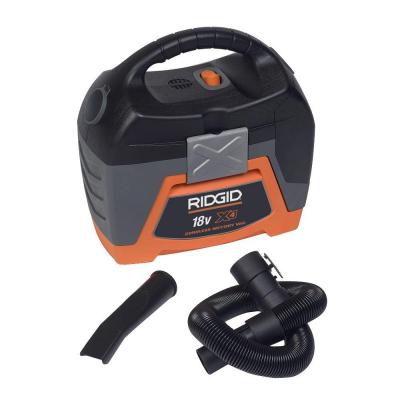 We all know Ridgid makes great wet dry vac's, I have personally owned a couple and have been more than pleased with them. I remember last year during the holiday season Ridgid X4 18V cordless vacuums hit the shelves around the black friday time frame. Like many left over holiday items that had plenty of stock left, they were clearanced out around the new year and since then I have yet to see them on the shelves at home depot.
Apparently they are still sold online at the Home Depot and at a very low price point of $49 at the time of writing. This cordless vacuum looks to be similarly featured as the Dewalt 20V DCV580 and Milwaukee M18 0880-20 but comes with a 3 gallon tank, a larger 1-7/8″ diameter hose and 1 nozzle instead of 2.
It can suck dry and wet messes, and includes a blower port to blow debris away. The tank capacity is said to be 3 gallons although looking at the video, the large filter which looks to be a similar one used on their full size corded vacs is included and looks to take up much of space inside the tank. Ridgid claims this is the most powerful cordless vac, I haven't tested it out so I can't say how powerful it is and how it compares to the cordless vacs I have tried but what stands out to me is the larger diameter hose of 1-7/8″. This is the same size diameter hose that's included on 5 horsepower vacs such as the full size 16 gallon WD1636 and portable 4 gallon WD4070. The included larger diameter hose convinces me that it might have more power as a larger opening hose requires more power for suction.
One cool feature at the end of the hose is that it has a suction control valve. You can close the valve for maximum suction or open the valve slightly or all the way to tone down its suction.
It comes with one nozzle included as part of the package which is a car nozzle and has built in storage although the hose appears to have nowhere to store on the vacuum itself. It looks as though you leave the hose plugged in when in transport so as to not lose the hose.
At $49 it seems like a no brainer if you are invested in the Ridgid 18v system, and if it wasn't obvious in the price point, don't expect this vacuum to include a battery and charger as it comes as a baretool only. Like other Ridgid products, it includes Ridgid's limited lifetime warranty.
Check it out at www.homedepot.com
Specifications
10.2 lbs or less
accepts all Ridgid 18V batteries
1-7/8″ diameter 2 foot locking hose
hose expands up to 7 feet
hose has suction control valve to adjust suction power
blower port
limited lifetime warranty