February 10, 2022
Comments Off

on Ridgid's Latest 18V Brushless 7-1/4″ Circular Saw R8657B
Ridgid just announced their latest brushless cordless circular saw, the R8657B model with full size 7-1/4″ blade, brushless motor, and says it has the performance of corded 15 amp circular saws. Edit: This is the same circular saw mentioned back in March 2021, check out the original article here. The rest of this article was written under the impression that this was a completely new tool, however it is not.
Full disclosure: This is not a review, this is tool news. Tool Craze cannot guarantee the accuracy of the information/specifications/features of any tool listed in this article. Manufacturer marketing claims may not always meet expectations. Tool Craze is not responsible if products do not live up to claimed expectations. Please do your full research before buying any products. Tool Craze is an Amazon Associate, and also an affiliate with the Home Depot, Acme Tools, Ohio Power Tool, Tool Nut, Lowe's, Ebay, and Walmart and places paid links to these retailers. If you purchase something through a link on the Tool Craze site, Tool Craze may get a small share of the sale.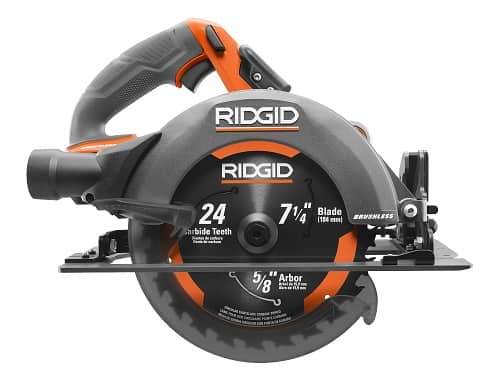 The new design cues seem like they are taken from their also recent cordless sub compact 6-1/2″ model. Makes sense since they are from the same generation. But this being the "big dog" it gets the full size 7-1/4″ blade and more traditional right blade placement, although I wish manufactures would start making 7-1/4″ cordless circular saws with left blade placement for right handers like myself. It's not a compact model by any means but it does have a more compact shoe base and the upper blade guard as smaller and more form fitting and not oversized like the "Octane" models. While Ridgid considers their brand to be a "pro" brand, it actually sits in the middle between sister TTI brands Ryobi and Milwaukee and is a middle ground for features and performance. Ridgid is making big claims with this cordless model boasting that it has performance similar to a corded 15 amp circular saw. No load speed RPM's are an impressive 5,400 RPM which help reassure us of its strong performance. It's not hard to believe as cordless power tools get stronger and stronger each year and it wasn't that long ago that they truly hit corded performance territory. Many brands have already achieved this so I believe Ridgid can too. Depth of cut is a very good 2-9/16″ which is a hair more than 2-1/2 inch.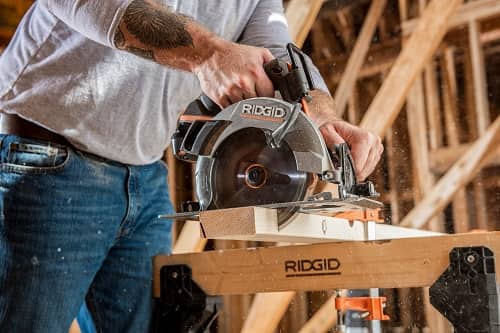 Where we can clearly see where this Ridgid circular saw stands in the middle ground department, are the shoe and and blade guards. While the shoe is metal, aluminum to be exact per Home Depot website, it appears to be a stamped shoe rather than a beefy cast shoe. However Ridgid does say it's a heavy duty aluminum base. Pro brands usually boast about using exotic strong and lightweight metals on their shoes and blade guards like magnesium for example but no mention of what metal was used for the upper blade guard here. And to top things off, the lower blade guard is a smoky see through plastic which doesn't provide a "pro" vibe. It does have a pro feature such as a rafter hook and also includes a vac port/dust chute at the rear of the upper blade guard that when paired with a vacuum hose provides better dust management than using alone. The vac port accepts both 1-7/8″ and 1-1/4″ hose sizes. We also get the usual features found on cordless power tools today such as an electric brake to stop the blade quickly after the trigger is depressed and an LED helps out in low light situations.
It is set to launch in March 2022 and will be available in kit and baretool configurations. As a baretool, it will be priced at $179.
15 Amp Corded Cutting Performance
Pair with MAX Output batteries for maximum power
35% faster cutting when compared to previous 7-1/4 in. circular saws
5,400 RPM
2-9/16 in. depth of cut
Electronic blade brake stops the blade in seconds
56° bevel capacity cuts the most common angles
Heavy duty aluminum base provides jobsite durability
LED light for improved visibility in low-light situations
Integrated rafter hook
Accepts 1-7/8 in. and 1-1/4 in vacuum hose attachments
100% Compatible: Works with all RIDGID™ 18V Batteries
Lifetime Service Agreement with registration within 90 days of purchase
Includes: R8657 18V Brushless 7-1/4 in. Circular Saw, 7-1/4 in. circular saw blade, hex key, vacuum attachment with screw and operator's manual
Battery and charger sold separately.
This product will be sold in tool only and various kit configurations exclusively at The Home Depot and HomeDepot.com


DISCLOSURE:
We are a participant in The Home Depot Affiliate Program, an affiliate advertising program designed to provide a means for us to earn fees by linking to homedepot.com. Tool Craze does not sell this product or any product on the Tool Craze website. Tool Craze does not handle the sale of any item in any way. If you purchase something through a post on the Tool Craze site, Tool Craze may get a small share of the sale. Please refer to the About section for more info. Tool Craze cannot guarantee the accuracy of the information/specifications/features of any tool listed in this article. Please do your full research before buying any products.