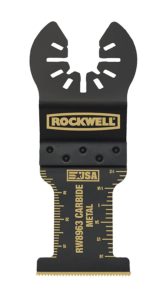 Rockwell has added a new carbide tipped multitool blade with their latest Sonicrafter Extended Life Carbide 1-3/8″ Multitool Blade.  This new carbide tipped blade will offer longer life than traditional blades and can cut a variety of materials including wood, metal, plastic, etc. This new blade will also feature a universal fit blade mount that will mount to most oscillating multitools regardless of brand, although it is not currently compatible with the latest Starlock mount multitools from Bosch or Fein.
According to Rockwell this blade offers best performance and longest life when cutting metal, tile, hardened screws, rebar, cement backer board etc

Use to make plunge cuts up to 1-5/8-inch deep

Cut wood, plastic, fiberglass, nails, non-ferrous metals, thin sheet metal, and hardened fillers

Carbide teeth will cut most metals

Universal fit system adapts to other brands
It will be sold as a single pack for around $20 or as a double pack for around $30. Along with the new Sonicrafter Extended Life Carbide 1-3/8″ Multitool Blade, rockwell is also coming out with a new Sonicrafter 3-1/8 in. Carbide Grit Semicircle Saw Blade, RW8946, and the Sonicrafter Triangular Carbide Grit Rasp Blade, RW8924, both with Universal Fit.