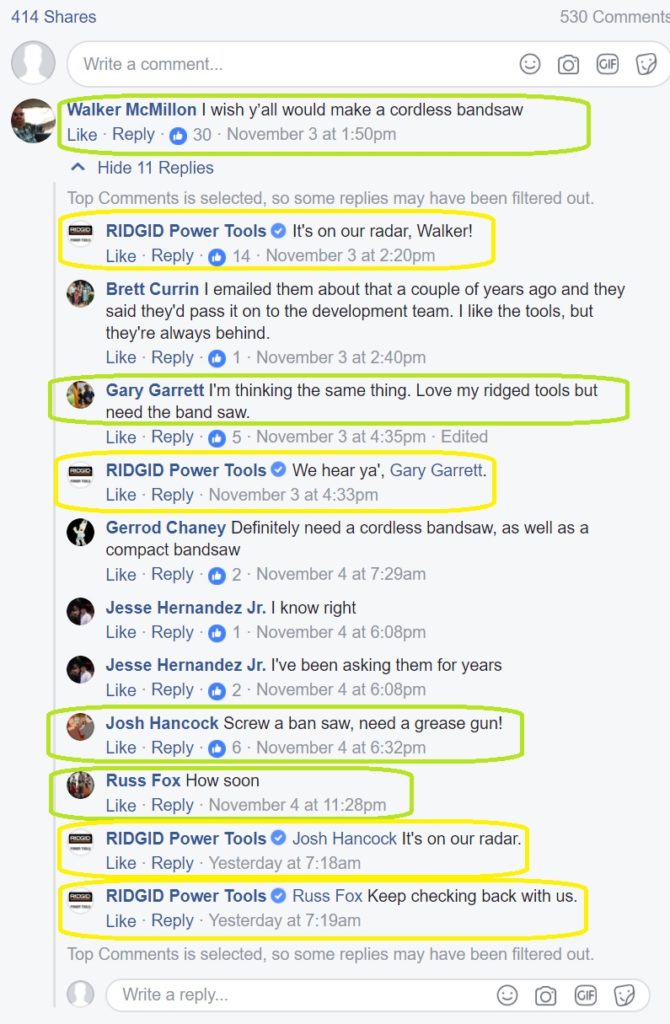 I was scrolling through my Facebook page when I came across a Ridgid post, the post itself isn't what got my attention but the comments from fans and Ridgid themselves is what did. A couple of fans were suggesting they make a cordless bandsaw and a grease gun and Ridgid responding with the words: "it's on our radar", "we hear ya" and "keep checking back with us" regarding the new tool suggestions.
The words "it's on our radar" and "we hear ya" could imply they are aware of their customers needs and whether they commit to making these new tools is entirely up to them whether or not they follow through. But when they said "keep checking back with us" seems to me as if they do have them in the works and are hinting their fans to check back soon for new updates. Looking further down the comments, I found another fan asking "when's the bandsaw coming out?" and they respond with "stay tuned". This is clear they are not denying that one might be in the works.

But since they do not give any specifics or confirmation of anything we will have to view this as a rumor until further notice as a cordless Ridgid bandsaw or grease gun may or may not come to fruition.
I also want to mention that the suggestion of the grease gun was not specific to a cordless unit, so if made could be corded model or a cordless model.
What do you guys think, should Ridgid come out with a new cordless bandsaw and grease gun? They certainly can if they wanted to as TTI who makes Ridgids cordless tools also makes Milwaukee cordless tools and we know they have several cordless bandsaws and a grease gun so they could easily share technology if needed.
DISCLOSURE:
Tool Craze does not sell this product or any product on the Tool Craze website. Tool Craze does not handle the sale of any item in any way. If you purchase something through a post on the Tool Craze site, Tool Craze may get a small share of the sale. Please refer to the About section for more info.