Ryobi has come out with another cordless 18V vacuum that's larger than a portable 2 gallon model with the Ryobi 18V 18L Wet Dry Vacuum R18WDV-0 that was spotted in Australia.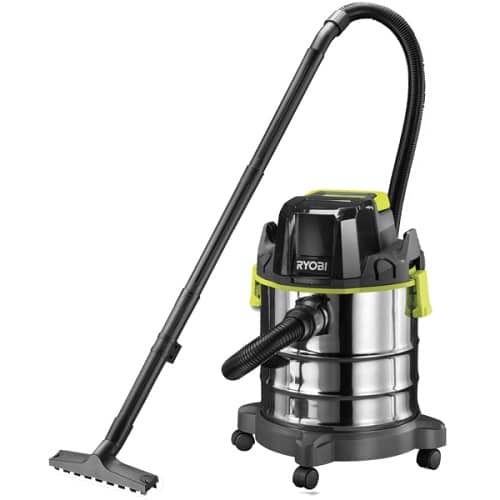 Spotted in Australia, it makes mention that it has an 18 liter tank which translates to about 4.75 gallons making it on the smaller side for a "full" size wet dry vac and smaller than the 6 gallon model that came out not that long ago.
This new model appears to be a stainless steel vacuum with it's chrome metal exterior however I find it interesting that the Ryobi Australia website makes no mention of stainless steel in the title of the vac nor anywhere in the documentation which might lead me to believe it could possibly be any sort of inexpensive metal with a shiny coating. Other details like an important suction rating is missing on the Ryobi Australia page however I was able to find that info in their manual PDF documentation which states suction at 9 kPa and airflow at 1000/lmin. I'm not sure how that translates to CFM suction though so I can't tell you if it's as powerful as the 6 gallon 18V model that's rated at a strong 80 CFM suction. They do tell us the runtime info which is up to 25 minutes with the 6.0ah battery which is not bad for a cordless vacuum.
It does come with 4 360 degree castors for easy mobility and has a 1.5m (4.9ft) premium looking flexible hose and comes with 3 extension wands, crevice, floor and brush nozzles, and a dust port adapter. Also comes with a foam filter which comes in handy when wet vacuuming. It also features a blow port for use as a blower and the battery compartment is covered so as to protect the battery from the elements.
No word on when or if this model will come to the USA.
A big thanks to Daniel for spotting!
I know these aren't available in the USA but I'll throw a link below so you can browse what we do currently have in the USA that's Ryobi related and if you want to help support the site by doing so. Thank you!


DISCLOSURE:
We are a participant in The Home Depot Affiliate Program, an affiliate advertising program designed to provide a means for us to earn fees by linking to homedepot.com. Tool Craze does not sell this product or any product on the Tool Craze website. Tool Craze does not handle the sale of any item in any way. If you purchase something through a post on the Tool Craze site, Tool Craze may get a small share of the sale. Please refer to the About section for more info.