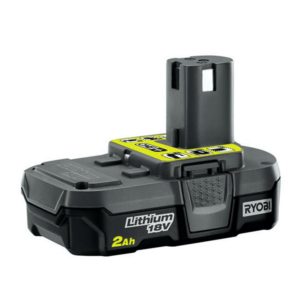 With all the news about high capacity batteries it's hard to get excited over 2ah batteries nowadays as just about every manufacturer and their grandma have 2.0 batteries. Most except for Ryobi in their 18V range here in the USA. They currently have 1.3, 1.5 ah compact batteries then bump up to 2.6 and 4.0 ah for the larger batteries (again this is the Ryobi battery selection for those of us in the USA). Luckily for us, they now have 2.0 batteries in the compact size flavor.
I'm surprised they're just now coming out with 2.0 compact batteries. As I was saying, everyone else has them and their own 4.0 battery is essentially two 2.0 batteries in one so they already had the tech to build one as soon as they made the 4.0's.
Of course this is an improvement in runtime capacity of current compact Ryobi batteries but this news is not huge news, especially ever since we learned Ryobi is coming out with High Energy batteries and one of them is a compact 3.0 ah battery which has the same or similar physical size as the 2.0 but with one whole amp hour more of capacity. What I still don't get is why does Ryobi CURRENTLY offer compact 2.5ah and large 5.0 ah batteries in other countries but not the USA?
What I do know is that the new 2.0 batteries will be priced at an affordable $49.97 USD which is a budget friendly price. Although you wont get a fuel gauge, that sucks.
These new 2.0 batteries seem to have been barely listed on the Home Depot website. They are not available yet for purchase and I do not know when they will be available but usually they become available soon after they get listed on HD.
Big thanks to Rob for sharing this info with us!