Ryobi has a new cordless 18V drill with the Ryobi 18V 3/8″ Drill/Driver PDD209K P209D model.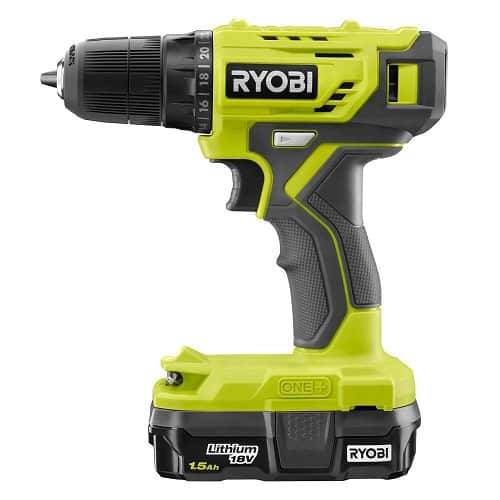 Ryobi's always been known as a budget power tool brand. Don't let the word budget fool you as they make quality stuff for their price range. Though most of their cordless drills have the usual features like two speed drive trains, this particular drill does not. It's a single speed drill meaning you can't go from speed 1 for high torque to speed 2 for high speed but it does offer a variable speed trigger to control the rotation of the bits at 0-600 RPM which is only slightly faster than other drills high torque, low speed mode. It does have a selectable torque collar which is great for driving fasteners and the drill mode for drilling of course. The 3/8″ chuck is a plastic keyless chuck which means no tools are required to change bits however the chuck is a two handed chuck which means it's in two parts that require two hands to tighten and untighten.
Other than the many downgrades listed above, it does have the usual Ryobi features like their nicely molded and textured grip, LED light below the handle pointing upwards at the bit for less intrusive shadows than if above the trigger and a bit holder above the battery.
Performance-wise I won't expect much out of this drill. It might be able to handle small spade bits (although spade bits work best at higher speeds than 600 RPM) but expect to use it primarily with small twist bits and driving small screws. No torque specs are mentioned either on the Ryobi or HD sites so I expect it to be low. I expect performance similar to Harbor Freights DrillMaster 18V $20 drill which actually is pretty good for $20 however Ryobi's 18V budget drill is priced at $49 at the time of writing making it considerably more expensive however you do get Ryobi quality and they do include a lithium ion battery which is leaps and bounds better than what you'll find on the DrillMaster which uses ancient Ni-Cad battery tech. Though you do get Ryobi's cheapo charger with the kit.
I'm trying to figure out who this drill is designed for. It appears small and light but it's not 12 volt tool small and at 3.6 lbs per the Ryobi Tools Team, it's not that light even for 18 volt. There are 18 volt drills that weigh  as much or less with battery but strong performance. $49 might not seem like much but you can get you a Bauer 20V drill with way better specs all across the board with a coupon at Harbor Freight for around the same or slightly more or their Warrior 18V drill which is similarly spec'd as this Ryobi for $35 or less with coupon. Or you can pay a bit more and get a solid Ryobi 18V drill. This Ryobi drill just isn't priced low enough to be cheap, it isn't small enough to be small and isn't light enough to be light so I'm really scratching my head here. Maybe it's a good stepping stone to get into their 18V system with a Ryobi battery and charger for less than $50?
A big thanks to DrewBHAM for spotting!
Drill/Driver: 3/8 in. 2-sleeve chuck
Drill/Driver: 24-position clutch adjusts the torque output to control the depth of the screw or fastener
Drill/Driver: Variable Speed Trigger produces 0-600 RPM
Drill/Driver: LED Light for greater task visibility
Battery: Provides fade-free Lithium-Ion power
Battery: Extreme weather performance to withstand frigid weather conditions
Charger: Compatible with RYOBI 18-Volt ONE+ Lithium-Ion Batteries
Part of the RYOBI ONE+ System of over 125 Cordless Tools
3-year manufacturer's warranty
Includes: (1) P209D 3/8 in. Drill/Driver with screwdriver Bit, (1) P189 1.5 Ah Compact Lithium-Ion Battery, (1) P119 18-Volt ONE+ Charger, and operator's manuals


DISCLOSURE:
We are a participant in The Home Depot Affiliate Program, an affiliate advertising program designed to provide a means for us to earn fees by linking to homedepot.com. Tool Craze does not sell this product or any product on the Tool Craze website. Tool Craze does not handle the sale of any item in any way. If you purchase something through a post on the Tool Craze site, Tool Craze may get a small share of the sale. Please refer to the About section for more info.