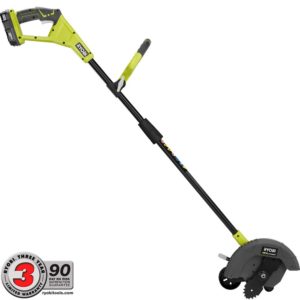 The Ryobi 18V 9 inch cordless edger is one of those tools that has been hidden from us for a couple of years. Yes it's been available for sale at the Home Depot, but Ryobi hasn't made any mention of it, at least here in the USA in the media.
I was browsing the Australian Ryobi site about 2 months ago and spotted it as new and was going to write about it then but then I noticed that it's been available in the USA since sometime in 2015 so I assumed it was old news and forgot about it. That is until Cody Robertson showed me a video that Ryobi Australia posted about the Australian model, which is basically the same thing. Apparently it's new to them it seems. That peaked my interest again and did another google search and came up empty from media sources, such as blogs, and to my surprise no other blog at least in the top search findings list have covered it so I thought I'd take the time to talk about it since nobody else has.
As for the tool itself, well there's not much to talk about it. It features a 9 in. dual serrated blade with a 4-position adjustable depth control and it has two wheels to run across a solid floor. It's an edger, it edges, and it's powered by an 18V battery which makes it a cordless tool. Sounds pretty boring but a lot of boring tools help us make our life easier and in this case helps make our landscaping easier. Personally I do all my edging with one of my various cordless string trimmers as they do the job just fine for my needs, but I've been thinking about the idea of getting a dedicated edger to make life even easier. Whether I get one or not, that is the question.
Works with all RYOBI ONE+ tools and batteries
ONE+ 18-Volt lithium-ion battery and 1-hour quick-charger included
4-position adjustable depth control
9 in. reversible edger blade
Lightweight for user comfort
Front and rear wheel for added stability
Overmold handle provides secure, comfortable grip
3-year limited warranty
As with most Ryobi model names, the model name for the USA spec 18V edger is just as weird, if you look at the 18V edger kit with 1.3ah battery and 1 hour charger, the model name is P2310. If you look at the bare tool then the model name is P3200B. So you get two almost completely different model names but both are the same tool in kit form or baretool.
Going back to the beginning of this article, this is a cordless tool Ryobi seems to keep hidden from us. Sure you can buy it online at the Home Depot but a casual user browsing the store isles probably wont find it because not every store has it in-store. My local store certainly doesn't so I would have never known otherwise. Hopefully this article helps you out if you have Ryobi 18V batteries and have a need for a cordless edger, at least you guys know about it now. I also posted the Australian Ryobi video for you guys if you want a quick look of the new but yet over 2 year old tool.
DISCLOSURE:
Tool Craze does not sell this product or any product on the Tool Craze website. Tool Craze does not handle the sale of any item in any way. If you purchase something through a post on the Tool Craze site, Tool Craze may get a small share of the sale. Please refer to the About section for more info.