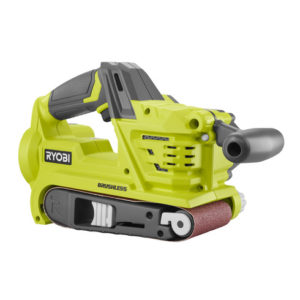 If you've been observing the power tool scene in recent years, you've no doubt seen a fast moving pace in improvements with power tool technology with many of it in the cordless tool realm. Tools that have normally been regarded as corded only are just recently becoming a reality as battery powered tools. For example in the year 2016 alone we have witnessed the first ever battery powered table saw on the market (Dewalt Flexvolt) and while cordless miter saws have been around for many years, we also saw the first ever cordless 10 and 12 inch miter saws (Milwaukee M18 Fuel and Dewalt Flexvolt). Sanders are also tools have have mostly been known as corded tools. Although a few 18V sanders have been around, I've never seen a cordless belt sander. That is until now and Ryobi is the brand that has boldly produced a cordless 18V sander the Ryobi 18V Brushless Belt Sander P450.
I can't officially say if this is the first ever cordless belt sander. I feel that if I do say this, I'll get a bunch of angry comments saying otherwise. I did a quick Google search with the keywords: "cordless belt sander" and most of the results I found were a bazillion corded belt sanders. I did find a couple of cordless belt sanders towards the top of the search list all from Metabo, but these are not the type of belt sanders that pop up in mind when one thinks of a belt sander. Those Metabo models use thin profile sanding belts designed for sanding metal pipe hand rails. The tool body is similar to an angle grinder but with a fancy contraption that holds and rotates very thing sanding belts. So technically they are a form of cordless belt sanders and use actual sanding belts, but are not the more traditional belt sanders we are more accustomed with. So it seems the Ryobi mode might be the first "traditional" cordless belt sander.
Going back to the Ryobi 18V belt sander model, it uses a traditional wide sanding belt with a flat bottom which is suited for sanding large areas quickly and also for material removal. The belt is a 3 inch wide by 18 inch sanding belt which is the same size belt used in their corded model BE319 and also in the Ridgid R27401. Of course this is one of the smaller sizes for the traditional belt sanders as most 3 inch wide belt sanders use slightly longer 3×21″ belts and the larger ones use 4×24″ belts.
Key features of the new Ryobi 18V Belt Sander P450 is that it's a brushless model. This is the way to go because brushless motors have better runtime than brushed motors on cordless power tools. Ryobi claims the new cordless belt sander can remove up to 325 grams of material per charge. The brushless motor also helps maintain good power with corded performance of 850 FPM sanding speed making it similar in speed to the corded model which pumps out 820 FPM.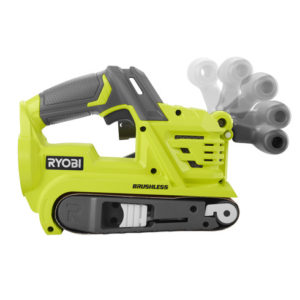 The front handle is not fixed like you would find on belt sanders. It can be moved in 5 different positions mainly for user comfort but can be positioned all the way up out of the way so that the font of the sanding belt can reach all the way up to the edge when the sander is placed in front of a vertical wall.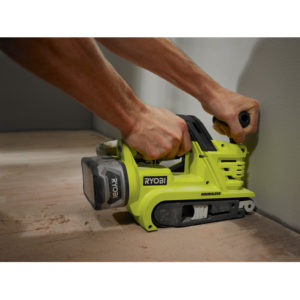 It's a single speed belt sander just like their corded model so you'll have to look elsewhere if you need variable speed sanding.
It also features the usual standard features like tool-free belt tracking, a vac port with included bag, and trigger on/off switch with lock on switch for extended use.
It's not out yet at the time of writing this article so I don't know how much it will be priced but it will be sold as a baretool so you'll need to bring you're own battery and charger. I'm also not sure of when it will come out but I would expect it out soon at the Home Depot.