Ryobi just announced 3 new tools today, one of them being the Ryobi 18V compact glue gun model P306 .
Full disclosure:  Tool Craze cannot guarantee the accuracy of the information/specifications/features of any tool listed in this article. Please do your full research before buying any products. Tool Craze is an Amazon Associate and places paid links including those from other retailers Tool Craze is an affiliate partner with. If you purchase something through a link on the Tool Craze site, Tool Craze may get a small share of the sale.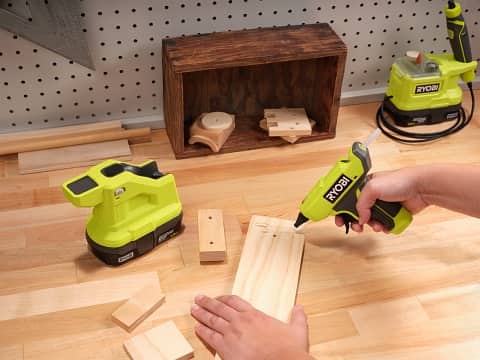 You may already be wondering, Ryobi already has an 18V hot glue gun so why make another? Good question. I was using mine the other day (original 18V Ryobi glue gun) on a craft project. We were building a tiny miniature DIY Coffee shop. We used some tacky glue which wasn't very tacky so I thought I'd be smart and use a hot glue gun for some of the frame pieces so I wouldn't have to hold them forever until the glue dried. So I used Ryobi's 18V hot glue gun (original) and while it's a great unit, it's hard to use it for fine tiny precision work since it uses larger glue sticks which meant putting too much glue, making it hard to work with microscopic furniture pieces. I thought to myself, wouldn't it be a great idea if Ryobi came out with another 18V glue gun that used the smaller sized glue sticks for precision work? Fast forward to today and it seems like they had read my mind because that's what this new cordless 18V glue gun is, one that uses the smaller glue sticks.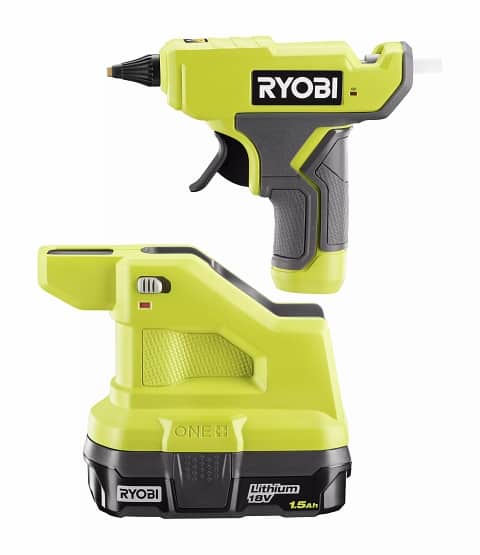 It's also incredibly small, about the size of a regular plug in glue gun making it smaller than even a 12v power tool. Wait, how can it be smaller than a 12V tool when it uses a largish 18 volt battery? That's because of the unique way they built the glue gun. The glue gun itself is a separate piece altogether from the base it comes with. The base is what takes up all the bulk and sits atop the 18V battery pack and the glue gun sits on the "power" base and gets charged or reheated. The manufacturer press release mentions that it charges off its power base and that the power base reheats the tool. At first I imagined the glue gun had its own internal battery but now I'm thinking it doesn't have a battery at all but instead gets heated to operating temperature when it's docked and has a working time frame of about 5 minutes max when independent before it cools down to the point it needs to be reheated on its base. It's also priced at $24.97 which further makes me doubt it has a built in battery for such a low'ish price point. I reached out to Ryobi about this and will update this article when I hear from them.
Edit: 11/10/2020
I heard back from Ryobi and this is what they said:
There is no built in battery in the glue gun. The battery plugs into the base and the glue gun is placed in the base. When the on/off switch is engaged in the ON orientation, the glue gun starts to heat up while on the base. It takes roughly 3-5 minutes for initial heat up. Once the glue gun has been heated up, the glue gun can be taken off the base for use up to 5 minutes before having to reheat the glue. For craft and small applications, 5 minutes off the base for use is plenty of time. This glue gun is only for precision and small application based projects.
So the mini glue gun does not have a built in battery, but instead sits on the power base to heat up internally to working temperature. This makes sense for the low price point. They also confirm that 5 minutes of working time off the base is plenty to work with for small craft applications.
My thoughts:
I both like and dislike the idea of it needing a base to dock in. On the positive, it keeps the glue gun extremely compact and cordless. I don't like the idea of up to 5 minutes of use time when undocked. In this case I think I would have preferred if they still kept it as a two piece tool with dock and separate tool but if it was tethered with a cord to provide direct power from that 18 volt battery pack. This would still keep the tool the exact same size but would give it greater run time without the need for docking for extended use. But who knows, maybe up to 5 minutes of work time is all you need if you constantly redock when not in use and is actually a good sweetspot for usage and keeping it completely wireless.
As mentioned above, it's priced at $24.97 as a baretool which means a battery and charger are not included. According to Ryobi, it's set to launch December 2020.
Precision tip ideal for hobby, crafts, upholstery and general small repair projects
Uses mini glue sticks 5/16 in. diameter
Heats up to 365°F in just 3 minutes
Cordless compact design ideal for detailed applications and convenient user portability
Lightweight ergonomic glue gun removes from heating base eliminating the hassle of a cord
Up to 5 minutes or roughly 1.5 mini glue sticks of use before needing to return the base for reheating
Built-in drip tray and upright storage for a clean workspace
On/Off LED Indicator lights on both the tools and base shows the tool is heating up
Packaged with 3 mini glue sticks
Part of the RYOBI ONE+™ System of over 175 Tools
3-year manufacturer's warranty


DISCLOSURE:
We are a participant in The Home Depot Affiliate Program, an affiliate advertising program designed to provide a means for us to earn fees by linking to homedepot.com. Tool Craze does not sell this product or any product on the Tool Craze website. Tool Craze does not handle the sale of any item in any way. If you purchase something through a post on the Tool Craze site, Tool Craze may get a small share of the sale. Please refer to the About section for more info. Tool Craze cannot guarantee the accuracy of the information/specifications/features of any tool listed in this article. Please do your full research before buying any products.