Just like bigger brother Ridgid and also Dewalt, Ryobi also has a new cordless portable air compressor to be used with pneumatic tools with the Ryobi 18V Cordless 1 Gallon Air Compressor P739 .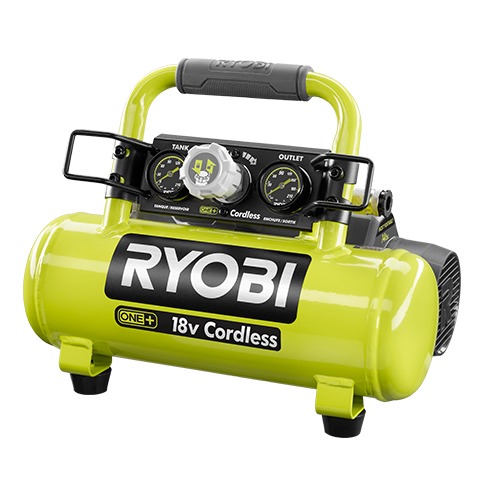 While these manufacturers keep throwing the word "CORDLESS" with these battery powered compressors, they are not cordless compressors. I'd say the correct term should be "BATTERY POWERED" compressors as they are not "cordless" since they still require the use of a hose which is a cord to power pneumatic power tools via compressed air. The only thing "cordless" about these compressors is that you don't need to plug them in via power cord as they are battery powered.
Nonetheless the Ryobi 18V Cordless 1 Gallon Air Compressor P739 is an interesting option for those that still want to use their current air powered tools on the go and without the hassle of plugging in a compressor or if they want a small portable self powered compressor as Ryobi's features a tiny 1 gallon design. The small size allows for a very light compressor that totals only 14 lbs. Max PSI is 120 PSI. Other features include a "professional" locking regulator, integrated metal hose wrap for onboard hose storage, and a nice rubber overmold grip over carry handle.
My thoughts are the same as the other so called "cordless" compressors is that they are too late in my opinion as most air powered tools have battery powered options. In fact Ryobi probably has the best selection of battery powered tools that are better known for being air powered tools such as their large range of 18V nailers, impacts and even battery powered tire inflators. I believe that battery powered compressors should have came out several years ago before tools like cordless nailers became mainstream however a battery powered compressor makes sense for those with large amount of air powered tools and want to keep using them. Ryobi mentions this cordless compressor is perfect for roadside tire inflation or for use with pneumatic finish nailers which as I mentioned above Ryobi already has cordless battery powered versions of each of those tools.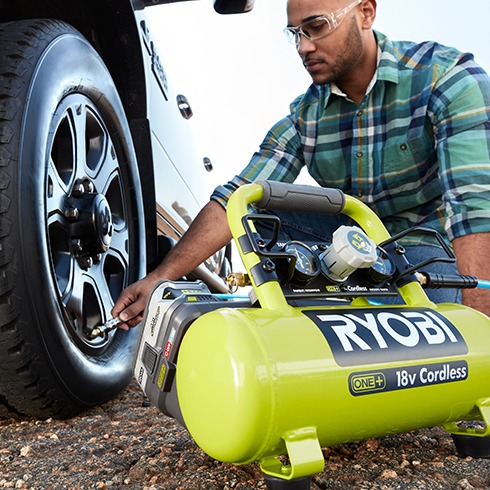 At the time of writing this article, it wasn't available on the HD site but should be available soon. It will be priced at $99 when it comes out (thanks to DrewBHAM for price update).
I want to mention a large thanks to all who reported the news of this new Ryobi tool. Big thanks to DrewBHAM, Cody Robertson, Joshua B and Aaron!


Free 2 day shipping – Try Amazon Prime 30-Day Free Trial

DISCLOSURE:
Tool Craze does not sell this product or any product on the Tool Craze website. Tool Craze does not handle the sale of any item in any way. If you purchase something through a post on the Tool Craze site, Tool Craze may get a small share of the sale. Please refer to the About section for more info.