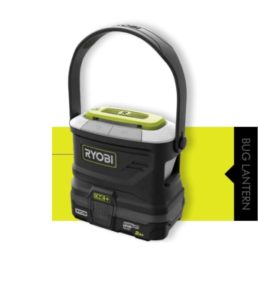 This spring Ryobi will be releasing a new cordless 18v bug lantern P2401 . This sounds like a great new tool because my family loves to hang out in the backyard when the weather is nice but the pests keep us inside. Something like this will help keep the mosquitoes away.
This strange but interesting new tool runs on a Ryobi One+ 18V battery and also uses repellent to ward off the bugs. With this combo it will have the ability to repel bugs up to 15 feet away. Being a lantern, it's also a light and offers three lighting options which I will assume means 3 different brightness settings.
Expect it this spring 2018 and will retail for $79.97. I am not sure if it is baretool only for that price but the picture is shown with a 2.0 ah battery so it might come as a kit for the price.
Enjoy your outdoor living space without unwanted pests. The Ryobi One+ 18v bug lantern provides a 15′ by 15′ zone of protection to keep your backyard area virtually bug-free. Choose from three lighting options to illuminate your outdoor oasis as the sun goes down.
REPELS INSECTS UP TO 15 FEET AWAY
3 stage lighting
on / off function for repellent
on borad storage for repellent pads
one+ battery compatible with over 100 tools
online only
available spring 2018
DISCLOSURE:
Tool Craze does not sell this product or any product on the Tool Craze website. Tool Craze does not handle the sale of any item in any way. If you purchase something through a post on the Tool Craze site, Tool Craze may get a small share of the sale. Please refer to the About section for more info.