Lately Ryobi has been pumping out power tools but what's different about these is that they ain't your fathers Ryobi tools as these can perform. When I say "perform" I don't mean the previous tools weren't able to get the job done but what I mean is these new models are better performing. I tried out a few of their newest cordless power tools such as the new airstrike 16ga nailer and the orbital jigsaw and I can easily say they "perform". The nailer gives you air compressor like performance and the orbital jigsaw has corded like performance. Now- I was able to try out the latest 18V Ryobi hammer drill model P1812.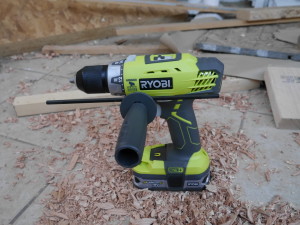 What's strange about the new model is there are 2 different model numbers. The hammer drill itself is model P214 while the complete kit is model P1812. Normally kit and baretool model numbers are similar but these are completely different except for the P in the front of the model number. Anyways- what sets this new cordless 18V hammer drill apart from their previous cordless drills is that this model has some serious stats with 600 in-lbs max torque in a compact form factor.
I've tried several 18V drills from budget brands all the way up to pro industrial brands. With pro brands you get 2 categories, compact drills which can do about 90% of jobs required by the those in the trades and then you have premium high performance heavy duty drills. This Ryobi can hang with the big boys, the pro brand's compact drill offerings that range anywhere from 400-6oo in-lbs torque.
Under testing this Ryobi was able to tackle my usual set of tests and where lesser compact drills struggled with a 1-1/4″ Irwin Speedbor Max drill bit, the Ryobi P214 was able to accomplish the task deep into 4″x6″ lumber. This was my high torque stress test and really only to see what this drill was capable of. It was capable of handling such a large hole with a bit that demands lots of torque although there were times where the overload protection would kick in to protect the motor. This was only a stress test, if you need to drill holes this large often I would suggest a more powerful drill but this is a true testament of the amount of torque this drill has.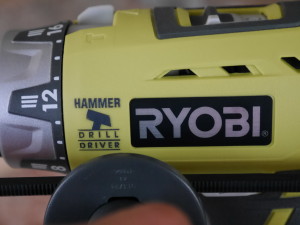 Driving fasteners such as 3 inch deck screws and even a larger fastener such as a 3″ x 5/16″ lag without pilot holes were a piece of cake. Since it is a hammer drill I tried out this feature on a concrete block and its hammer drilling performance was fast using 3/16″ bits. It made 3 holes 1-1/4″ deep very fast, I didn't time them but it was a very short amount of time. Check out the video review for actual footage. It was a good performer using a 3/8″ hammer drill bit as well. Using a larger 1/2″ hammer drill bit, performance was slow going but other similar cordless compact drills had trouble with such large bits. So we can see that this is an excellent hammer drill for smaller holes into masonry.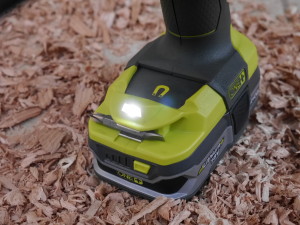 Feature wise it has most of the bells and whistles of more expensive brands such as a 1/2″ metal ratcheting chuck, removable side grip handle, depth rod, and LED light although not as refined overall. The ratcheting chuck doesn't have the nice click as it ratchets as seen or heard on other ratcheting chucks although it's nice they went with a metal chuck instead of a plastic chuck. The side handle is composed of 3 pieces and has to be assembled, this means that under high torque jobs you will feel the side handle flex as the drill is being pushed to its limits. Also because it's 3 pieces, it does take some time to assemble and attach to the drill. The side handle can only be mounted in 2 positions, either on the left side or right side of the drill at a right angle so you don't have any other options to mount it like other drills do. What I do like about the side handle is that there is a slot for a depth rod and one is included with the hamme drill. Hammer drill bits can get expensive and you really don't want to waste them by drilling holes deeper than you need to and that's where the depth rod comes into play so you can set how deep you want holes to be drilled into masonry. Also included are the usual Ryobi drill features like the magtray that acts as a third hand to hold a few loose screws and the built in bit holder for storing the included double ended bit or any bit you may have. One item it doesn't include is a belt clip which I feel would make this great drill even better as I usually take advantage of belt clips when I work with drills as they free up my hands and make it easy to go up ladders and such.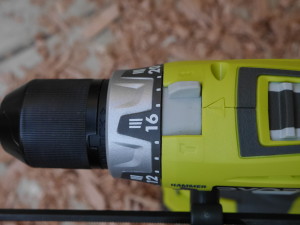 It also has one of my favorite features that is usually only found on premium hammer drills which is a separate mode selector switch next to the clutch collar. This facilitates repeated drilling and driving by removing the need to select a torque setting for screwdriving and then move the torque collar all the way to the drill mode to drill holes and then back to your set torque setting and forth to the drill mode once again. You can easily switch between modes without having to lay a finger on the torque setting.
It's not the most compact drill by any means but at just under 9 inches in length (8-7/8″) its relatively compact for a hammer drill. This is a step in the right direction as a more compact drill can fit into tighter spaces. It's also very light coming in at only 3.2 lbs. This is great as it wont tire you out as fast when working over head or when working long sessions.
Ryobi is known for tools on a budget and this tradition follows with this new 18V hammer drill kit as it's priced at $129 at the time of review. The price includes 2 of their best compact 1.5ah lithium ion batteries with fuel gauges, fast charger for 30 min charge times and a soft tool bag. You get a competitively priced kit and it would be hard to find similar performance near this price point. This is yet another Ryobi cordless power tool definitely worth checking out.
600 in-lbs max torque
1/2″ keyless metal ratcheting chuck
8-7/8″ length (front to back)
2 Speed Transmission
0-375 / 0-1,600 RPM
0-5,600 / 0-24,000 BPM
24 position clutch
Tool Weight 3.2 lbs