We have another pulse driver in our presence and this time it's from Ryobi. For those of you that don't know what a pulse driver is, it's very similar to an impact driver but uses different technology that utilizes hydraulic oil pressure instead of a traditional impact driver hammer mechanism with the end result are oil pulses that are much quieter than impact drivers. So far main stream brands such as Makita, Ridgid, and Hitachi have an oil pulse driver of some form and this new tech is now making it's way to DIY brand Ryobi with their pulse driver called the Ryobi 18V One+ Quietstrike Pulse Driver P290.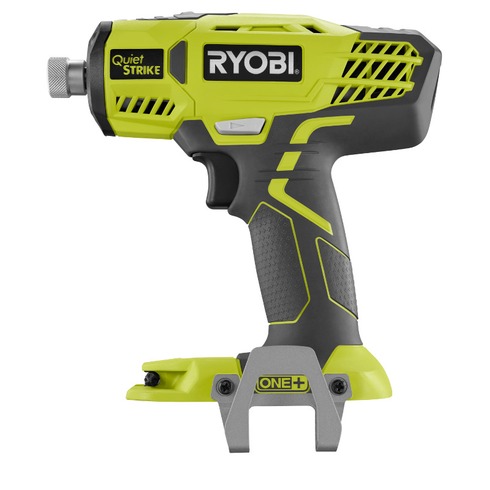 As we know TTI who makes Ryobi tools also makes the Ridgid 18V Stealth Force pulse driver so no doubt they may share similar technology. While Ridgid's pulse driver was marketed as having twice the speed of an impact driver at half the noise, the Ryobi Quietstrike has a slightly different marketing strategy. It's marketed as having more power and speed than a drill but with 50% less noise than an impact driver.
Not many stats are provided other than it can provide a variable no load speed of 0-3,200 RPM and it weighs in at 3.0 lbs although it is not specified if the weight is with or without a battery pack installed. Ryobi has not disclosed torque stats in in-lbs or impacts per minute (IPM) so it is hard to say how much torque or power this new Quietstrike pulse driver puts out. All we are allowed to know is that it's more powerful and faster than a drill. While that doesn't give us much of an idea as most impact drivers are more powerful than drills, the majority of impact drivers are slower than drills at any application such as drilling and driving. So the statement that this Quietstrike pulse driver is faster than a drill gives us a nice little hint at it's power without releasing torque details.
Other than the fact that it's a pulse driver, it has many features of their latest 18V single speed impact driver make their way over to this model such as the tri-beam triple LED lights on the front of the tool, a standard 1/4″ hex chuck, belt clip, magtray, and gripzone rubber overmold texture on the handle.
This new pulse driver is also an 18V model just like the other brands but is not brushless meaning it still utilizes a brushed motor. The fact that it isn't a brushless tool isn't a bad thing as using a brushed motor will most likely keep the initial price down compared to brushless models, and also brushed power tools are no slouches, they have proven to be powerful and yet can still provide good runtime.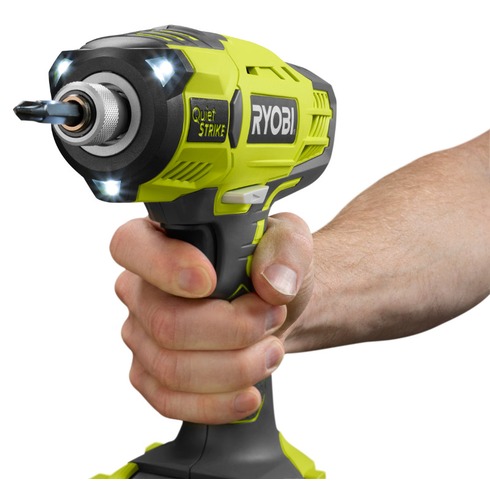 This new Ryobi 18V Quietstrike Pulse Driver P290 has been spotted on the Ryobi.com website and we can all thank Tool Craze Facebook follower Joshua B. for giving us the heads up on this slick new Ryobi tool. I did a quick search on the Home Depot website to see if it's available and how much it will cost but unfortunately it is not yet on the Home Depot website. This simply means this tool is so new Home Depot hasn't had the chance to add it to their system but I would say there's a good chance it will be up soon although I wouldn't be able to tell you when until the official info from Ryobi is revealed.
Features
Battery: 18V
Chuck: ¼" Quick Connect
No Load Speed: 0-3,200 RPM
Tool Weight: 3.0 lbs.
Tri-Beam LED lights