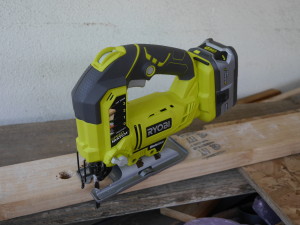 Lately Ryobi has been stepping up their game with new designs and improvements over their previous power tools. Last year we seen many of their tools get upgrades and that was only the start. The Ryobi orbital jigsaw P523 was one of those cordless power tools part or their 18V One + line that got the upgrade. This is their "new and improved" model claiming true corded performance on the box. In past years it would have been hard to believe any cordless tool to have corded like performance but in the tool world year after year cordless power tools are making leaps and bounds in technology.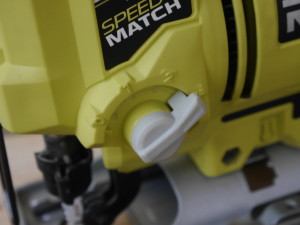 So as I got to try it out on materials such as OSB I was pleasantly surprised with its performance as it was pretty fast at cutting with its highest orbital setting. Paired with a scrolling blade it was able to make tight turns and smooth cuts. It performed better than I expected, that's for sure. But it still left me scratching my head to see if was as good as corded. So I set out and compared it directly with a similar corded jigsaw from a competing brand. I made identical length cuts into OSB and sure enough the Ryobi came out the winner by a few seconds. Check out the video above to see the side by side footage. I could easily agree with their claims that it does have corded performance. I believe it outperformed the corded jigsaw because of its aggressive orbital cutting action. It's got a dial to control the orbital settings if you need raw power and speed or precision for delicate cuts and curves.
The Ryobi 18V orbital jigsaw P523 has a built in dust blower to blow away dust, which was a nice addition to see. However it was ok at best and did a decent job most of the time blowing away dust. There were a few instances where it had a hard time keeping up with heavy debris.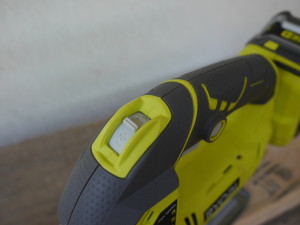 I like that the trigger is just a simple on off switch although you do have variable speed and that's controlled by a dial that is easily accessed by your thumb. There's also a lock on switch so you can set it to cruise control and not have to worry about holding the trigger the entire time when making long cuts.
It's got the usual features such as bevel angles up to 45 degrees both ways with angle detents to make sure you select the correct angle. This jigsaw's standout feature is Ryobi's BladeSaver feature. As the name suggest it's designed to save dull blades from being thrown away by extending the base a bit so the unused teeth on the bottom of the blade can be used. This extends the life of the blade and saves you some extra cash in the long run so you don't have to buy blades as often. This is a very useful feature for the thrifty. The only downside to this is that by extending the base, you decrease the cutting capacity of the blade. Its not a big deal at all with thin materials but can make it impossible for a normal blade to cut thick materials such as 2×4's when the base is extended.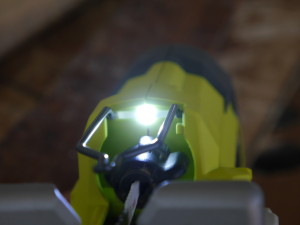 The blade saver extending base feature along with the bevel angle adjustments on the base requires a hex key to adjust and one is included and it stores away at the end of the handle near the battery compartment. Installing and removing blades on the other hand doesn't require any tools. Just a simple turn of the blade clamp and instert a blade and thats it. To remove, you do the same and the blade pops out. This is great as you don't have to handle a hot blade and get burned. And like many cordless power tools today, it comes with a built in LED light to illuminate the cutting path.
Overall, I was impressed by its performance when it came to speed and control as it did well. Surprisingly it was able to take on a similar corded jigsaw. The blower would have to the weakest link but it does work decently and its nice to see that one is included as lesser featured cordless jigsaws don't even feature one at all so you're left blowing the dust away yourself with some other saws. It comes as a bare tool only and I say its worth checking out if you have Ryobi 18V power tools in your arsenal.