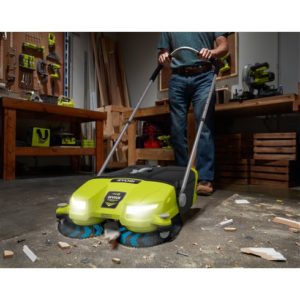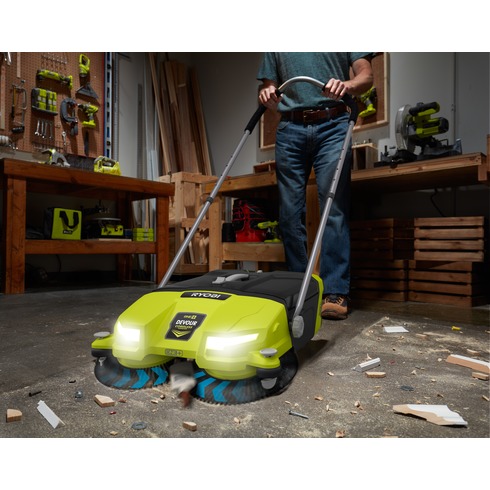 Ryobi has a new cordless 18V tool coming out and it's the Devour cordless sweeper model P3260 . This tool does what a vacuum can but probably much faster with a big opening and two spinning bristles that sweep debis inside. I like the Devour name as it devours mess in your shop.
Expect quick cleaning of debris such as nails, screws, wood scraps, saw dust and other garbage with it's large 21 inch cleaning swath. This is better suited for large messes should be much quicker than waving a small vacuum wand over the floor although don't expect the Ryobi Devour to help you with wet messes as it's not meant for that. Use a wet dry vac for wet messes instead.
The Devour should be easy to wheel around by pushing a large handle (mower style) although the handle itself doesn't have any controls. To solve that, Ryobi included a large push power button on the unit itself that is foot activated, similar to a house vacuum. It has plenty of debris capacity with a 4.5 gallon capacity. It has a pretty good runtime range of up to 2 hours which I'm guessing is with their 4.0 ah battery. It also has headlights to help you see if there isn't much light available.
Thanks to Aaron for spotting this on the Ryobi USA website. I checked the HD website and they don't have it up yet which means it should be coming soon and also means we don't know how much it will retail for. What I can tell you is that it will be sold as a baretool meaning no battery or charger.
DISCLOSURE:
Tool Craze does not sell this product or any product on the Tool Craze website. Tool Craze does not handle the sale of any item in any way. If you purchase something through a post on the Tool Craze site, Tool Craze may get a small share of the sale. Please refer to the About section for more info.