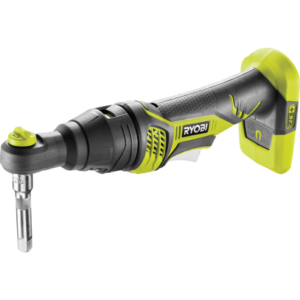 Glenn wrote in about a new Ryobi 18V Ratchet Wrench R18RW-0 that he spotted in the Ryobi Australia website.
Voltage: 18V
No-load speed: 220 rpm
Torque: 27 Nm
Coupler: 9.5mm (3/8″)
Weight: 0.9 Kg
LED light
The new Ryobi 18V ratchet wrench uses a 9.5mm square drive head which translates to 3/8 inch, has 27 Nm torque which translates to 238.9 in-lbs or 19.9 ft-lbs of torque, and 220 RPM, and even includes an LED light for low light use.
Although the new ratchet wrench is sold as a complete tool, it's actually two tools in one as the Ratchet Wrench part is an add-on head to the Ryobi Jobplus system and even includes the Jobplus motor unit. As most of you may know, the Ryobi Jobplus system is similar to Ridgid's Jobmax system and both systems are compatible and interchangeable with each other. This means that if you buy the new Ryobi 18v ratchet wrench, you'll be able to use any of the many Ryobi jobplus and Ridgid Jobmax heads.
The Ryobi 18V Ratchet Wrench R18RW-0 is is sold as a bare tool meaning that you'll need to bring your own battery and charger to use. Included with the ratchet is a 9.5mm (3/8″) extension socket. I am not sure if or when this will make it's way to the USA but seeing how just about all other new Ryobi tools spotted outside the USA usually end up as USA model variants, I have a good feeling we'll get one here as well.
DISCLOSURE:
Tool Craze does not sell this product or any product on the Tool Craze website. Tool Craze does not handle the sale of any item in any way. If you purchase something through a post on the Tool Craze site, Tool Craze may get a small share of the sale. Please refer to the About section for more info.