Glenn wrote in about a new 18V power source from Ryobi back in August 2017 that was spotted over in Australia at the Bunnings Warehouse which is a store similar to our Home Depot stores. I wasn't until over 2 years later that Ryobi finally launched this portable USB power source to us Americans and is known as the P743 here in the USA.
The new Ryobi 18V power source has two USB ports so you can charge your mobile devices on the go. One USB port is rated for 2.1 amps while the other is rated at 1 amps.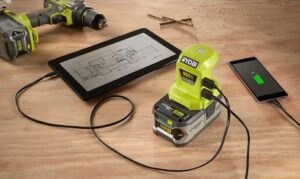 EDIT: Has shown up on the HD site for $21.97 (1/23/20)
A big thanks to Glenn for spotting in Australia and DrewBHAM for spotting in the USA!
2 x USB outlets with 1x1A & 1×2.1A charge speed
Detects accepted charge rate of device to minimise charge time
Compatible with all Ryobi ONE+ batteries


DISCLOSURE:
We are a participant in The Home Depot Affiliate Program, an affiliate advertising program designed to provide a means for us to earn fees by linking to homedepot.com. Tool Craze does not sell this product or any product on the Tool Craze website. Tool Craze does not handle the sale of any item in any way. If you purchase something through a post on the Tool Craze site, Tool Craze may get a small share of the sale. Please refer to the About section for more info.