Ryobi has a new and interestingly different cordless tool and it's the Ryobi 18V window vac model number R18WV-0 as a baretool or R18WV-C13P as a kit with compact 1.3ah battery and compact charger.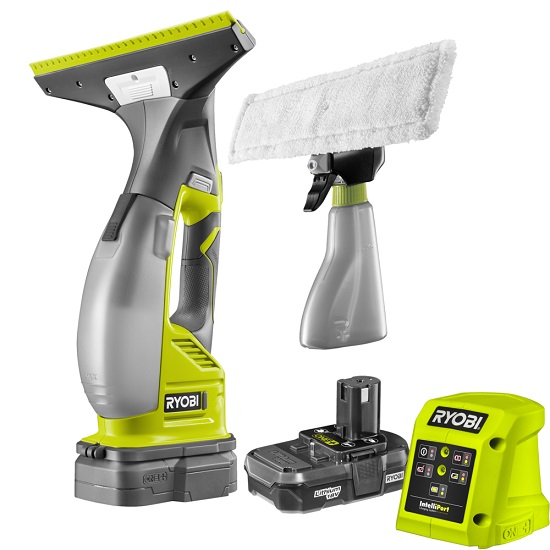 What is a window vac you ask? I asked myself the same thing when I first took a look at the new tool. It appears just like a bulky squeegee powered by a battery. I thought, why would you need a powered squeegee? Well, it's not the squeegee part that's powered, as the tool integrates a vacuum inside the tool that sucks water from the squeegee tip. They had to incorporate very thin vac ports in the squeegee tip and it sucks the water as you use the squeegee and traps the water inside the built in tank. This way you can use the squeegee without having to wipe the squeegee tip after each swipe. Once the tank is full, you simply remove the stopper and tilt the tool forward to empty, or remove the tank completely to empty and clean.
The window vac also comes with a separate spray bottle to apply window cleaner on the cleaner and the spray bottle has a microfiber cleaning cloth on top to scrub the windows.
If you purchase this as a kit it comes with a 1.3 ah compact battery pack, the ones without the fuel gauge. Runtime is said to be able to clean all the windows of an average home on a fully-charged 1.3Ah ONE+ battery (and up to 750m² on a 5.0Ah battery).
If the above model numbers seem a little strange to you because they don't start with a P followed by 3 or 4 digits, that's because this tool was spotted in Australia. No word on if or when they will be available in the USA but lately Ryobi has been pretty good about bringing new tools to all markets so there's a good chance we might get this tool here as well. It might have a slight name change or not and will no doubt have a different model number starting with a P.
A big thanks to Daniel for spotting!


Free 2 day shipping – Try Amazon Prime 30-Day Free Trial

DISCLOSURE:
Tool Craze does not sell this product or any product on the Tool Craze website. Tool Craze does not handle the sale of any item in any way. If you purchase something through a post on the Tool Craze site, Tool Craze may get a small share of the sale. Please refer to the About section for more info.