In this article we will be reviewing the Ryobi 1900 PSI 1.2 GPM Wheeled Electric Pressure Washer RY1419MTVM RY1419MTVNM. As a full disclosure, Ryobi was kind enough to send me a product sample of the pressure washer at no cost to me and as always I will provide my honest unbiased feedback. As with all my reviews, I am not paid or swayed in any way to give a positive review.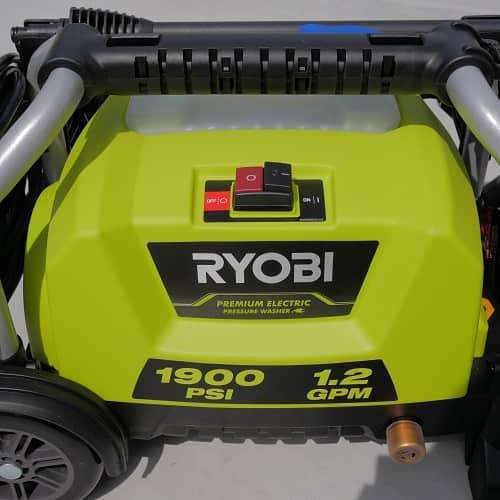 Ryobi has a nice range of pressure washers to choose from for different budgets and from electric plug in to gas motor models and even a couple of battery operated units in the mix too. I was contacted by Ryobi's Outdoor division to review some of their outdoor products. I've never owned a power washer before but always wanted to so I thought it would be a good idea to try out one of Ryobi's units. Looking at their range, I saw some small low power units to higher power models that were larger and bulkier and I felt their 1900 PSI model I chose was a good blend of power and size as it has a respectable 1900 PSI and with a small compact body and I also liked that even though it was small and compact, that it has a roll cage frame plus wheels and telescoping handle so you could wheel it around to the project location. Although after seeing this in person, it's so light that in all honesty, it doesn't need wheels or telescoping handle as you can easily pick it up. It's so light to carry with the built in handle that it's super easy, barely an inconvenience.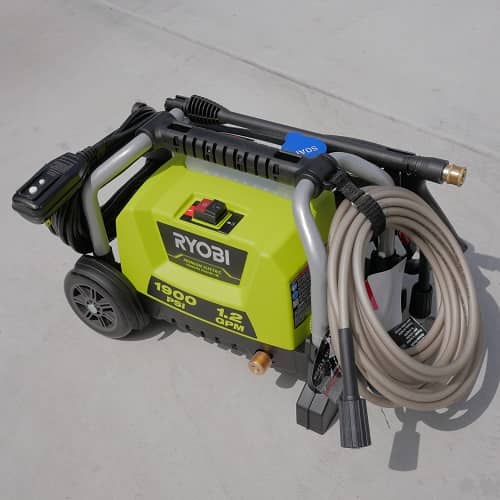 The built in roll cage design also incorporates a section for storing the power cord at the base and a velcro strap for storing the included hose. On the back side you'll find a spot to store the spray gun (both pieces).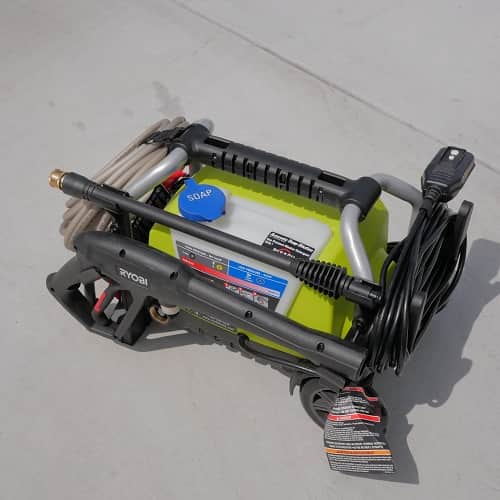 Below is a picture of the spray gun with both pieces assembled.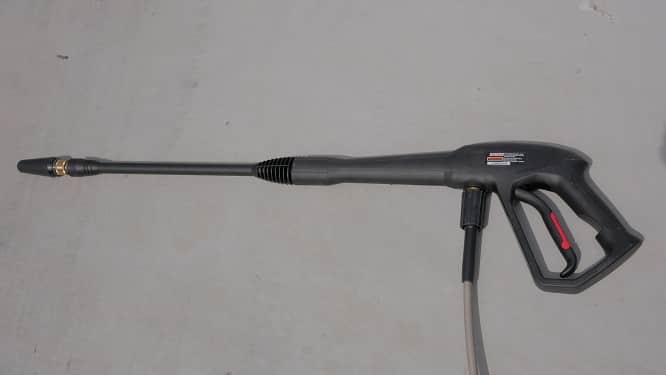 I like the overall on board storage design however there are a couple of areas that need improvement in this regard such as the cord wrap only has "feet" on one side which means good cord grip on the top section but because it doesn't have these stick out on the bottom section, the power cord has a tendency to slip off and unravel very easily. Easy fix- add feet to the bottom section of the cord wrap.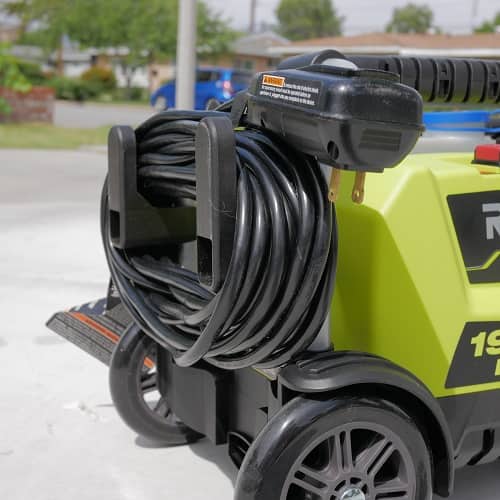 The next area of improvement is the spray gun main section holder. When the pressure washer is laying flat in the operating position, it is fine but when you stand the tool on it's side for storage is when it has the tendency to have the spray gun fall out of place easily. I'm sure this is also an easy fix by raising the holder so the spray gun tip doesn't push on the ground when standing sideways.
I do like the fact that it can stand on it's side for a smaller footprint when stored.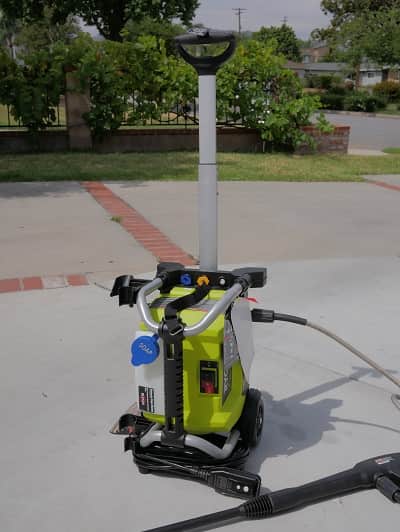 It comes with a pressure washer hose to connect the gun to the unit. This hose is 25 feet long and the power cord length is 35 feet which means you have plenty of range before needing to use an extension cord.
I also like that it comes with three spray nozzles with a 15 degree nozzle, a turbo nozzle and a soap nozzle which means that you're ready to go out of the box and I didn't have to go the store again to buy extra nozzles.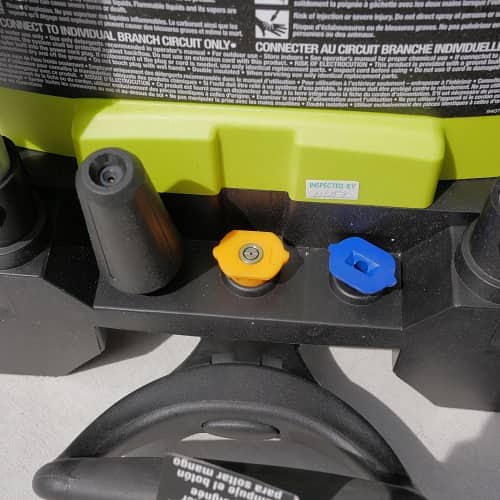 The 15 degree nozzle is going to be your general purpose nozzle for cleaning by spraying things down like siding and driveways and offers relatively high pressure.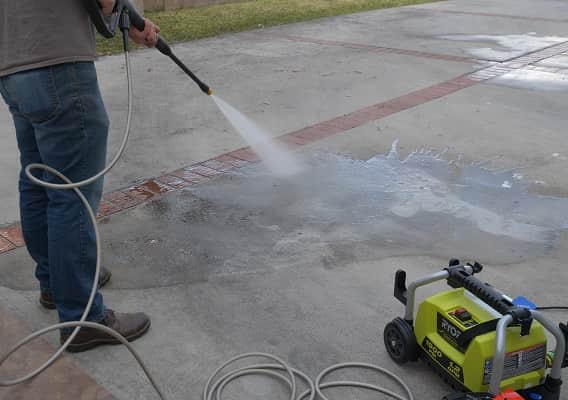 When you need extra scrubbing power is when you use the turbo nozzle which concentrates the spray into a tight jet stream. The turbo nozzle also spins that thin jet stream into a circular pattern so it covers a slightly larger area than the jet alone.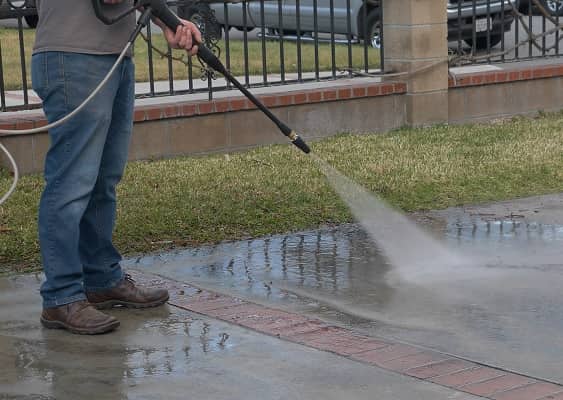 This is perfect for tackling stuck on dirt. It came in real handy at cleaning up fruit that had stuck and dried up on the driveway.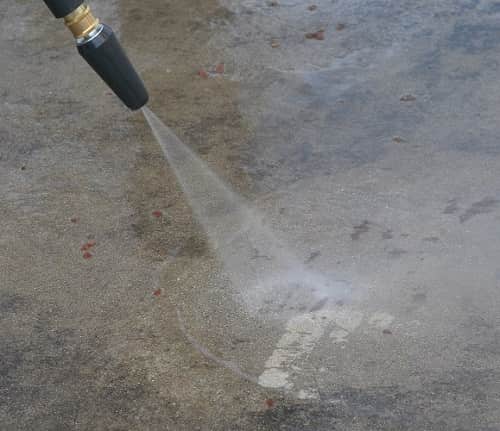 The soap nozzle is good for applying soap when using the included soap/detergent tank. No soap/detergent is included so you'll have to buy some separately. Being the first time I've used a pressure washer, I was surprised the soap nozzle doesn't shoot out at the same pressure and strength as the other two nozzles but uses low pressure. Less pressure than using a regular hose and spray gun so it's best used for applying soap to surfaces, not for rinsing quickly.
It's performance was good when using the 15 degree and turbo nozzle and did great for cleaning up my driveway. My favorite experience was when using the pressure washer with the turbo nozzle and I was surprised at how clean it left the concrete. It didn't look dirty to begin with as it was very light colored but you could see a big difference with the even brighter sections where the pressure washer cleaned. Cleaning a large area with either 15 degree or turbo nozzle was a little bit slow paced so I might be looking into the surface cleaner attachment to hopefully speed things up when cleaning floors with the pressure washer.
Overall I liked the Ryobi pressure washer. Other than the cord wrap and spray gun storage issues, It was a good unit overall and has good performance. Sure, I wouldn't mind better performance from higher pressure units but those units are much larger so for my uses 1,900 PSI is plenty good and I like the compact size and low weight. The wheels and telescoping handle will make it easy to wheel around but I feel that it's light enough that you can easily carry without a hassle.
It's priced at $179 at the time of writing and interestingly enough, it's actually cheaper if you get this same pressure washer with the 12″ surface cleaner for $169 (at the time of writing). Anyways, I hope you guys enjoyed the review and found it helpful in your buying decision.
Motor: 13 Amp
Pressure Rating: 1900 PSI
Flow Rate: 1.2 GPM
Hose Length: 25′
Cord Length: 35′
Weight: 21 lbs.

And below is the link to the Ryobi 1900 PSI pressure washer + 12″ surface cleaner set.


DISCLOSURE:
We are a participant in The Home Depot Affiliate Program, an affiliate advertising program designed to provide a means for us to earn fees by linking to homedepot.com. Tool Craze does not sell this product or any product on the Tool Craze website. Tool Craze does not handle the sale of any item in any way. If you purchase something through a post on the Tool Craze site, Tool Craze may get a small share of the sale. Please refer to the About section for more info.