A new Ryobi kit for a cordless mower was spotted with a brand new 40V 7.5 Ah Ultra High Capacity Battery.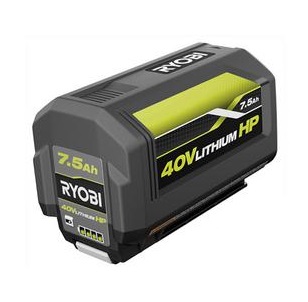 Up until now, the highest capacity battery for the Ryobi 40V system was their 6.0 ah batteries but with the new 7.5 ah 40V battery, they've pushed the runtime limits even further. What's interesting is that while the 4.0, 5.0 and even the 6.0 ah 40V Ryobi batteries all have the same size and form factor, the new 7.5 ah battery is significantly taller. This means it's packing more battery cells than the other three batteries. I bet it has similar cells as those in the 5.o battery with an extra set of cells which means that if they used the same cells from the 6.0 ah battery, they could make a similarly sized 9.0 ah 40V battery pack!
Just like the other 40V Ryobi batteries, the new 7.5 ah battery has a built in 4 bar fuel gauge to check remaining battery charge.
Keep in mind they new Ryobi 40V 7.5 ah battery is only sold as part of a kit (RY401130) and can't buy separately at the time of writing. So hopefully they can sell it separately soon.
A big thanks to DrewBHAM for spotting!


Free 2 day shipping – Try Amazon Prime 30-Day Free Trial

DISCLOSURE:
Tool Craze does not sell this product or any product on the Tool Craze website. Tool Craze does not handle the sale of any item in any way. If you purchase something through a post on the Tool Craze site, Tool Craze may get a small share of the sale. Please refer to the About section for more info.