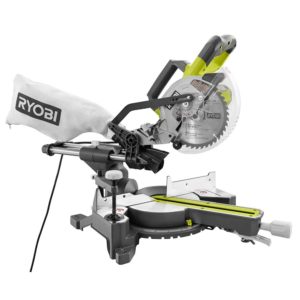 Ryobi has a new corded 7-1/4 inch sliding miter saw model TSS701. The small 7-1/4″ blade keeps the entire saw small and light while the rails allow it to slide for longer cuts up to 10 inch wide boards.
What's interesting about this new model is that it has modern features such as an electric brake to stop the blade rapidly after each cut. They've ditched the old laser system and now has an LED light that casts a shadow where the blade will cut. This is leaps and bounds better than lasers because you never need to calibrate it and it always shows the thickness of the blade as well, something lasers could never do.
Using a small 7-1/4″ blade for portability and weight savings, the downside is a very small fence and vertical cut capacity of 3.375 inches. This saw still uses the old twist knob to lock miter angles in place and is only a single bevel saw. You can still bevel both sides of material even though single bevel but you'll have to flip boards over to get the other bevel cut.
This saw is available now from HD with a list price of $129. Big thanks to Cody Robertson for spotting this!
From Ryobi:

The Ryobi 7-1/4 in. 18-Volt Miter Saw allows you to perform angled cuts up to 45 degrees on boards up to 6 in. wide with LED. Common crown molding angles have positive miter stops with detent action for precise repetitive cuts, while a quick-action lever allows users to override any of the nine present stops to lock in any angle. This 5000 RPM saw makes everyone a precision craftsman courtesy of the integrated LED that depicts the cutline and illuminates the work piece. See below for more details.
Maximum crosscut dimensions: 90° – 1-1/2 in. x 10 in.; 45° – 1-1/2 in. x 6 in.
Sliding head provides maximum capacity for up to 10 in. W boards at zero bevel
Miter stops located at the most common crown molding angles: 0°, 15°, 22.5°, 31.6° and 45° (left and right)
LED light accurately aligns cutline with blade and illuminates the work piece
Miter ranges from 47° left to 47° right to accommodate a wide variety of cuts
Miter detent override provides quick-action lever bypass with 1 simple motion
Equipped wit horizontal D-handle for utmost visibility and comfort
Electric brake stops blade rapidly for added safety
Includes: 10 Amp sliding compound miter saw, 7-1/4 in. carbide-tipped blade, work clamp, blade wrench and dust bag
DISCLOSURE:
Tool Craze does not sell this product or any product on the Tool Craze website. Tool Craze does not handle the sale of any item in any way. If you purchase something through a post on the Tool Craze site, Tool Craze may get a small share of the sale. Please refer to the About section for more info.