You've probably heard something big was coming from Ryobi, well you were wrong, well sort of as they are coming out with a handful of small power-tools that pack a punch with their new Ryobi One+ HP 18V compact brushless power tools. They will start us off with a drill/driver, impact driver, impact wrench, right angle drill, one handed recip saw, and 3″ cut off tool!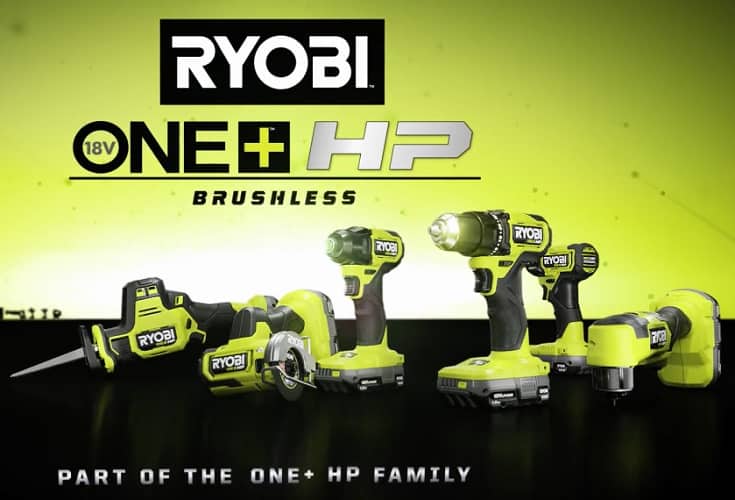 The new tools are are in the sub-compact category and are similar to Ridgid's new brushless sub compact 18V tools that recently came out. You get small tools with strong power for their size all thanks to their brushless motors. While not exactly replicas of their Ridgid 18V siblings, they are similar in the small size/strong power concept but considering Ridgid is a step up brand from Ryobi, these aren't nearly as tiny or puny as Ridgid's and are not as powerful but they are close to it which is a good thing! In fact, Ryobi's newest offerings are very competitive not just compared to other Ryobi products but even to other brands out there – they're looking at you pro brands. Expect them all to launch with an online availability of mid August 2020 and in stores in early September 2020.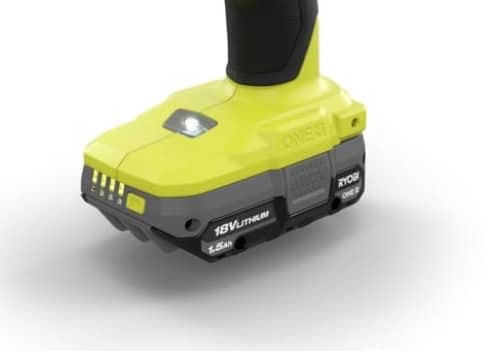 With the 6 new One+ HP tool releases, Ryobi also introduced alongside with them a brand new compact 1.5ah battery pack that is more compact than ever! It is very slim and compact as you can see from the image above and they've also included a fuel gauge on the front and while fuel gauges are nothing new on Ryobi batteries, they've oversized the new fuel gauge for easier visibility.
Below is a breakdown of each new One+ HP brushless power tool.
Ryobi 18V One+ HP 1/2″ Drill/Driver PSBDD01k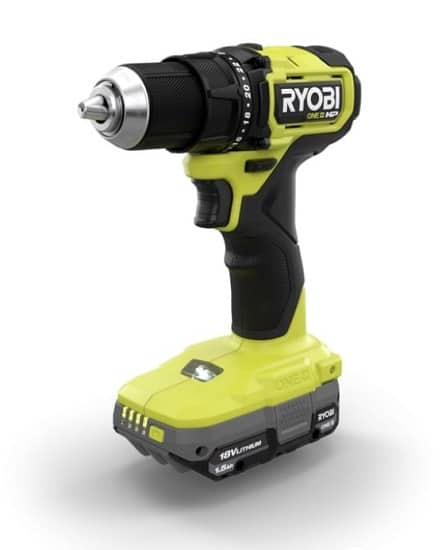 The new Ryobi One+ HP drill features a plastic 1/2″ ratcheting chuck and comes in very compact at only 6.4 inches in length. It's brushless motor provides a strong 400 in-lbs of torque which is on par with Ridgid's subcompact model which makes for a small yet strong power tool. It's two speed transmission allows for 1700 RPM on second speed and weighs in at 2.1 lbs although Ryobi didn't mention if the weight was with battery or baretool, so probably baretool. Excellent tool no doubt however being a Ryobi, expect mostly plastic construction with no metal gearbox covering. According to Ryobi, it also has solid runtime with 111 1/2″ holes drilled with a spade bit on one battery pack. The price is $129 as a two battery kit and yes it comes with the new compact slimmed down batteries. Also available as a two tool combo kit with the impact driver for $179 as a two battery kit.
brushless motor
30% more compact 20% lighter
6.4″ length
1/2″ ratcheting chuck
1700 rpm
2.1 lbs weight (probably without battery)
400 in-lbs torque
1/2″ spade bit 111 holes drilled with one battery pack
PSBCK01K $179 2 tool kit with impact driver, $129 2 battery kit PSBDD01k

Ryobi One+ HP 18V 3/8″ right angle drill PSBRA02B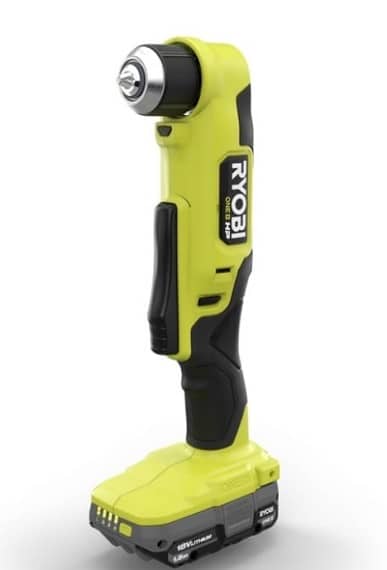 At only 3.6 inches front to back (head) Ryobi claims their One+ HP 18V right angle drill is the most compact right angle drill in the market place! And thanks to it's brushless motor, it's pretty strong too with 350 in-lbs of torque. It's not just small and powerful but also packs in features not found in low end right angle drills like a two speed transmission with 1700 RPM on speed two for fast drilling. I was able to see this thing in action and it's pretty fast at drilling! It will be priced at $99 as a baretool.
brushless motor
3.6″ front to back length
1700 rpm
350 in-lbs torque
3/8″ single sleeve chuck, not ratcheting
2 speed transmission
LED light 10 second afterglow
ergonomic paddle trigger, trigger works from top or bottom position with variable speed control
PSBRA02B $99 baretool

Ryobi One+ HP 18V 1/4″ impact driver PSBID01K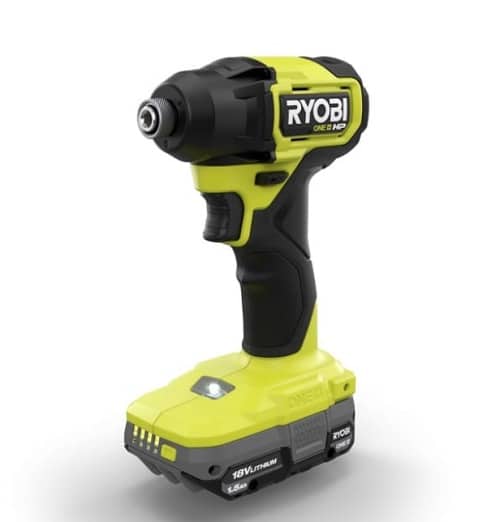 Ryobi's new One+ HP impact driver comes in at 5.3 inches in length making it very compact. Although not as ridiculously small as Ridgid's. And even though the Ryobi is small and compact, it still packs a punch with 1700 in-lbs of torque. In terms of features, it features a single speed with variable speed trigger and LED light on the base of the tool. I would have preferred multiple speeds and an LED ring light on the head but again, this is Ryobi tool so I wouldn't expect the latest and greatest bells and whistles but they do add a single handed hex chuck which is a step up from basic. Runtime is said to get up to 211 2-1/2″ deck screws with the new 1.5 ah battery pack or double that of 422 with two packs. Expect it to be priced at $129 at launch for $129 with a two battery kit with the new compact slim batteries.
26% more compact, 23% lighter
brushless motor
5.3″ length
3800 IPM
LED worklight located at bottom
variable speed trigger
single one handed bit chuck collet
LED on bottom, no LED light ring on head
1,700 in-lbs torque
2,900 RPM
211 2-1/2″ deck screws runtime per charge 422 with two battery packs
$129 PSBID01K 2 battery kit

Ryobi One+ HP 4 mode 3/8″ impact wrench PSBIW01B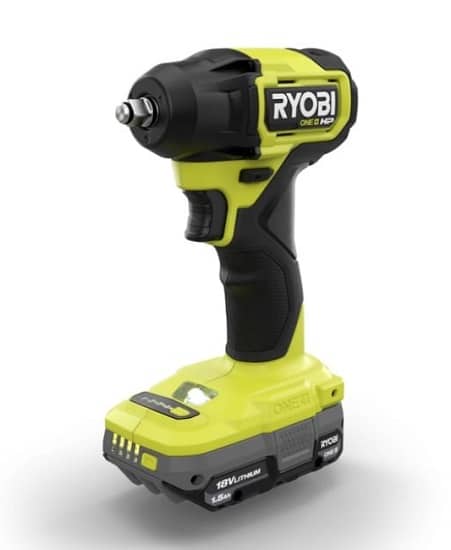 Now this is where things get interesting with the Ryobi One+ HP 18V 3/8″ impact wrench. It's similar in size to the impact driver but adds a 3/8″ friction ring anvil and it's brushless motor puts out 160 ft-lbs of torque for it's small size. Still nowhere near as tiny or as powerful as Ridgid's but it is lower priced at $119 as a baretool and unlike Ryobi's impact driver, their impact wrench has multiple speeds. It has 3 speeds plus a 4th mode called an auto mode. The auto mode in forward prevents over fastening. It drives at full speed until it detects resistance and then shuts down the tool so you can finish with a torque wrench.  In reverse, the auto mode will break free with full force and then shuts down so as to not drop the faster and then you can either remove by hand or activate the trigger again to finish removal. As with the Ryobi impact driver, the LED is at the base instead of offering a nice LED ring light on the head.
brushless motor
31% more compact, 29% lighter weight
160 ft-lbs torque
3/8″ friction ring anvil
variable speed
mode settings on bottom of handle
4 mode 3 speed plus auto mode
LED work light on bottom, no LED ring light
$119 PSBIW01B baretool

Ryobi One+ HP 18V recip saw PSBRS01B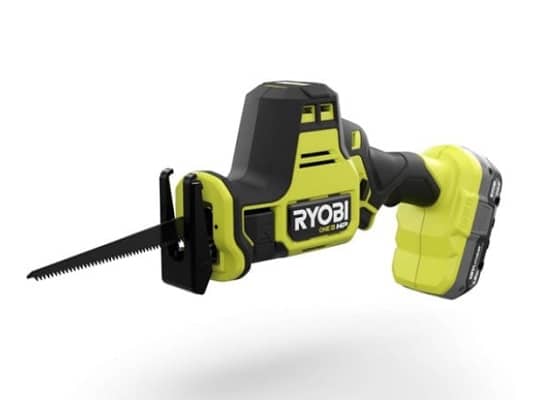 Ryobi's latest 18V recip saw ditches the traditional long inline design with a more compact one handed design. This design is similar to Milwaukee's Hackzall's which is no surprise since Milwaukee is a sister brand to Ryobi. Just like a Hackzall, it offers a compact one handed design and the front of the hump allows for use with two hands when needed. It features a pivoting shoe although it doesn't appear to extend or retract as found on more feature packed recip saws but it does offer an LED light and it offers easy access to the blade release lever by placing it on the side of the body instead of having to jamb your fingers into a tight space behind the shoe like on actual Hackzall's. I saw this in action today and it offers strong fast cuts! It will launch for $99 as a baretool and will also be found in various combo kits later.
brushless motor
31% more compact, 24″ lighter
100+ cuts per charge
3000 SPM
cut 2×4 fast
easy release blade lever on the outside of the body
single handed design or two hand use
5/8″ stroke length
pivoting shoe, doesn't extend
LED light
variable speed trigger
baretool only $99 PSBRS01B and various combo kits

Ryobi One+ HP 18V 3″ multi material cutoff tool PSBCS02B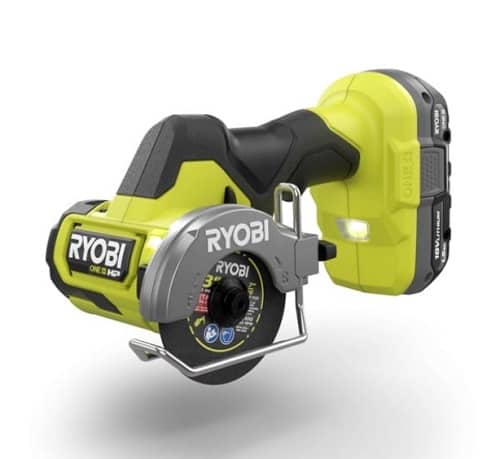 While the drill and impacts are similar in concept to Ridgid's sub compact tools, the Ryobi 3″ cut off tool is very close to resembling Ridgid's cut off tool. The overall body shape is the same except for some cosmetic differences, the blade guard and wire shoe are the same as Ridgid's except with the Ryobi branding on it. It also gets the same forward and reverse switch found on the Ridgid for forward and reverse cuts. You can also rotate the blade guard for a variety of cutting angles. The Ryobi 3″ cut off tool is designed to cut a variety of materials including drywall, metal, plastic, tile, wire shelving, and cement board just to name a few. Ryobi says it can accept other common 3″ cutting wheels with it's 3/8″ arbor although it appears the blade says 7/16″ arbor size. The cut off tool features 2 LED lights to illuminate the front of a cut or behind the blade for reverse cuts. Out of the box it will come with 3 cutting wheels with a metal cutoff wheel, abrasive blade, and tile blade. It will be priced at $99 as a baretool at launch.
brushless motor
cuts drywall, metal, plastic, tile, wire shelving, cement board
19,000 RPM
accepts common 3″ wheels with 3/8″ arbor according to Ryobi however wheel says 7/16″ arbor
comes with 3 different blades, metal cutoff wheel, abrasive blade, tile blade
dual led light to illuminate front of cut and reverse cut
wire base shoe, blade guard and shoe rotate
can switch direction for forward or backward cuts
powerful for its size
$99 PSBCS02B baretool


DISCLOSURE:
We are a participant in The Home Depot Affiliate Program, an affiliate advertising program designed to provide a means for us to earn fees by linking to homedepot.com. Tool Craze does not sell this product or any product on the Tool Craze website. Tool Craze does not handle the sale of any item in any way. If you purchase something through a post on the Tool Craze site, Tool Craze may get a small share of the sale. Please refer to the About section for more info.