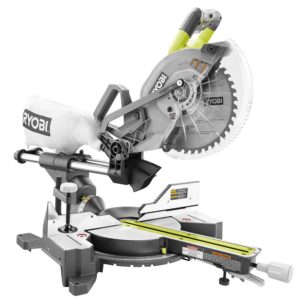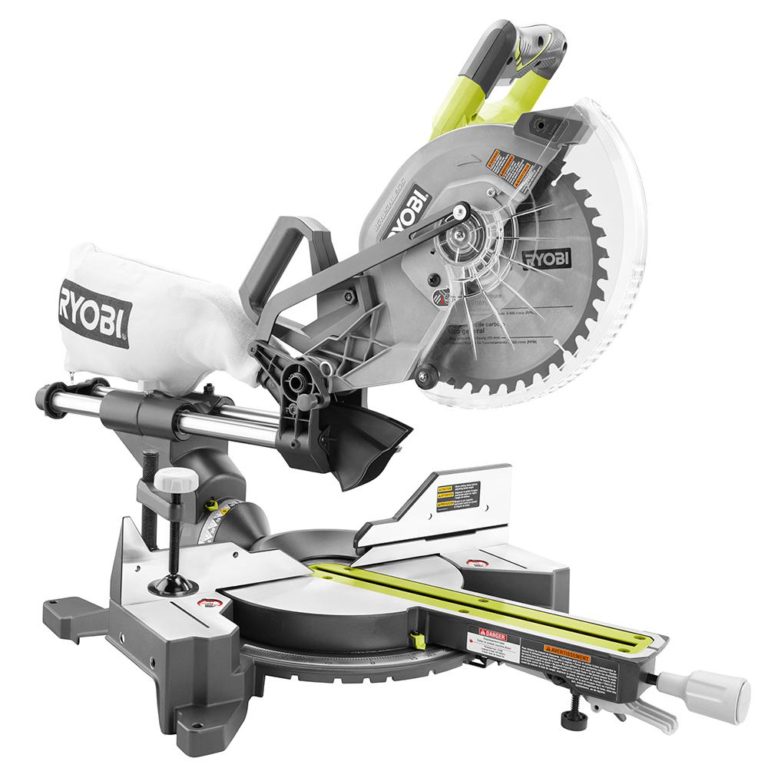 A new cordless Ryobi miter saw just popped up on the Home Depot website, the Ryobi One+ 18V 10″ Sliding Miter Saw P3650B !
Let's start off by saying this isn't Ryobi's first cordless miter saw as they've had one for many years, a non sliding 7-1/4″ model both in the new Ryobi green along with the older Ryobi blue color.
What makes the new model interesting is that it has a combination of features that make it very appealing. It has a brushless motor that powers a larger 10 inch blade, it's a sliding miter saw, with dual bevel, and check this out, even though it's marketed as an 18V tool, it actually requires two 18V batteries to put out a higher voltage of 36V! So we're getting a more powerful 36V tool BABY!!!
Basically they're doing what Makita has been doing with their X2 line of cordless power tools that use two 18V batteries together to double the voltage to 36 volts. And as a reminder, Dewalt does the same thing with their Flexvolt 12″ miter saws that use two Flexvolt batteries to pump out 120V Max.
As I was saying, this new miter saw has popped up on the Home Depot site. It's currently marked as unavailable but this is because it's so new of an item. It will be available in June 2017. It's priced at $299 as a baretool without batteries or charger.
Product Overview

Ryobi introduces the first tool in its ONE+ONE lineup: the 18-Volt 10 in. Cordless Brushless Dual Bevel Sliding Miter Saw. The ONE+ONE system uses 2 ONE+ 18-Volt batteries for 2X the power, for a full 36-Volts of Max Power. Not only is this saw powerful, it's extremely portable: carry it anywhere and cut what you need without the hassle of a cord or trying to find an electrical outlet. The brushless motor provides longer runtime and longer tool life, while the dual bevel design allows you to move the saw, not the material, for faster and more accurate cuts. The sliding head provides a maximum capacity of up to a 12 in. cross cut. See below for more information.
Uses 2 ONE+ 18-Volt batteries (not included) for 2X the power – 36-Volt max power
Compatible with all ONE+ 18-Volt batteries
Over 800 cuts per charge with Ryobi P194 batteries
For max performance, use high capacity Ryobi batteries
Brushless motor provides longer runtime and longer life
Sliding head provides maximum capacity for up to 12 in. cross cut
Dual Bevel design allows the user to move the saw, not the material, for faster and more accurate cuts
Extended miter ranges from 45° left to 50° right to accommodate a wide variety of cuts
Cuts 2x materials at 45° right and left bevels
Miter detent override provides quick-action lever bypass with one simple motion
Miter stops located at the most common crown molding angles 0°, 15°, 22.5°, 31.6°, and 45° left and right for quick cut settings
Machined cast-in miter scale for accurate table alignment
Adjustable EXACTLINE laser alignment system accurately aligns cutline with blade
Spindle lock for easy, single wrench blade changes
Electric brake stops the blade in seconds
3-year limited warranty
Includes: P3650 Miter Saw, 10 in. Carbide Tipped Blade, Work Clamp, and Blade Wrench